Thousand Oaks gunman used an extended magazine. Whether it was illegal depends on how many rounds it held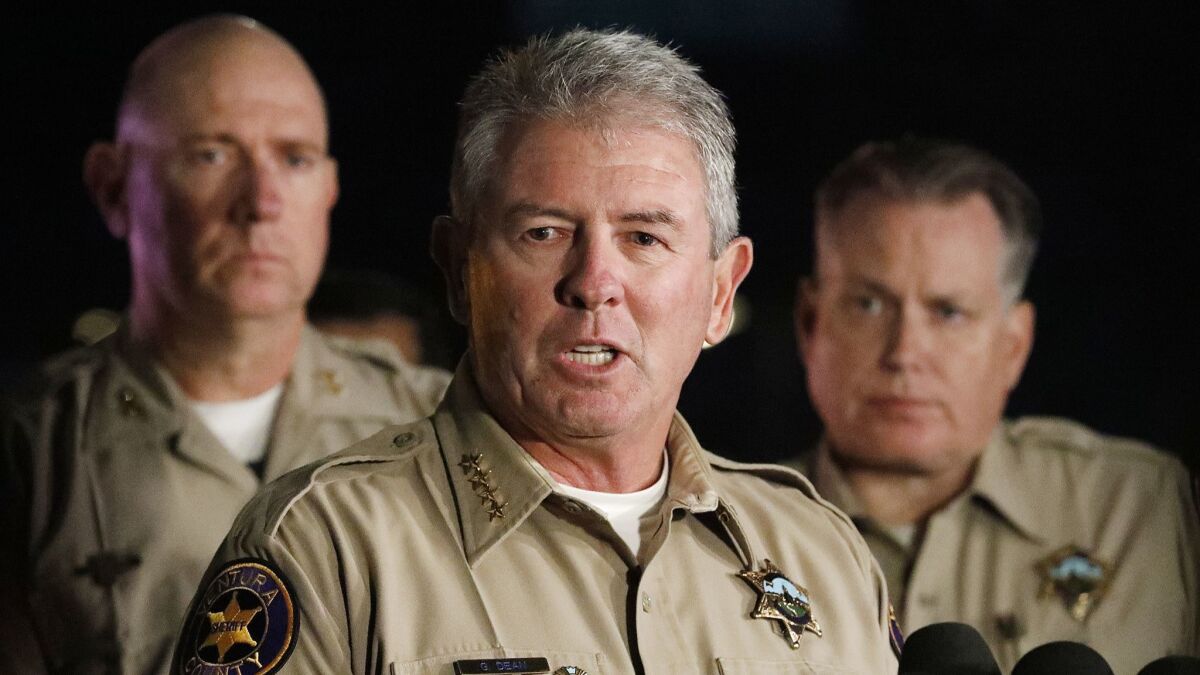 Ian David Long, a former Marine gunner, legally purchased a Glock 21 that he used to kill 12 others at a bar Wednesday night in Thousand Oaks, according to the Ventura County Sheriff's Office.
Long also had an extended magazine for ammunition, but the Sheriff's Office said further analysis was needed to determine how many rounds it could hold.
California law allows the sale and possession of ammunition magazines holding up to 10 rounds.
But if the magazine held more than 10 rounds, Long, who was 28, would not have been able to legally purchase it in California.
California in 1999 banned the sale or import of magazines capable of holding more than 10 rounds, though gun owners who already owned higher-capacity magazines at that time were permitted to keep them.
Two years ago, California voters and state lawmakers made it illegal even to possess a firearm magazine capable of holding more than 10 rounds.
The California Rifle & Pistol Assn. successfully challenged that law, persuading a federal judge in San Diego in 2017 to prevent it from taking effect.
The U.S. 9th Circuit Court of Appeals upheld the preliminary injunction in a 2-1 vote in July.
Chuck D. Michel, who challenged the law for gun groups and owners, said it would not have stopped Wednesday's rampage.
The 2016 law was intended to remove magazines from people who had them lawfully for decades because they had been grandfathered in, Michel said.
Because of his age, Long should not have been able to purchase a higher-capacity magazine in California, Michel said.
He speculated that Long may have bought a larger magazine out of state and brought it back illegally or stolen one.
"Either way, it was illegal for him to acquire that magazine, and my clients' lawsuit did not change that," Michel said.
Amanda Wilcox, legislation and policy chair for the California Chapters of the Brady Campaign to Prevent Gun Violence, agreed that Long could not have legally obtained or imported a higher-capacity magazine.
But she said the 2016 ban on possession could help save lives by ending the presence of larger magazines, which she noted could be stolen or sold illegally.
She said the magazines make it easier for a shooter to take more lives before having to stop and reload.
The 2016 law would require gun owners to move higher-capacity magazines to another state, give them to law enforcement or sell them to a licensed firearms dealer.
Possessing the magazines could be punished as an infraction or a misdemeanor.
U.S. District Judge Roger T. Benitez, who placed a temporary hold on the law, said in a scathing ruling that the ban on possession could make it difficult for people to defend themselves.
"Certainly in suburban and rural settings, there will be occasions when more than 10 rounds are needed for self-defense," the judge wrote.
Benitez, an appointee of President George W. Bush, said California's gun laws were "among the harshest in the nation" and "filled with criminal law traps for people for people of common intelligence who desire to obey the law."
His decision noted that there had been 10 mass shootings in California from 2009 to 2013 and that in only two of them would the criminalization of the magazines have had even a "marginal" effect.
Benitez is now considering whether to make the injunction permanent. Whatever he rules is likely to be appealed to the 9th Circuit.
Voters approved Proposition 63, which banned possession of high-capacity magazines and was later challenged in court, nearly a year after two terrorists killed 14 people in San Bernardino.
The National Rifle Assn. and other opponents argued that it would burden lawful gun owners and that criminals would find ways around it.
State Sen. Kevin De León (D-Los Angeles), who has been a leading proponent of gun control laws, said Thursday that he was frustrated that mass shootings continue despite California's tough restrictions.
"There is a high level of frustration and deep sadness," said De León, who was the Senate leader when restrictions on the possession of high-capacity magazines was approved in 2016. "California has among the tightest gun laws in America, but there is a flood of weapons that come in from our next-door neighbors in Nevada and Arizona."
A law approved this year will prohibit possession of guns by those who are hospitalized twice in a year for mental illness and pose a danger to themselves or others, De León noted. That law takes effect in January 2020.
"The combination of mental health issues and weapons that can kill is a lethal combination," De León said.
Once more information is known about the gun and magazine used in Wednesday's shooting, the Legislature should determine whether additional laws are needed to plug any loopholes, he said.
"There is no question about it," he said.
The Firearms Policy Coalition, which defends gun rights, expressed concern about that prospect.
"Once more we see the devastating effects of the illusion of safety that gun control laws and policies are founded upon," the organization said in a statement released to the news media.
The coalition warned that "Californians will be put in grave danger" if more gun restrictions are passed.
Twitter: @mauradolan
Twitter: @McGreevy99
---
The stories shaping California
Get up to speed with our Essential California newsletter, sent six days a week.
You may occasionally receive promotional content from the Los Angeles Times.