High school coach says Thousand Oaks shooter assaulted her 10 years ago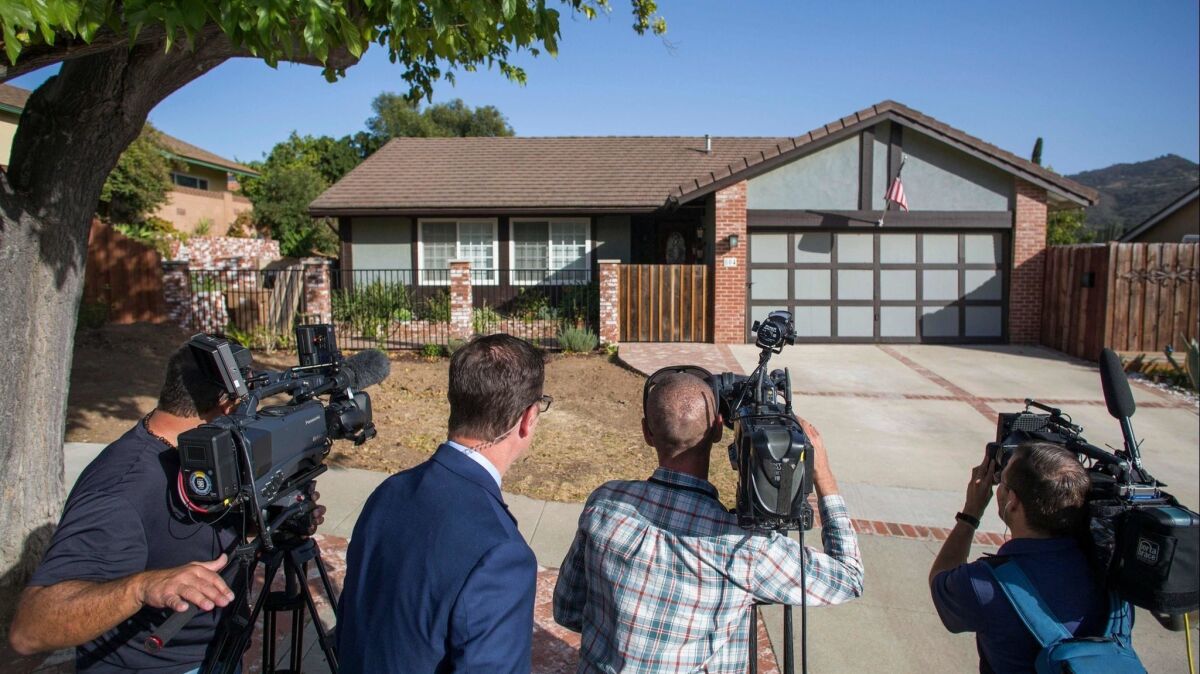 The gunman who killed 12 people at a Thousand Oaks bar had an angry, violent side in high school, and a former coach said he assaulted her during one outburst.
Dominique Colell told The Times that in the spring of 2008, Ian David Long attacked her when he was a senior on the track team at Newbury Park High School. Colell, then 28, was the girls track coach and also disciplined the boys team.
Colell said the incident began when she was trying to identify the owner of a cellphone a student had found. Long saw her with the phone and ran over, screaming expletives and demanding she return the phone. Colell refused. She said she told him she had to verify whether he was the owner by calling the number listed under "Mom."
Long was shaking with rage, she said.
"He started to grab at me," Colell said. "He reached around and with one arm, groped my stomach. He grabbed my butt with the other arm."
She eventually pushed him off, then verified the phone belonged to him. But she booted him from the team for assaulting her.
"Get out," she told him. "You are out of track."
Long complained to another coach, who questioned Colell's decision, she recalled. When she escalated the incident, one high school administrator told her she was "just too young and good looking to be taken seriously."
The next day, Long came to practice with flowers and pleaded to return to the team. Colell said she refused.
Eventually, administrators and other coaches pressured her to accept his apology and allow him back on the team. Colell said she was told that she was ruining Long's future and that the incident could jeopardize his application to the Marines.
To her regret, she relented, fearing it would hurt her chances to secure a position to teach art at the school. She recalled another coach saying that the Marines "would save this kid," and said she was happy he was enlisting.
A spokesman for Conejo Valley Unified School District did not respond late Thursday to a request for comment about the incident.
Others have spoken of Long's aggression and, after his discharge from the Marines, his struggle with mental health issues. Richard Vargas, 29, said he attended El Modena High School in Orange with Long before he transferred to school in Newbury Park.
"The kid was an instigator," Vargas said. "He was always trying to start fights."
Colell said that Long's anger was paired with vulgar language, and that administrators appeared to know about his behavior issues. When Long or any other student cursed, she said, she imposed a penalty of a one-mile run.
"He owed me miles regularly," she said. "One time, he cussed and started his laps, and every time he passed me, he cursed again. I'd add another mile."
The tally ran up to 13 miles. Colell said that by her recollection, Long ran the full 13 miles while she waited.
"He was very determined and very angry," she said. "He was probably the only student that I was actually scared of when I coached there."
Colell said she learned Thursday morning that Long was the gunman while watching the news. At the time, she was waiting to find out whether her husband's niece had escaped unharmed from the Borderline Bar and Grill — she did.
"I heard the name and my jaw just dropped. I couldn't believe it," Colell said. "It was shocking — but it wasn't shocking that it was him."
Times staff writer Ruben Vives contributed to this report.
Twitter: @MattHjourno
The stories shaping California
Get up to speed with our Essential California newsletter, sent six days a week.
You may occasionally receive promotional content from the Los Angeles Times.