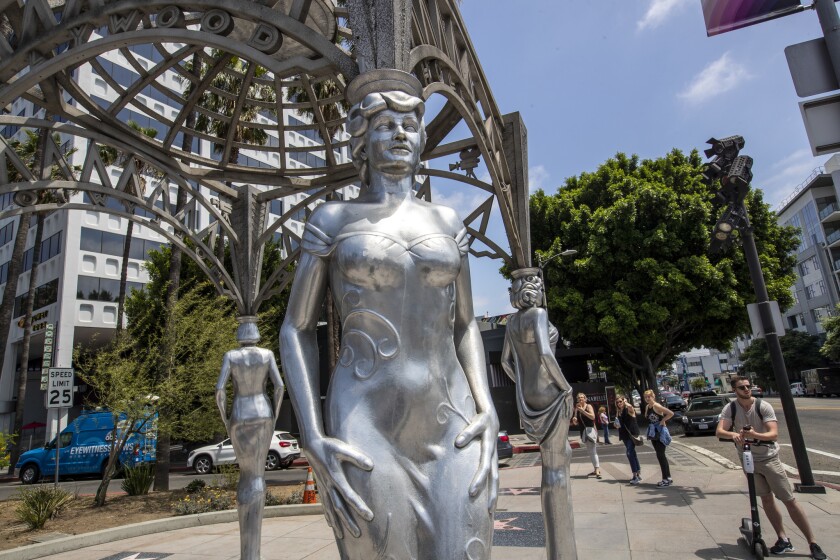 For 25 years, a glittery sculpture of Marilyn Monroe has perched high above the "Four Ladies of Hollywood" gazebo — a statuesque gateway to the Walk of Fame. In the predawn hours Monday, Marilyn went missing.
The Los Angeles Police Department's Hollywood Division and forensics experts are searching for the missing figure, which depicts Monroe in an iconic scene from the 1955 film "The Seven Year Itch." An investigation is underway, and a theory has emerged about how she was nabbed.
"I am calling this the great Marilyn caper of 2019," Councilman Mitch O'Farrell said. "We have a witness who saw someone climb this structure and saw off the statue at the top."
Officials don't have any suspects yet, but forensics experts hoisted a ladder to the top of the installation and found prints.
"It means something to the community, and we're going to investigate this to the best of our ability," LAPD Det. Douglas Oldfield told NBC-TV Channel 4.
The stainless steel statue was erected at the corner of Hollywood and La Brea in 1994. At the top, Monroe stood on a spire that spelled out "Hollywood." Below, the statue is grounded by Grecian-posed sculptures of Dolores del Rio, Dorothy Dandridge, Mae West and Anna May Wong — four women who broke barriers in the entertainment world.
The artwork's aesthetic has received mixed reaction over the years. In 1994, the Los Angeles Times referred to it as "a depressingly awful work of public art," in reference to the lack of variation among the statues of the four women below and, up top, the perceived sexualization of Monroe.
That perception is in line with larger issues that women have historically faced in Hollywood. The theft comes as women in film and television have publicly voiced their disapproval of an industry that has long prioritized the advancement of men over women and has left the latter to use appearance and sexuality to claim their territory.
One woman who has spoken out about Hollywood's systemic failures is Catherine Hardwicke, a production designer and director who also created the installation from which Monroe was swiped. In 1994, she challenged criticism of the work.
"People are interacting with it, proud to discover that Hollywood was created by people of many cultures and that women, as well as men, can make valuable contributions."
---