Neighbors and others caught glimpses of the Turpin siblings. Now they're struggling to process what they missed
Two years ago, the neighborhood watch of the Perris community where David and Louise Turpin lived with their 13 children held a Christmas decorating contest, offering $50 and $25 gift cards to the winners.
Some of the Turpin siblings joined in, placing a Nativity scene in their frontyard, with hay for the manger and a Nativity star in a window. Santa Claus sat in his sleigh near the garage.
When the winners were announced at a community gathering, the parents and five of their children were there.
Louise Turpin spent the evening chatting with a neighbor about her children, about the family's roots in West Virginia and Texas, and about their love of Las Vegas, said Salynn Simon, who lives across the street from the family's home.
Last week, police discovered the Turpin siblings, ages 2 to 29, living captive in their parents' home. They had been tortured, abused and neglected for years in ways so extreme that the siblings are severely malnourished and some show signs of cognitive impairment and nerve damage, prosecutors said.
The children were so isolated, some did not know about police officers or medication, prosecutors said. The alleged abuse started decades ago and grew worse in recent years.
But as their visit to the neighborhood watch meeting shows, the Turpin children were never completely hidden from the outside world.
There were glimpses of them for years — during outings to Disneyland and Las Vegas, video chats with family, conversations with neighbors and in public photos and videos on Facebook.
One of the older children even took classes at a community college.
And when a neighbor saw the children in their Murrieta home, before the family moved to Perris, marching at night in circles past two front windows, he did not have to make a special effort to see what was happening, he said. The blinds were open, and the lights were on.
Louise Turpin's brother Billy Lambert has even told various media outlets that his sister talked of having her large family on a reality show.
"She thought the world would be fascinated by their lives," Lambert told Britain's Sunday People.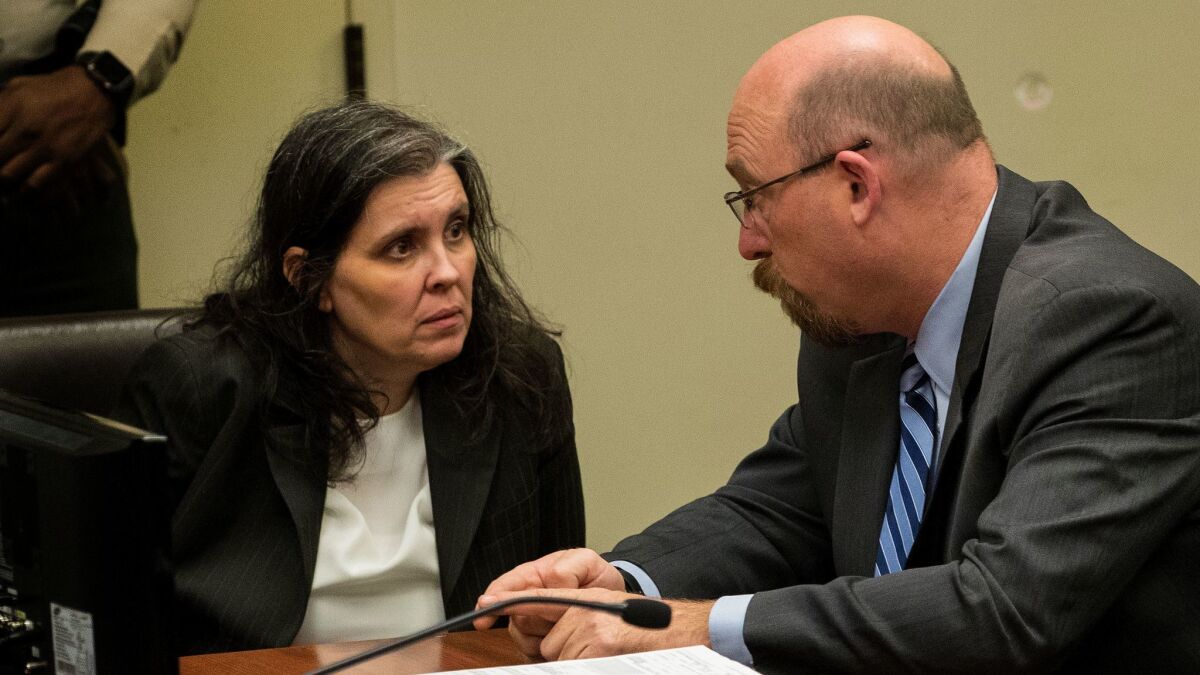 Many of those who interacted with the family now wonder if they should have seen things differently.
Experts say it's difficult to know what motivated David Turpin, 56, and Louise Turpin, 49, when they made some parts of their family life public even as they went to great lengths to hide the abuse and torture that prosecutors say they inflicted on their children.
"Is this just to try to display a sense that 'things are normal?...If we show a little of something maybe people won't question us,'" said Dr. Karen Imagawa, director of the Audrey Hepburn Cares Center at Children's Hospital Los Angeles, who works with children who have suffered abuse and trauma. "Or maybe there's a deeper psychological motivation that they're sort of trying to manipulate to see what they can get away with and almost flaunting it out there with the hope that no one is going to know what is really going on there."
Prosecutors say the Turpins used various methods to keep their children isolated and out of public view, including forcing them to sleep all day and stay up at night. Rather than send them to school, David Turpin registered a private school at his home.
The sibling who was allowed to enroll at Mt. San Jacinto College was "sweet" but an introvert in a music class, student Angie Parra told NBC4.
At a school potluck, he ate like he was famished, she recalled.
"He stood by the table and didn't sit down," Parra said. "He literally ate plate after plate after plate."
Prosecutors have said that Louise Turpin waited as the young man attended class and took him home afterward.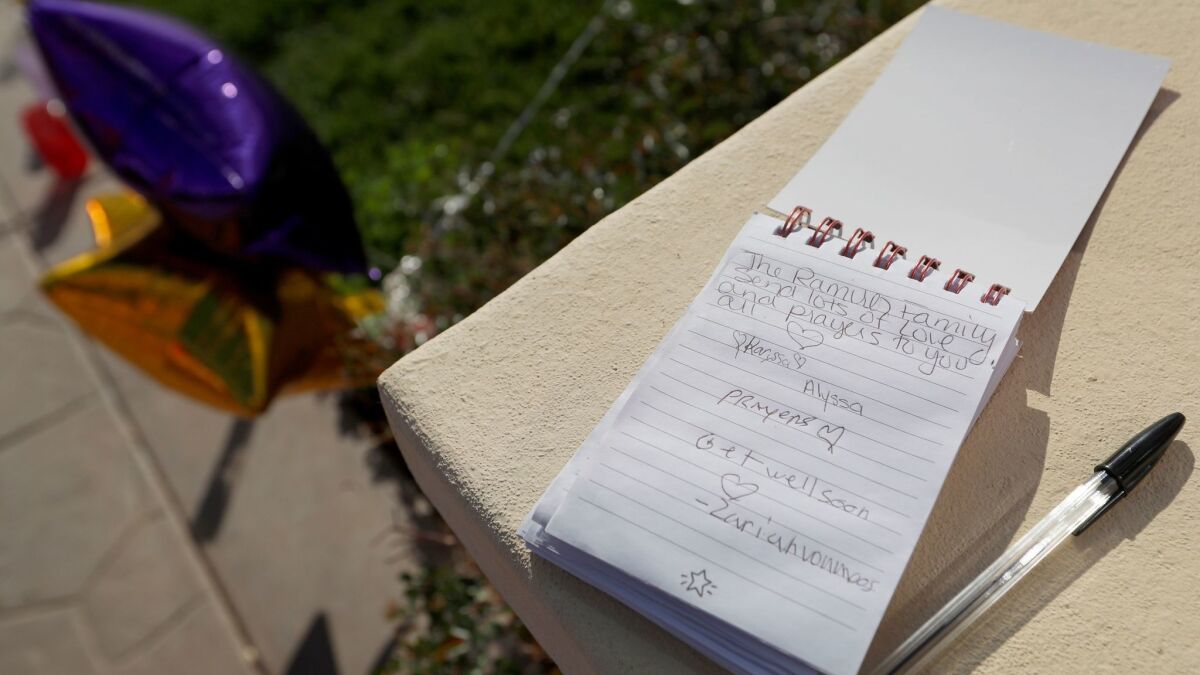 As the story of the Turpins and their children has drawn international attention, numerous people with ties to the family have also come forward to offer details about their interactions with the Turpins over the years.
James Turpin, David Turpin's father, told the Southern California News Group that he and his wife visited the family about six years ago when they lived in Murrieta and stayed for five days.
He saw nothing wrong, he said.
"Everyone was loving and kind. The children were happy," James Turpin said.
A person who answered the phone at James Turpin's home referred The Times to an attorney who represents the parents. The attorney did not respond to a request for comment.
Teresa Robinette, Louise Turpin's sister, said on "Megyn Kelly Today" this week that she used to video chat with the children, though that stopped in the last several years.
Robinette also told Kelly that she and her sister and other female relatives had been sexually abused as children by a close relative.
The charges against David and Louise Turpin include 12 counts of torture and 12 counts of false imprisonment, seven counts of abuse of a dependent adult and six counts of child abuse. David Turpin was also charged with one count of a lewd act on a child under the age of 14.
They have pleaded not guilty to all charges. If convicted, they face up to 94 years in prison.
Mike Clifford, the neighbor who saw the children marching in front of the windows at night, said he has had difficulty sleeping since the Turpin siblings were discovered.
At the time, he thought the children might have special needs and that the repetitive circling was therapeutic or just their routine.
Any red flags were lowered because his wife often made small talk with two of the Turpins' daughters on their way to the mailbox, he said.
Simon, who moved to Perris' Monument Park neighborhood around the same time as the Turpins, said she remembers how on the night of the Christmas decorating contest Louise Turpin talked proudly about having 13 children — each of whose first name starts with J, according to the felony complaint filed in Riverside County Superior Court.
Louise Turpin introduced Simon to the children who were with her at the event. One of the boys, Turpin told Simon, was in his mid-20s.
"I told him 'You look so young, you look 15,'" Simon recalled.
The young man smiled and nodded, but Louise Turpin did almost all of the talking for the family, Simon said.
Louise Turpin told Simon that she and her husband had taken their older children to Las Vegas when they turned 21. Turpin laughed about how her children were constantly asked for an ID during those trips because they look so young.
Over the years, Simon said, she would wave hello and goodbye to the family from across the road. From time to time she took them their mail, and last year, when Simon's daughter was selling Girl Scout cookies, Louise Turpin bought eight or nine boxes, Simon said.
It was always clear the family was not especially social, Simon said. But the interactions they did have made Simon feel "they were just private."
We all feel grief over the whole thing...We hope that we could have helped in some way
— Sherri Kreissig, president of the Monument Park neighborhood watch
Now, Simon said, she and many of her neighbors are struggling to process what they have learned about what was happening inside the Turpins' single-story house on Muir Woods Road, where the Nativity star from two years ago still hangs in the window.
Simon and her neighbors gathered at a local park Friday to hear officials talk about how to spot signs of abuse.
On Saturday, she and her 7-year-old daughter, Delilah, hosted a lemonade stand that raised $2,000 that will go to a fund for the Turpin children. The neighborhood is also preparing duffel bags with toys and necessities for each of the children.
"It's a very sad situation and we all feel it, we all feel grief over the whole thing," said Sherri Kreissig, president of the Monument Park neighborhood watch. "We hope that we could have helped in some way."
Twitter: @palomaesquivel
---
The stories shaping California
Get up to speed with our Essential California newsletter, sent six days a week.
You may occasionally receive promotional content from the Los Angeles Times.