Alvin Toffler, author of 1970 bestseller 'Future Shock,' dies at 87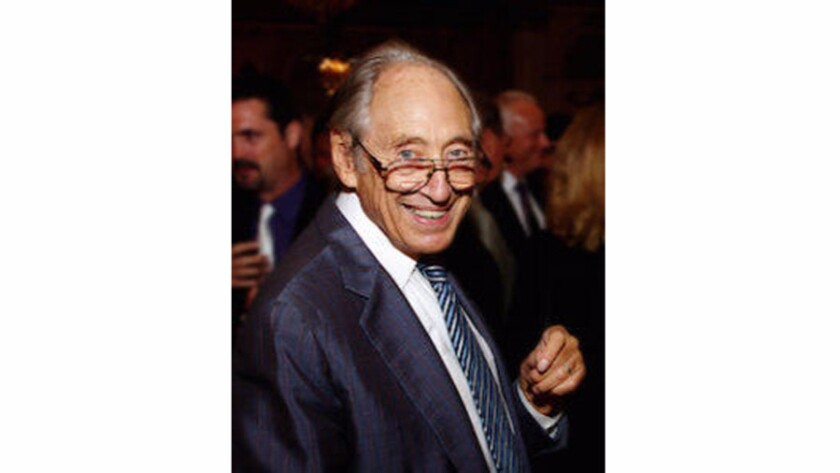 Alvin Toffler, author of the influential 1970 futurist bestseller "Future Shock," died Monday in his sleep at his home in Bel-Air, according to Yvonne Merkel, a spokeswoman for his Reston, Va.-based consulting firm, Toffler Associates. He was 87.
Toffler's description of a nation bewildered by the rapid changes sweeping the globe made him a household name. He derived the term "future shock" from "culture shock" and asserted that technology would usher in a new era — a "Third Wave" — in which the explosion of choice and ease of communication would transform commercial, public and private life.
Toffler was dubbed the "Buck Rogers of predictive sociology" by the Washington Post. His books were described as survival manuals for the future.
While some critics derided them as glossily packaged over-simplifications, Toffler got many things right, predicting, for example, increased use of renewable energy, a shift away from traditional nuclear families, and the advent of a computer-driven information age.
With typical foresight, he questioned the wisdom of the European Union in an interview with The Guardian newspaper in the late 1990s. The problem was that the European Union "still believes bigger is better," he said. Toffler said this was a mistake: flexibility, diversity and micro-markets would rule the future, he said.
But Toffler also offered arguments that seem to run counter to our present world of tech giants, propaganda and internet censorship around the world. He said society and commercial life were being "de-massified," that the future would favor small enterprise, and that the information revolution would probably erode government control, not enhance it.
Toffler was born Oct. 4, 1928, to Polish Jewish immigrants in New York, and raised in Brooklyn. He graduated from New York University and married his longtime collaborator, Adelaide Elizabeth Farrell, known as Heidi.
He worked for five years in the Midwest as a welder to study assembly lines and mass production, according to Toffler Associates. He would later say the impulse was the same as the one that drove John Steinbeck to pick grapes and Jack London to go to sea.
He covered labor issues as a newspaper journalist, then moved into business management.
See the most-read stories this hour >>
He began work on "Future Shock" in the 1960s, focusing on what he called "techno-social" changes looming on the horizon. Informed by his experience as a factory worker, he saw a progression in which laborers were first replaced by machines, then by lower-paid overseas workers.
"Future Shock" was a giant bestseller. It explored the disorientation created by a fast-changing world — "too much change in too short a time," he said — and was a popular staple of management bookshelves of the 1970s.
Toffler, with his wife, became a noted prognosticator. Two other books, "The Third Wave" and "Powershift," formed a trilogy with "Future Shock." The couple also wrote several other works, lectured, and advised business and political leaders. They were close to former Republican House Speaker Newt Gingrich, for instance, though Toffler had been drawn to Marx as a young man, and both Tofflers fell to the left of Gingrich on some social issues.
With consultant Tom Johnson, the Tofflers established Toffler Associates in 1996.
Toffler was generally optimistic, and urged embrace of ethnic diversity and of globalizing trends. The Tofflers became synonymous with futurism, warning the world that, as the Los Angeles Times' John Balzar put it in 1993, "we're about to be late for tomorrow."
They cautioned against getting stuck in an obsolete industrial past and predicted a wave of changes in family formation and business organization.
"Politics … like economics and information, is going transnational," the couple asserted in a 1997 piece for The Times.
Toffler said he sought not to be a fortuneteller, but to clarify the present. He readily acknowledged that some critics found his ideas far-fetched, even crazy. But he and his wife deliberately sought to occupy the fringe of public thought, he told The Guardian.
"We want people to think outside the conventional frame," he said.
His wife survives him.
MORE OBITUARIES
Pat Summitt, legendary Tennessee basketball coach, dies at 64
Scotty Moore dies at 84; pioneering rock guitarist for Elvis Presley
Lee Wesley Gibson, believed to be oldest surviving Pullman porter, dies at 106
---
Must-read stories from the L.A. Times
Get all the day's most vital news with our Today's Headlines newsletter, sent every weekday morning.
You may occasionally receive promotional content from the Los Angeles Times.