Pat Summitt, legendary Tennessee basketball coach, dies at 64
Pat Summitt, the farm girl from Tennessee who overcame self-consciousness and an overbearing father to become one of the greatest basketball coaches of any gender or generation, died Tuesday after a long battle with Alzheimer's disease, according to a statement from her son, Tyler Summitt. She was 64.
"She'll be remembered as the all-time winningest D-1 basketball coach in NCAA history, but she was more than a coach to so many -- she was a hero and a mentor, especially to me, her family, her friends, her Tennessee Lady Volunteer staff and the 161 Lady Vol student-athletes she coached during her 38-year tenure," the statement read.

For the record:
10:42 a.m. June 29, 2016An earlier version of this article described Pat Summitt's book "Reach for the Summitt" as her autobiography. It is a motivational book.
Summit spent 38 years as coach of the University of Tennessee women's basketball team before dementia forced her early retirement, at age 59, in 2012.
She lost her first and last game as the Lady Vols' coach but, in between, won more basketball games, 1,098, than any collegiate coach in history.
Summitt was a pioneer in a sport that, at the time she became head coach in 1974, lagged years behind the men's game.
Her career roughly paralleled the rise of the landmark Title IX legislation that mandated a level field for women in collegiate sports.
She won eight NCAA titles at Tennessee despite arriving in Knoxville eight years before the organization sponsored its first women's basketball championship, in 1982.
"Just like there will never be another John Wooden, there will never be another Pat Summitt," Tennessee Athletic Director Dave Hart said at Summitt's retirement announcement.
Summitt was a talented enough player at the University of Tennessee-Martin to later earn a co-captain's spot on the 1976 U.S. Olympic women's basketball team, which earned a silver medal. She later coached the U.S. Olympic team to gold at the 1984 Los Angeles Games.
See the most-read stories in Sports this hour >> »
Summit was as feared and respected as she was beloved. She accepted a graduate assistant's job at Tennessee in 1974, at a salary of $250 per month, with the promise she could pursue a master's degree and rehabilitate a knee injury in advance of the Montreal Olympics.
"I was bouncing checks all over the place," Summitt would later recall.
When the women's coach abruptly took a sabbatical to work on a doctorate degree, Summit was named coach just shy of her 22nd birthday.
Flowers lay alongside a memorial basketball fans have left at the Pat Summitt statue Tuesday, June 28, 2016, in Knoxville, Tenn.
(Wade Payne / AP)
Tennessee's coach Pat Summitt, left, reacts with her team as they pull ahead in the final minutes against Connecticut to win 68–67, in Hartford, Conn., on Jan., 8, 2005.
(STEVE MILLER / AP)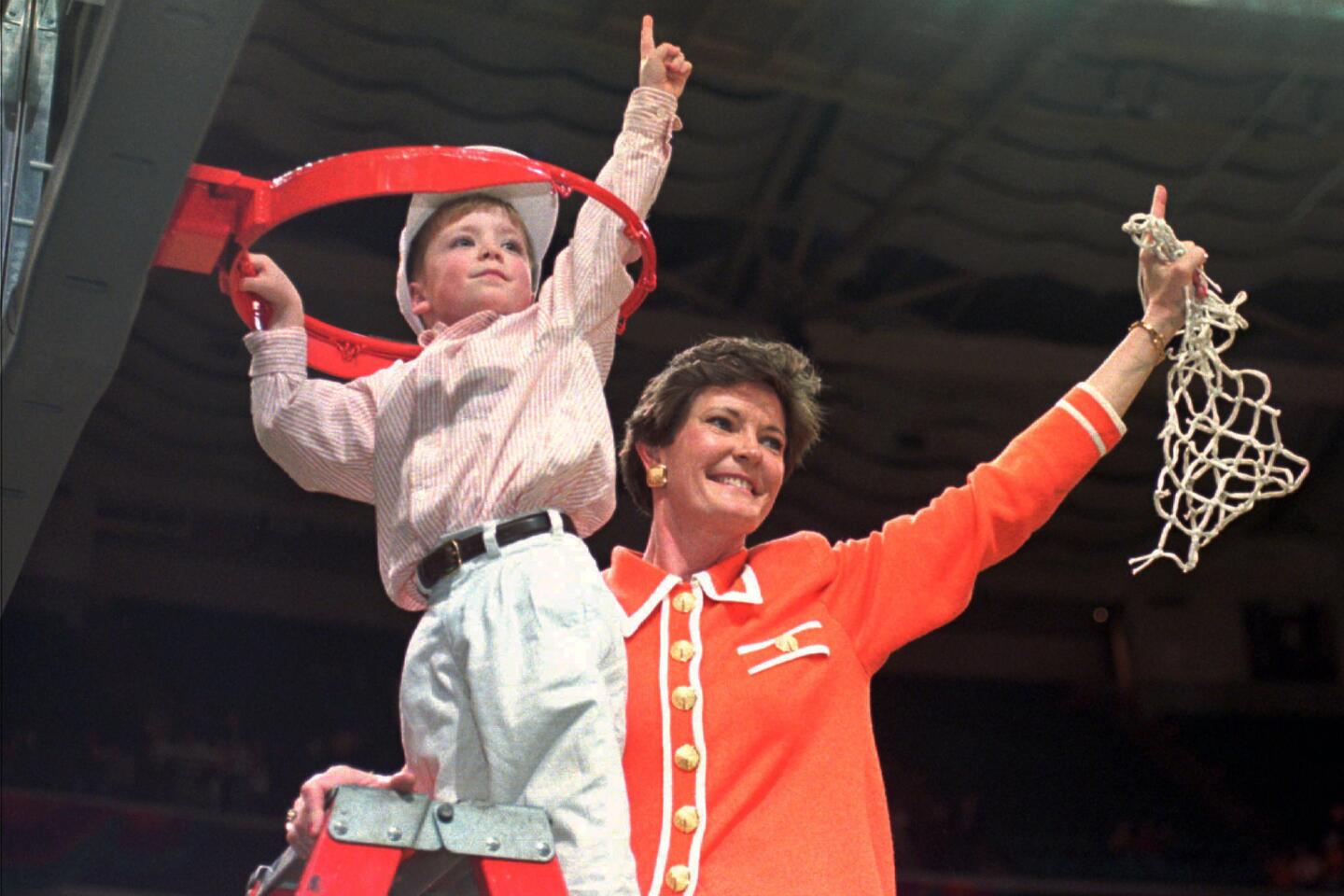 In this March 31, 1996, file photo, Tennessee coach Pat Summitt and son Tyler take down the net after Tennessee defeated Georgia, 83-65, in the title game at the NCAA women's basketball Final Four at Charlotte Coliseum in Charlotte, N.C.
(Pat Sullivan / AP)
President Obama awards Pat Summitt the Presidential Medal of Freedom in the East Room of the White House in Washington on May 29, 2012.
(Carolyn Kaster / AP)
U.S. women's basketball coach Pat Summitt is carried off by members of the team following their 85-55 win over South Korea in the gold medal game in the Olympics in Los Angeles on Aug. 8, 1984.
(Pete Leabo / AP)
Tennessee coach Pat Summitt has confetti dumped on her by players Alicia Manning (15) and Alex Fuller (2) on Feb. 5, 2009, after the Lady Vols defeated Georgia, earning Summitt her 1,000th career coaching victory.
(Wade Payne / Associated Press)
Summitt went by "Tricia" all her life but never bothered to correct university officials who called her "Pat." She took her husband's surname in 1980 when she married R.B. Summitt. They divorced in 2007.
Summit's first game as coach, a one-point loss to Mercer on Dec. 7, 1974, was contested before 53 fans in the campus gym.
"I wasn't prepared," she would later tell the Hartford Courant.
Summitt overcompensated for her inexperience by ruthlessly driving her players.
She implemented a tough-love formula handed down from her father, Richard, a no-nonsense task-master.
Patricia Sue Head was born into farm life on June 12, 1952, in Clarksville, Tenn., and worked hard hours at an early age. She and three older brothers were essentially field hands for their father, chopping tobacco and baling hay.
"If I made a mistake, I got whipped," she once explained in Sports Illustrated. "If I cried, I got whipped harder."
She was, in youth, gangly and shy. Peers made fun of the way she pronounced "suitcase" as "soup case."
Coaching success did not come immediately. In Summitt's first two seasons, her Tennessee teams had a combined record of 32-19, but she vowed to outwork everyone until her program became competitive. She washed uniforms, taped ankles and drove the team van.
"I made a choice early in my career to challenge myself to step up my game each and every game," Summitt said at her 2012 retirement announcement.
Summitt used fear as a motivator.
I made a choice early in my career to challenge myself to step up my game each and every game.
— Pat Summitt in her retirement speech
Before becoming Summitt's longtime assistant and eventual successor, Holly Warlick was Tennessee's point guard in the late 1970s.
"I remember leaving the gym as a freshman, wondering what I was doing to my body and myself," Warlick told the Sporting News in 1994. "And thinking: 'That woman is crazy.'"
Summitt once devised a workout so demanding she placed plastic trash bags at the four corners of the court.
"Every so often another young lady would limp over to the sideline and do some business," Summitt recalled in "Reach For the Summit," a motivational book.
Tennessee became a national power but did not win its first NCAA title under Summitt until 1987. The Lady Vols won again in 1989 and 1991 and then three straight starting in 1996.
It took the '96 title to receive the validation she long sought.
"I was 43 years old before my father hugged me for the first time," she revealed in her book.
Her father died in 2005.
Summitt, like her dad, had a stubborn streak.
In 1990, nine months pregnant, Summitt refused to call off an important recruiting trip to Pennsylvania. She went into labor during the visit and flew back to Knoxville. The pilot wanted to make an emergency landing in Virginia, but Summitt vowed her baby would be born on Tennessee soil. Shortly after landing, she gave birth to her son, Ross Tyler.
As she grew older, Summitt tempered her approach with players.
"I was so busy being tough, I didn't understand the value of getting to know the players on a deeper level," she told Sports Illustrated.
Summitt was a seven-time NCAA coach of the year and, in 2000, was elected to the Naismith Memorial Basketball Hall of Fame.
She was going full throttle into her late 50s when friends started noticing lapses in her memory. In spring 2011, a battery of tests conducted at the Mayo Clinic revealed early-onset Alzheimer's.
Summitt at first was defiant. When a doctor recommended she retire from coaching, according to the Washington Post, Summitt blurted out, "Do you have any idea who you're dealing with?"
Three months later, in August 2011, Summitt made public her diagnosis but vowed she would continue to coach.
She led the Lady Vols to a 27-9 record in the 2011-12 season but assigned many day-to-day duties to assistants.
In April 2012, shortly after Tennessee lost to Baylor in the regional finals of the NCAA Tournament, Summitt announced her retirement.
"I can say for almost four decades, it has been a privilege to make an impact on the lives of 161 women who have worn the orange," she said. "We have taken a magnificent journey. We have grown the game of women's basketball each and every day."
She then, literally, handed over her whistle to Warlick.
"It's never a good time," Summitt said. "But you have to find a time you think is the right time. And that is now."
Summitt remained at the school with the title "head coach emeritus."
"I'm still going to yell at them," she said of her players. "I love these young people and hopefully they'll keep me young."
She was most proud that, under her watch, every player graduated who completed their eligibility.
Get our high school sports newsletter
Prep Rally is devoted to the SoCal high school sports experience, bringing you scores, stories and a behind-the-scenes look at what makes prep sports so popular.
You may occasionally receive promotional content from the Los Angeles Times.