Berle Adams dies at 92; co-founder of Mercury Records and an MCA executive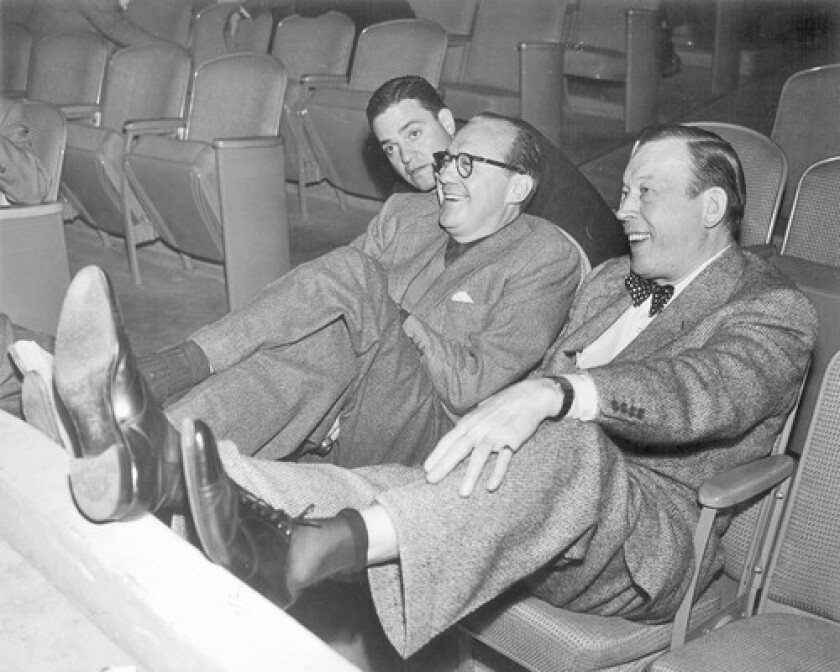 Berle Adams, a onetime big-band booking agent who co-founded Mercury Records in the 1940s and later became a senior executive at MCA before launching his own successful business as an international television program sales representative and distributor, has died. He was 92.
Adams, who had been ailing during the last year, died Tuesday at Cedars-Sinai Medical Center in Los Angeles, said Ken Kleinberg, his son-in-law.
"One of the things that's exciting and fortuitous about his life is he rose to great stature during a period when the music business was young and the television business was young," said Kleinberg, an entertainment lawyer.
During his more than 60-year career, Adams booked road dates for big bands and entertainers such as Glenn Miller, Woody Herman and the Andrews Sisters in the 1940s. He also served as personal manager for musician-bandleader Louis Jordan, whose career as "The King of the Jukebox" he helped build.
In 1945, Adams, Irving Green and Arthur Talmadge founded Mercury Records, whose early artists included Erroll Garner, Dinah Washington, Tony Martin, Frankie Laine and Vic Damone.
"His job was to recruit the talent to come and record for Mercury," said Gordon Cohn, who interviewed Adams extensively and assisted him in writing "A Sucker for Talent," a 1995 book that Adams self-published for friends and family.
After resigning from Mercury Records in 1947, Adams moved from Chicago to Los Angeles for health reasons with his wife and two children.
In 1950, MCA President Lew Wasserman invited Adams to join MCA, then the world's largest talent agency. At MCA, Adams was primarily responsible for packaging new television programs and negotiating their contracts with the networks.
He worked closely with Ralph Edwards in developing a TV packaging arrangement that led to programs such as "This Is Your Life" and "Queen for a Day."
Adams also signed Tennessee Ernie Ford, who hosted a musical variety show on NBC from 1956 to 1961.
In 1957, Adams created MCA's international TV division, marketing successful American TV shows to foreign countries.
"Berle Adams was one of the key moving forces in MCA during its heyday in the 1950s and '60s as the single most powerful juggernaut in the entertainment industry," said Dennis McDougal, author of the 1998 book "The Last Mogul: Lew Wasserman, MCA and the Hidden History of Hollywood."
Adams, McDougal said, "was key to early television at MCA."
"He was one of the powerhouses at MCA Revue, which produced most of the television that was seen on all three networks during the 1950s. What MCA invented was the packaging of stars and productions. MCA created the shows, and back then they produced them before the Justice Department cracked down on agencies being involved in production."
After MCA purchased Universal Pictures and left the agency business in 1962, Adams negotiated the purchase of Leeds Music and established a new MCA music company, UNI Records.
He signed The Who, Neil Diamond, Elton John and Olivia Newton-John to recording contracts.
Adams, who had negotiated MCA's contract to represent the new American Football League, also helped MCA colleague David "Sonny" Werblin and his partners with the 1963 acquisition of the New York Titans, whose name was changed to the Jets.
By the late '60s, Adams had risen to executive vice president of MCA and was a member of the board.
After an internal power struggle, Adams left MCA Universal in 1971 and formed BAC Inc. to represent television producers for international distribution of their programs.
In 1973, he joined the William Morris Agency for a short time and established William Morris Sports.
In his later years at BAC Inc., Adams distributed TV specials starring George Burns, Dolly Parton, Neil Diamond, Goldie Hawn, Cher and other stars. And, for 24 years, Adams was the sole international distributor of the Emmy Awards show to more than 100 countries.
The son of Russian immigrants, he was born Beryl Adasky on June 11, 1917, on the west side of Chicago.
At 16, he launched his career by renting speaker systems and booking bands for school proms and neighborhood events.
Adams then worked his way up from office boy to booking agent at General Artist Corp. in Chicago in the early '40s. He left General Artist in 1943 to become Jordan's personal manager and launch the Berle Adams Agency.
Adams' wife, Lucy, died of cancer in 1990. His companion, Claire Pasarow, died in 2008.
He is survived by his children, Helen Kleinberg and Richard Adams; four grandchildren; and seven great-grandchildren.
A funeral service and celebration of his life will be held at 10 a.m. Sunday at Mount Sinai Memorial Park and Mortuary, 5950 Forest Lawn Drive, Los Angeles.
Instead of flowers, donations may be made in Adams' memory to the University Kidney Research Organization, 2049 Century Park East, Suite 3180, Los Angeles, CA 90067.
---
Must-read stories from the L.A. Times
Get all the day's most vital news with our Today's Headlines newsletter, sent every weekday morning.
You may occasionally receive promotional content from the Los Angeles Times.