Rubin 'Zeke' Zarchy dies at 93; big band trumpeter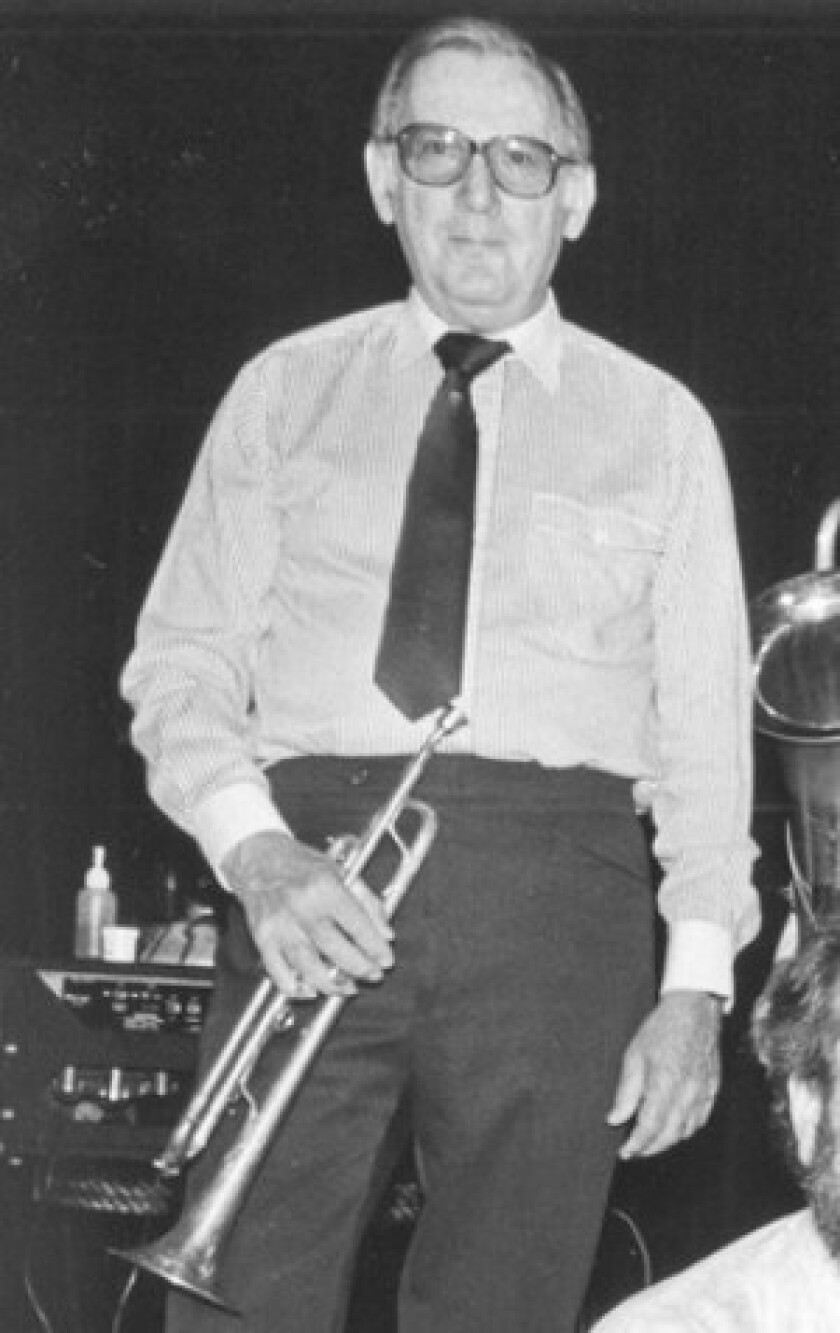 Rubin "Zeke" Zarchy, a trumpeter for a number of leading big bands who was best known for his association with Glenn Miller's orchestra in the 1940s, has died. He was 93.
Zarchy died Saturday of complications from pneumonia at Kaiser Permanente Hospital in Irvine, according to daughter Carol Hettmansberger.
From the mid-1930s on, Zarchy played with a who's who of big band leaders including Joe Haymes, Benny Goodman, Bob Crosby, Artie Shaw, Tommy Dorsey, Paul Weston and Miller. He was considered the glue that held together the brass sections in the Dorsey, Crosby and Miller bands.
In his book "The Big Bands," George T. Simon noted that "a potent, dependable, yet flexible lead trumpeter could always find work." Simon placed Zarchy high on the list of those who "could choose their spots with any of the most successful, best-paying bands."
Zarchy was born in New York on June 12, 1915. His father played the mandolin and wanted his children to learn instruments. Zarchy played violin in his youth and became enthralled with horn players like Louis Armstrong and switched to trumpet in his early teens. He became the bugler for his Boy Scout troop and knew from then on that he wanted to stay with the horn. He was just 20 when he started playing with Haymes.
After playing with Miller in 1940, Zarchy rejoined him in the Army Air Forces band in early 1943. As the band's master sergeant, Zarchy was basically in charge of the band, which was made up of enlisted men, for the duration of the war.
And he was the last band member to speak to Miller before the great musician boarded a plane on Dec. 15, 1944, for a trip to Paris. Miller's flight never made it to France, and he and the others aboard were presumed lost over the English Channel.
Of Miller, Zarchy would say: "He was definitely . . . a tough taskmaster. He had the knack of nailing things down in the fewest words and translated that precision into his orchestral arrangements. But if there was a commercial angle in the band, Glenn would exploit it.
"After all, he had a huge payroll but still became a millionaire in three years when it cost only $2 to get into a dance."
After World War II, Zarchy continued to work with the Miller band and made frequent trips to Europe, Japan and South America.
Zarchy settled in L.A. in the early 1950s and found plenty of work in the Hollywood film and recording studios. He worked on recordings by Frank Sinatra and also played in bands led by Crosby and Ray Anthony.
He played well into the 1980s as a member of the Great Pacific Jazz Band, where he re-created solos by Armstrong and Bix Beiderbecke, among others.
His wife of 58 years, Margaret, died in 2007 at age 85.
In addition to his daughter Hettmansberger, he is survived by son Andrew Fielding of Vancouver; daughters Amy Winterstein and Laura Wagner, both of Denver; and a grandson.
Services will be private.
Instead of flowers, the family suggests donations be made to the Alzheimer's Foundation of America.
---
Must-read stories from the L.A. Times
Get all the day's most vital news with our Today's Headlines newsletter, sent every weekday morning.
You may occasionally receive promotional content from the Los Angeles Times.