What happens when a white officer shoots a black man, but no one releases a video
Najiyyah Avery, center, prays for her son, Jai "Jerry" Williams, while holding his childhood teddy bear at the Block off Biltmore in Asheville, N.C., on July 12, the day Williams would have turned 36. Williams was fatally shot by police at the city's Deaverview Apartments 10 days earlier.
(Susannah Kay / For The Times)
Concerned community members Adrienne Weir, center, and Hannah Butler, right, gather in front of the Asheville Police Department to raise awareness in memory of Jai "Jerry" Williams on July 12. Williams, 35, was shot and killed by police in the North Carolina city on July 2, 2016.
(Susannah Kay / For The Times)
A shrine in memory of Jai "Jerry" Williams is displayed at the Block off Biltmore in Asheville, N.C., on July 12.
(Susannah Kay / For The Times )
Concerned community members attend the Interfaith Unity Gathering organized by Asheville, N.C., city officials and the Interdenominational Ministerial Alliance in memory of Jai "Jerry" Williams on July 12.
(Susannah Kay / For The Times)
Diondrea Arrington, 3, and other community members attend the Interfaith Unity Gathering organized by city officials and the Interdenominational Ministerial Alliance in memory of Jai "Jerry" Williams on July 12, 2016, in Pack Square Park in downtown Asheville, N.C.
(Susannah Kay / For The Times)
Family members and concerned citizens wear T-shirts in memory of Jai "Jerry" Williams, who was shot and killed by police in Asheville, N.C., on July 2, 2016.
(Susannah Kay / For The Times )
Posters in memory of Jai "Jerry" Williams are shown at the Block off Biltmore in Asheville, N.C. Williams, 35, was fatally shot by police at nearby Deaverview Apartments on July 2, 2016.
(Susannah Kay / For The Times)
Jamal Cash leads Jai "Jerry" Williams' family and community in song at Williams' birthday party at the Block off Biltmore in Asheville, N.C., on July 12. Williams, who was fatally shot by police 10 days earlier, would have been 36.
(Susannah Kay / For The Times )
Jai "Jerry" Williams is honored by his mother, Najiyyah Avery, left, and cousins Tristan Earle and Tiffany Williams at his birthday party in Asheville, N.C. Williams died 10 days earlier in a police shooting.
(Susannah Kay / For The Times)
Reporting from Asheville, N.C. —
When a white officer launched seven bullets into a black man outside a housing project here early this month, there were chants of "black lives matter" in the streets, accusations of racism, and demands for an investigation and answers.
But unlike other police-involved deaths of black men across the country, the fatal shooting of Jai "Jerry" Williams on July 2 had no viral video. And instead of dividing a community between those who accept the police version of events and those who question it, Williams' death has united residents in grief while opening wounds about race in this liberal Southern enclave.
In Asheville, a majority-white city of 88,000 whose tourism board has touted it as a place where Americans can live life "any way you like it," news of the shooting has gradually made its way through the community after being overshadowed by national events, shocking white residents into soul-searching and an identity crisis.
Hundreds of Ashevillians, familiar with loud protests over causes like gay rights, fracking and war, have taken to the streets to block downtown intersections and hold vigils.
In a place whose liberal population prides itself on racial understanding, national trauma and local violence have collided.
White churches that were pioneers in fighting for same-sex marriage are hosting Sunday dialogues on racism, inviting black pastors they've never met to join. At the downtown organic store, white employees recently agreed to put up a "Black Lives Matter" sign. Massage therapists and yoga instructors are offering healing sessions for people traumatized by bloody viral videos and news coverage.
At the same time, residents are unearthing long-simmering racial tensions in a city where many didn't realize they existed.
"It's somewhat of a startling revelation," said Esther Manheimer, mayor of the city that's home to the University of North Carolina at Asheville. "We all walk in our bubbles and assume everybody is experiencing life the way I am experiencing life."
Now, she said, the community is going through a "necessary disruption."
Like many Southern cities, Asheville, nestled amid the Blue Ridge Mountains, grew from the labor of slaves, who worked on its extravagant 19th century plantations and helped build downtown. The city once had a thriving black business district that declined amid development in the 20th century as new highways were built over black centers.
The black community, largely poor and concentrated in housing projects and segregated neighborhoods, has lost more than a tenth of its members since 2000, and stands at around 13% of the city population.
African Americans have long complained about mistreatment at the hands of police, including after an officer was cleared of charges in 2014 for the deadly shooting of a 19-year-old black man after a foot chase. But the recent death has brought crowds of black residents — and some white allies — unlike before.
"People are tired of what they are seeing in this country," said DeLores Venable, a 37-year-old healthcare worker and Black Lives Matter activist who has led local protests asking police to release records into Williams' shooting.
"I'm fifth-generation from here. It's always been racist," said Venable, who had known Williams and said he was "nothing like they make him out to be. He was always joking, the one to cheer you up. Everything that they say happened is completely out of character."
"White people are just waking up," added Johaunna Cromer, another Black Lives Matter activist who knew Williams. "More of them need to."
Williams' shooting bears little resemblance to the recent deaths of black men that have captivated the nation, except in one sense: Nearly every detail has been disputed.
According to police, officers responded to a call about shots fired at a public housing complex southwest of downtown and went on a three-mile car chase of a suspect, ending at another housing project. Officers said they saw Williams, 35, struggling with a woman who was trying to get out of the car they had been chasing. Then, they said, he ran the car onto a curb and displayed an AR-15 semiautomatic rifle.
The white officer who shot Williams is on administrative leave, and the State Bureau of Investigation is collecting evidence.
Family members and witnesses dispute much of the story, challenging the account of who was in the car and whether Williams threatened to use a gun or even had one.
Police say that the officer was not wearing a body camera, and that there was no dashboard camera installed in the patrol car. The police introduced an already-scheduled body camera program just days after the shooting. No bystander videos have been released.
The local controversy, paired with the graphic videos that catapulted into social media prominence the deadly shootings by police of Alton Sterling in Louisiana and Philando Castile in Minnesota, has emboldened some white residents here to not only seek answers but explore their own attitudes toward race.
"How do we proceed, as a city and a country?" asked Janet Quick, 70, who was spurred this month to go to her first meeting of the Asheville chapter of Showing Up for Racial Justice, a national network of white activists that was founded in response to police shootings of black Americans.
The retired clinical psychologist and lifelong member of the National Assn. for the Advancement of Colored People had never marched in a Black Lives Matter protest, but now is looking for one to join. As the daughter of an FBI agent, she's also wary of being quick to judge law enforcement.
Showing Up for Racial Justice meets in the muggy backroom of Firestorm, a cafe-bookstore whose regular events include an animal rights reading group and meetings of a "queer women's book club." It often gets around five attendees for a weekly discussion group on race that it has held since shortly after the shooting of Michael Brown in Ferguson, Mo., in 2014. At a recent meeting, an overflow crowd of 30 people joined to strategize and air their views.
"I feel like I took a red pill from 'The Matrix.' I can't go back," said Kriya Lendzion, a 45-year-old school counselor who moved to the city nine years ago from Orlando, Fla., after being attracted by Asheville's high rankings for safety and the popularity of its holistic wellness community.
"It's taken me so long to understand that all of the things this city prides itself in, they don't include black people," said Lendzion, a white woman whose 18-year-old son is biracial and identifies as black.
"We're this progressive, white, hippie town, and everyone says, 'No, we're not racist,'" said Rae Nebula, a 32-year-old performance artist and hairstylist. "I'm thirsty for a way to wake more people up. It's our job to make people uncomfortable, because this is how people of color feel all the time."
Mic Collins, one of the founders of the group, chimed in, calling the moment a "test for this community."
"I hold the tension of being unsure about what happened" to Williams, said Collins, 28. "But at the same time, we all know what happened because it's happening around the country."
Statistically speaking, the group's sentiments on race are unusual among white Americans. A Pew Research Center survey released last month showed stark contrasts in how white and black Americans see race. Forty-six percent of whites said race relations were generally good, while 61% of blacks said they were generally bad. About 4 in 10 blacks said they doubted the country would ever reach a point where they would be treated equally to whites. Nearly 4 in 10 whites said that had already happened.
On a recent Tuesday evening, 10 days after Williams' shooting had ignited protests and self-examination, activists, clergy and community members gathered downtown to pay tribute to his life and that of the two black men and five police officers who had died in the previous week in Louisiana, Minnesota and Texas.
At the Block off Biltmore, a vegan bar and restaurant housed in the same building as the Young Men's Institute, a historic black cultural center, dozens came together to celebrate what would have been Williams' 36th birthday. A DJ played old-school soul, Williams' favorite music, and 50 Cent, as Williams' mother, aunts and cousin stood at microphones to demand answers about their loved one's death before cutting a vegan chocolate-blueberry cake. It was festive yet somber, as attendees drank margaritas and ate sauteed kale over rice with cornbread.
"I'm still waiting on the truth. I still haven't seen his body. I'm still waiting on the autopsy report. We have no funeral plans yet," said Williams' mother, Najiyyah Avery, as she held Poopdy, the ragged teddy bear her son had kept since childhood. "No city, county, government official has reached out." Her eyes lighted up when she talked about her son, who was a packer at an alcohol distribution company, and had dreams of writing novels and making rap CDs. Most attendees at the party were black.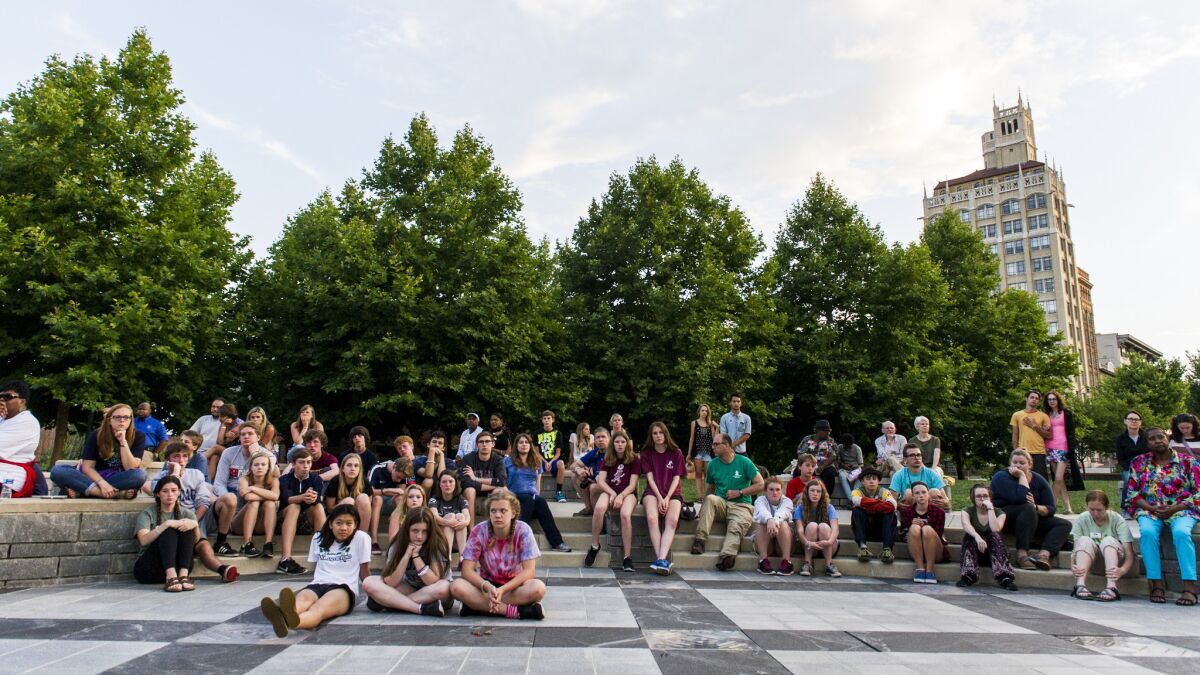 Two blocks away at Pack Square Park, a mostly white crowd of around 150 gathered with the mayor, police chief and clergy to offer prayers after the shooting, and the for the dead across the U.S. this month. Within eyesight of the crowd was the Vance Memorial monument, a historic 50-foot obelisk named after a former governor, U.S. congressman and slave owner that's been the site of controversy among black residents over the years.
"I can't imagine the grief this family is experiencing right now," said Mayor Manheimer, who is white. "Once we have an encounter between a person and a police officer that ends in tragedy, we as a community have failed that individual and we have failed that officer."
The two events were organized independently, and Avery said it was a "slap in the face" to have city officials put together a tribute to her son without her permission and without inviting her.
As the vigil, organized by an interfaith coalition, closed, Manheimer walked down the street to the birthday party for Williams, mingling with guests and waiting in line to meet the Williams family.
The family was surprised, and put off. Their pain and the city's divide was long from being healed, they said.
Through a representative, they told the mayor they didn't want to talk to her on their son's birthday, and asked her to go home.
Jaweed Kaleem is The Times' national race and justice correspondent. Follow him on Twitter and Facebook.
ALSO
Florida police shoot caretaker who says he was trying to help autistic patient
From Ferguson to Baton Rouge: Deaths of black men and women at the hands of police
The Game doesn't care if he never sells another album - he's out to make the world a safer place
Must-read stories from the L.A. Times
Get the day's top news with our Today's Headlines newsletter, sent every weekday morning.
You may occasionally receive promotional content from the Los Angeles Times.