Judge orders prompt release of immigrant children from detention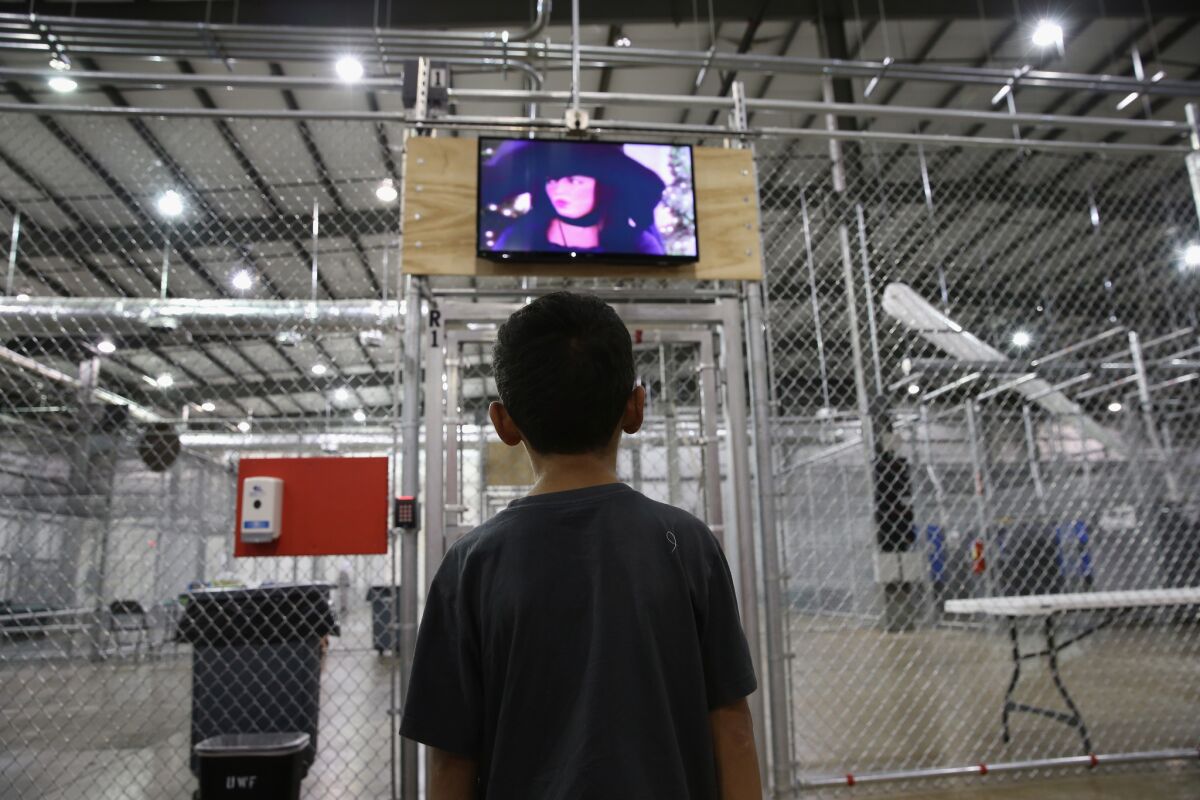 A federal judge has once again dealt a blow to the Obama administration's immigration policies, ordering federal officials to promptly release children held at family detention facilities.
The judge, in a ruling released Friday evening, said that children should not be held for more than 72 hours unless they are a significant flight risk or a danger to themselves and others.
It's unlikely that a mass release will happen right away, however.
Judge Dolly Gee in Los Angeles gave federal officials until Oct. 23 to comply with her order.
In a statement released Saturday, the Department of Homeland Security did not specify its next legal steps, saying only that it will "continue to screen family members' claims as expeditiously as possible" and that it will review Gee's decision and "consider available options with the Department of Justice."
In the statement, the department said: "While we continue to disagree with the court's ultimate conclusion, we note that the court has clarified its original order to permit the government to process families apprehended at the border at family residential facilities consistent with congressionally provided authority."
NEWSLETTER: Get the day's top headlines from Times Editor Davan Maharaj >>
The case centers on 1997 legal settlement -- known as the Flores agreement -- that set legal requirements for the housing of children seeking asylum or in the country illegally. In July, Gee found that the government had violated that agreement; she repeated that finding Friday.
Federal attorneys had argued that Gee's initial ruling would spark another surge of illegal immigration across the U.S.-Mexico border. Gee denied the government's request for reconsideration, equating that argument to "fearmongering."
It's likely that hundreds of immigrant families will remain locked up and in limbo as the case makes its way through the courts -- possibly up to the U.S. 9th Circuit Court of Appeals.
The Obama administration is detaining an estimated 1,400 parents and children at three detention facilities, two in Texas and one in Pennsylvania.
The detention of family units came as a response to a sharp increase in the number of people -- mostly Central Americans -- crossing into the U.S. Southwest last summer.
Last fiscal year, more than 68,000 people were caught crossing the U.S.-Mexico border. Some were apprehended while attempting to sneak into the United States, while others surrendered to border enforcement officials and requested asylum, which is within their rights under U.S. and international laws.
Interested in the stories shaping California? Sign up for the free Essential California newsletter >>
In her 15-page order, Gee chastised federal officials for reiterating the same arguments they had raised in earlier briefings and which she had already been rejected.
But her order still leaves open two key questions: Will the U.S. also release the parents -- mostly mothers -- of children who are in family detention? Or will families be separated?
Gee has called the detention centers and temporary holding cells along the border "deplorable" and has said they "failed to meet even the minimal standard" for "safe and sanitary" conditions. Government attorneys argued conditions at the centers have improved, but Gee wrote that they had failed to prove that point.
Immigrant rights groups have filed lawsuits alleging substandard treatment and medical care at the centers. More than 100 Democratic members of Congress this summer called on the administration to end family detention, saying children should not be held in prison-like settings.
Peter Schey, who launched the lawsuit and serves as court-appointed counsel for children in immigration custody, said the judge's order would help protect immigrant children "from lengthy and entirely senseless detention by the Department of Homeland Security in unsafe adult lockdown facilities run by private corporations raking in millions of dollars in profits."
Two of the three family detention facilities -- those in Texas -- are run by private companies contracted by the government.
Schey, president of the Center for Human Rights and Constitutional Law in Los Angeles, said Homeland Security Secretary Jeh Johnson should be ashamed of his detention policy that "over the past year has caused thousands of innocent children to needlessly suffer severe psychological and often physical harm."
Twitter: @thecindycarcamo
MORE IMMIGRATION COVERAGE:
Judge blasts ICE, says immigrant children, parents in detention centers should be released
Young immigrants placed in sponsor homes are at risk of abuse, experts say
As immigration judges' working conditions worsen, more may choose retirement
Must-read stories from the L.A. Times
Get the day's top news with our Today's Headlines newsletter, sent every weekday morning.
You may occasionally receive promotional content from the Los Angeles Times.