Judge blasts ICE, says immigrant children, parents in detention centers should be released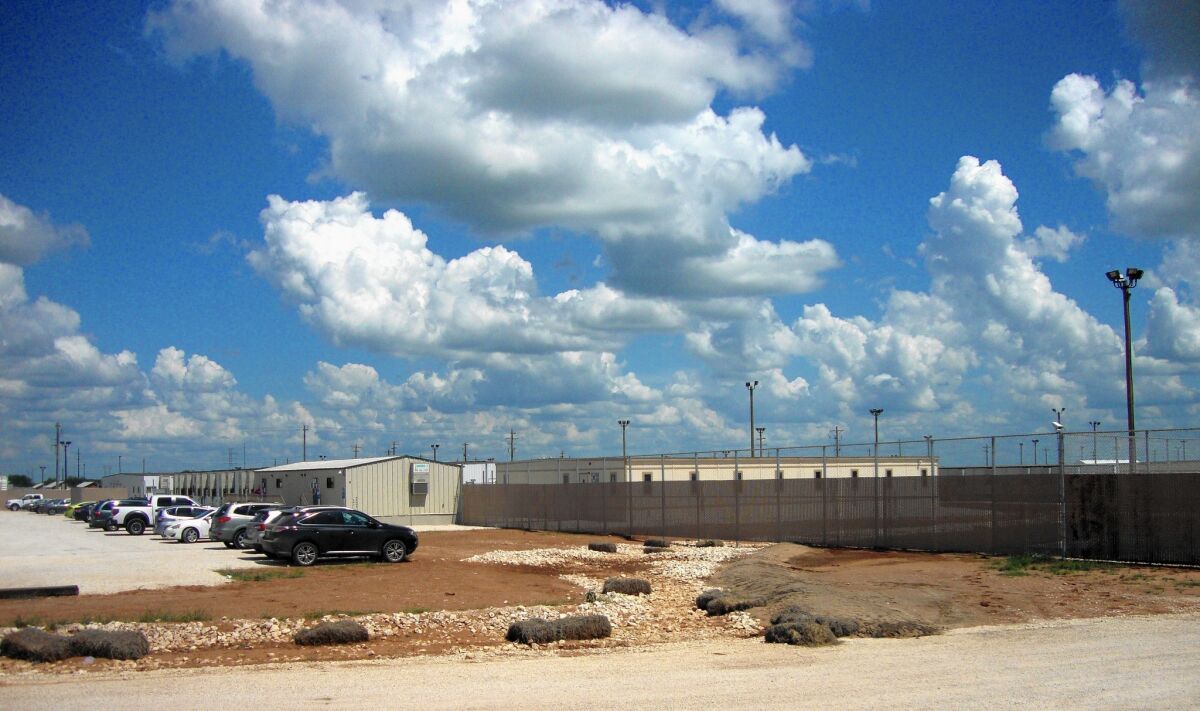 A federal judge has ruled that hundreds of immigrant women and children held in holding facilities should be released, finding their detention "deplorable" and in grave violation of an earlier court settlement.
U.S. District Judge Dolly Gee said federal authorities had violated key provisions of an 18-year-old court settlement that put restrictions on the detention of migrant children.
The ruling, released late Friday, is another blow to President Obama's immigration policies and leaves questions about what the U.S. will do with the large number of children and parents who crossed the border from Latin America last year.
The Obama administration is detaining an estimated 1,700 parents and children at three detention facilities, two in Texas and one in Pennsylvania.
In her 25-page ruling, Gee blasted federal officials, saying that children had been held in substandard conditions at the two Texas detention centers. She found "widespread and deplorable conditions in the holding cells of Border Patrol stations." In addition, she wrote that federal officials "failed to meet even the minimal standard" of "safe and sanitary" conditions at temporary holding cells.
"It is astonishing that defendants have enacted a policy requiring such expensive infrastructure without more evidence to show that it would be compliant with an agreement that has been in effect for nearly 20 years," Gee wrote.
Gee gave the government until Aug. 3 to explain why an order she plans to issue should not be implemented within 90 days.
------------
For the record
12:30 p.m.: An earlier version of this article mischaracterized the judge's ruling as requiring the release of detained immigrants as soon as possible. The judge gave the government until Aug. 3 to show why an order she plans to issue to release the immigrants should not be implemented within 90 days.
------------
The judge signaled that she planned to enter a nationwide injunction requiring Department of Homeland Security to come into compliance with a 1997 settlement—better known as Flores— that set specific legal requirements for the housing of immigrant children.
DHS plans to respond to the court's ruling by the Aug. 3 deadline, she said. It's unclear whether ICE will appeal the ruling.
"We are disappointed with the court's decision and are reviewing it in consultation with the Department of Justice," Marsha L. Catron, press secretary for the U.S. Department of Homeland Security, said in a prepared statement.
Last summer, as an unprecedented number of women and children from Central America were illegally crossing the Southwest Border, Homeland Security Secretary Jeh Johnson ordered that immigration authorities dramatically expand the number of detention beds for families.
Johnson said at the time that he wanted to send the message that if people come to the U.S. illegally, they would be detained and then sent home. In addition, individuals held in detention are placed in an accelerated docket in immigration courts and can be removed from the country more quickly.
More than 68,000 people were apprehended along the border in fiscal year 2014. They were detained while officials decided whether they had a right to stay. Initially, many were released with orders to appear at immigration offices throughout the country, because there weren't appropriate facilities to house families. Then the Obama administration opened new detention centers for mothers and children.
Immigrant rights activists and attorneys applauded Gee's ruling.
Bryan Johnson, an immigration attorney in New York, said the ruling should extend beyond those still in detention.
"Given the court's ruling that family detention is unlawful, all of the mothers and children who were removed as a result of family detention should be immediately allowed back into the United States to apply for asylum or special immigrant juvenile status," he said.
Ira Mehlman, a spokesman for the Federation for American Immigration Reform, a Washington-based group opposed to illegal immigration, said Gee's decision sends a "dangerous message."
"The number of kids that are going to be enticed from this ruling to come from Central America and risk their lives and subject themselves to injury or rape to cross Mexico is going to rise," Mehlman said.
Many of the Central American families and children who crossed the Southwest border illegally last summer were fleeing crushing poverty and escalating gang violence. The exodus was also partly fueled by rumors in their home countries that unaccompanied children and single parents with at least one child would be allowed to stay.
Some people who crossed were apprehended, while others surrendered to border enforcement officials and requested asylum, which is within their rights under U.S. and international laws.
In reaction, the Obama administration expanded detention centers for families, and the court system — already grappling with a backlog of cases — became even more bogged down. Hundreds have been ordered removed, some have been released. Mothers and children are still detained at two Texas facilities — one in Dilley, another in Karnes City, both run by private companies under contract with Immigration and Customs Enforcement. A third, in Berks County, Pa., is run by the county.
The Flores vs. Meese settlement requires the U.S. to release immigrant children or house them in the "least restrictive environment." A juvenile immigrant cannot be detained for more than an estimated 72 hours unless they are a significant flight risk or a danger to themselves or others. The children must be released to a parent or legal guardian.
One of the arguments federal officials made was that the settlement did not apply to children who are accompanied by parents. Gee disagreed.
In April, the judge issued a preliminary ruling, signaling that she would find in favor of the plaintiffs that it was inappropriate to hold a parent and child unless there was a flight or safety risk.
Still, Gee asked both sides to negotiate a revised agreement before her final ruling. After six weeks of negotiations, both sides failed to reach an agreement.
Leon Fresco, a deputy assistant attorney general, had warned Gee that if her ruling stood, it would encourage the Obama administration to separate parents and children, turning them into "de facto unaccompanied children."
Peter Schey and Carlos Holguin, who launched the lawsuit against federal officials and have served as court-appointed lawyers for all immigrant children in federal custody since the 1997 settlement, said the ruling marks the beginning of the end of family detention.
"We're hopeful this decision will be among the final straws ending a misguided, mindless policy of incarcerating women and children in violation of the Flores settlement, international law and all of what most of us hold decent," Holguin said.
Gee's ruling comes in the midst of a resurgence in the debate on immigration following Republican presidential candidate Donald Trump's characterization of Mexican immigrants as drug dealers and rapists. Just a few weeks later, the issue was again in the forefront after the suspect in the killing of a woman on San Francisco's waterfront turned out to be a Mexican national with a history of drug convictions who had been repeatedly deported.
Her ruling also comes about a month after federal officials announced a new policy that would allow hundreds of immigrant women and children to go free on bond if they could prove they were eligible for asylum or other type of immigration relief. But immigrant rights activists continue to argue that mothers and children should not be held at detention facilities at all.
Times staff writers Molly Hennessy-Fiske in Houston and Brian Bennett in Washington, D.C., contributed to this report.
San Francisco slaying upends immigration debate in 2016 presidential race
More migrants will avoid deportation under Obama's new policy, report says
The stories shaping California
Get up to speed with our Essential California newsletter, sent six days a week.
You may occasionally receive promotional content from the Los Angeles Times.