How Hawaii's newly destabilized volcano caused a magnitude 6.9 earthquake
Reporting from Honolulu —
A magnitude 6.9 earthquake struck Hawaii Island on Friday, with its epicenter at the heart of the newly erupting Kilauea volcano.
The earthquake could be felt across much of the archipelago, including in the state capital, Honolulu.
It struck at 12:32 p.m. local time, and according to Wendy Stovall, a volcano expert at the U.S. Geological Survey, was triggered by the movement of magma underneath the eastern flank of the volcano, an area known as the East Rift Zone.
It was the collapse of a lava-filled crater in the East Rift Zone on Monday that set off this week's eruption. The contents of the crater seeped into a network of underground channels and flowed downhill — and on Thursday started gushing out of cracks that had opened in the rural neighborhood of Leilani Estates.
It is not unheard of for strong earthquakes — even those bigger than magnitude 6.9 — to follow volcanic activity, Stovall said.
As molten rock moves underground, it causes a buildup of pressure, and that pressure is released as an earthquake.
Stovall said that since Thursday, there have been six cracks in the ground in Leilani Estates that have spewed red-hot lava up to 100 feet in the air — a dramatic spectacle but also a possible cause for optimism because the most damaging lava flows often are preceded by even higher fountains of lava.
A new fissure erupts Saturday evening near fissures 2 and 7, beginning with small lava spatters at about 8:44 p.m. HST. By 9 p.m., lava was shooting as high as 230 feet from the fissure.
(USGS / EPA-EFE/REX/Shutter)
A man watches lava spew from a fissure in the Leilani Estates subdivision near the town of Pahoa on Hawaii's Big Island.
(Frederic J. Brown / AFP/Getty Images)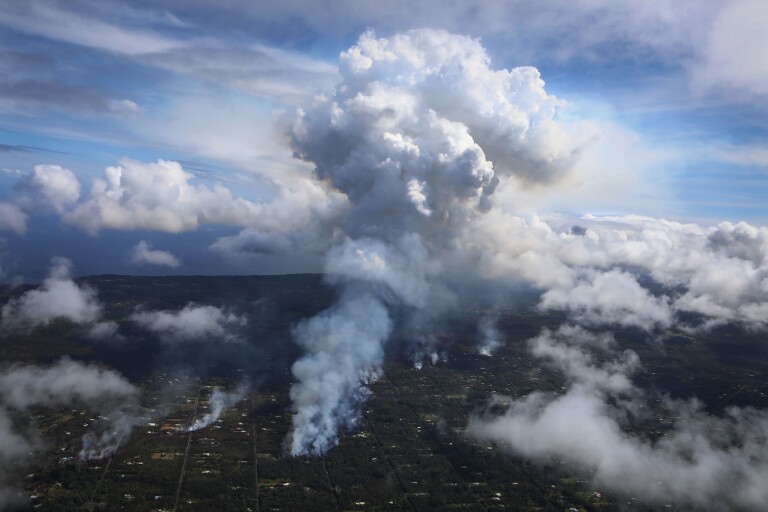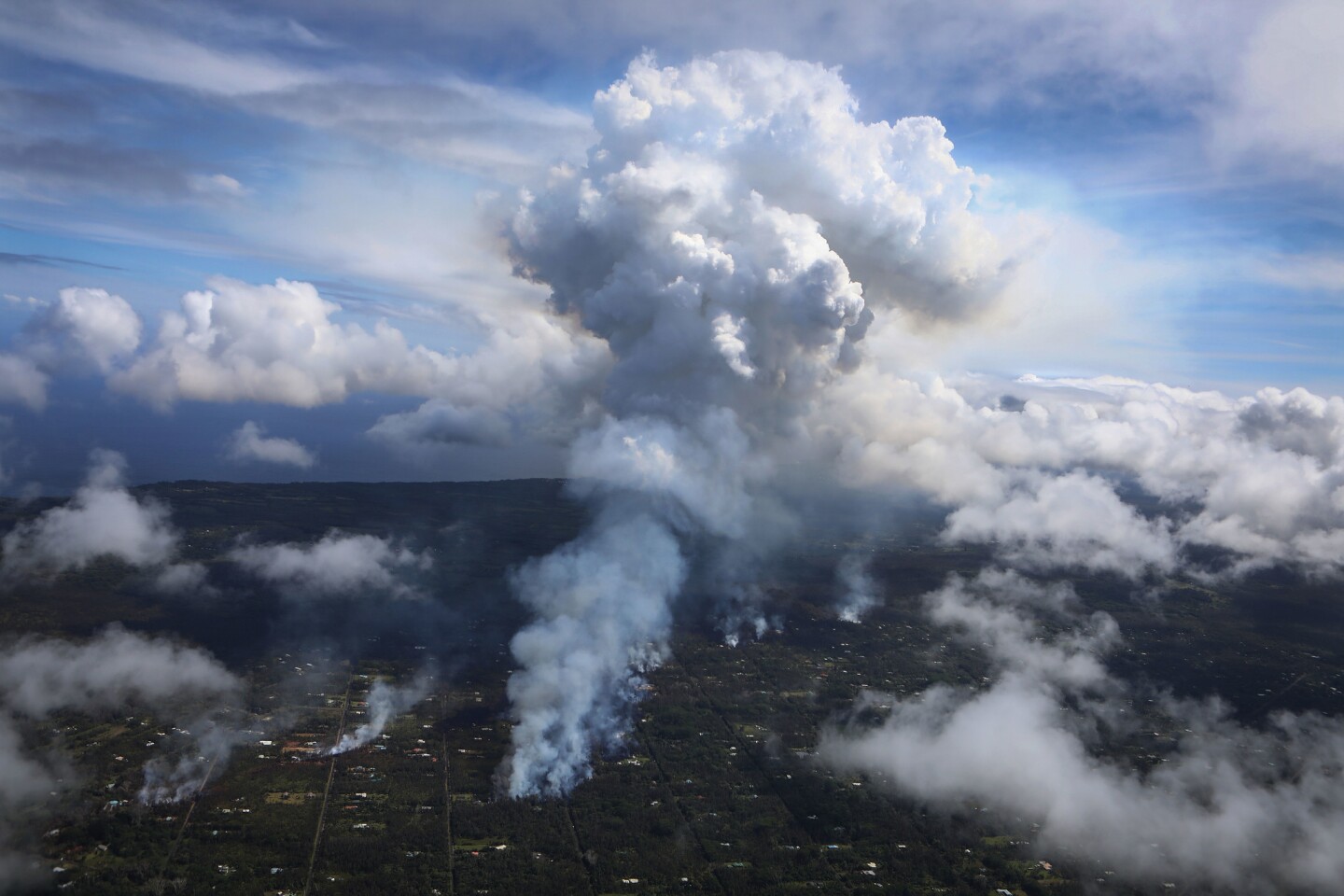 A plume of volcanic gas mixed with smoke from fires caused by lava looms above the Leilani Estates neighborhood of Hawaii's Big Island in the aftermath of eruptions from the Kilauea volcano.
(Mario Tama / Getty Images)
Lava from fissure 7 slowly advances to the northeast on Hookapu Street in Leilani Estates subdivision.
(USGS / EPA-EFE/REX/Shutter)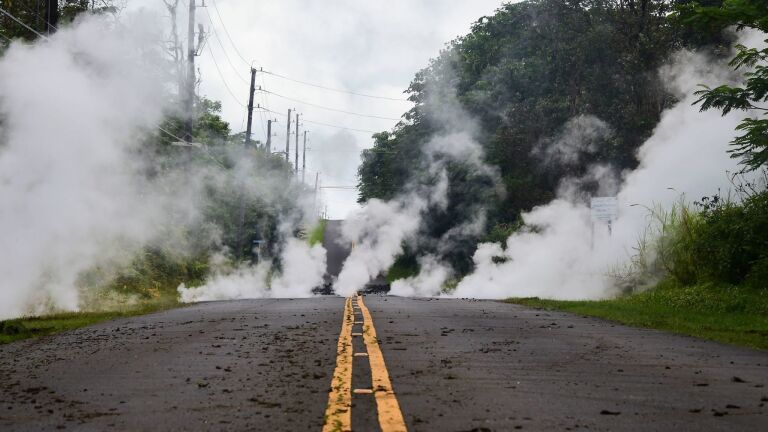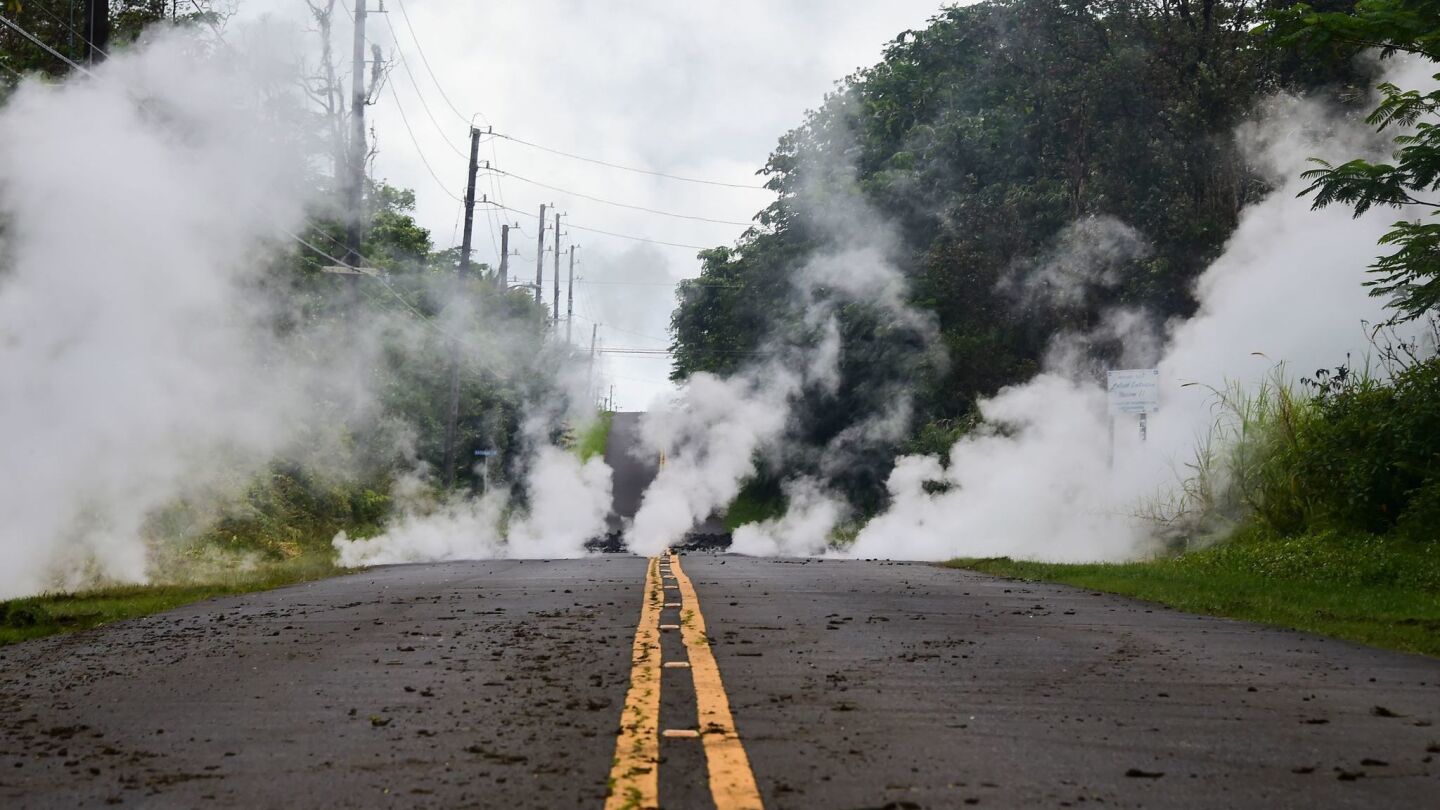 TOPSHOT - Steam rises from a fissure on a road in Leilani Estates subdivision on Hawaii's Big Island on May 4, 2018. Up to 10,000 people have been asked to leave their homes on Hawaii's Big Island following the eruption of the Kilauea volcano that came after a series of recent earthquakes. / AFP PHOTO / FREDERIC J. BROWNFREDERIC J. BROWN/AFP/Getty Images ** OUTS - ELSENT, FPG, CM - OUTS * NM, PH, VA if sourced by CT, LA or MoD **
(Frederic J. Brown / AFP/Getty Images)
A view of Puu Oo from the east, shortly after a small collapse.
(USGS / EPA-EFE/REX/Shutter)
The collapse crater in Puu Oo.
(USGS / EPA-EFE/REX/Shutter)
A new lava fissure opens on Kilauea volcano's lower East Rift Zone on Makamae and Leilani Streets in the Leilani Estates subdivision.
(USGS / EPA-EFE/REX/Shutter)
Steaming cracks in Leilani Estates subdivision moments before a fissure opened up on Kaupili Street.
(USGS / EPA-EFE/REX/Shutter)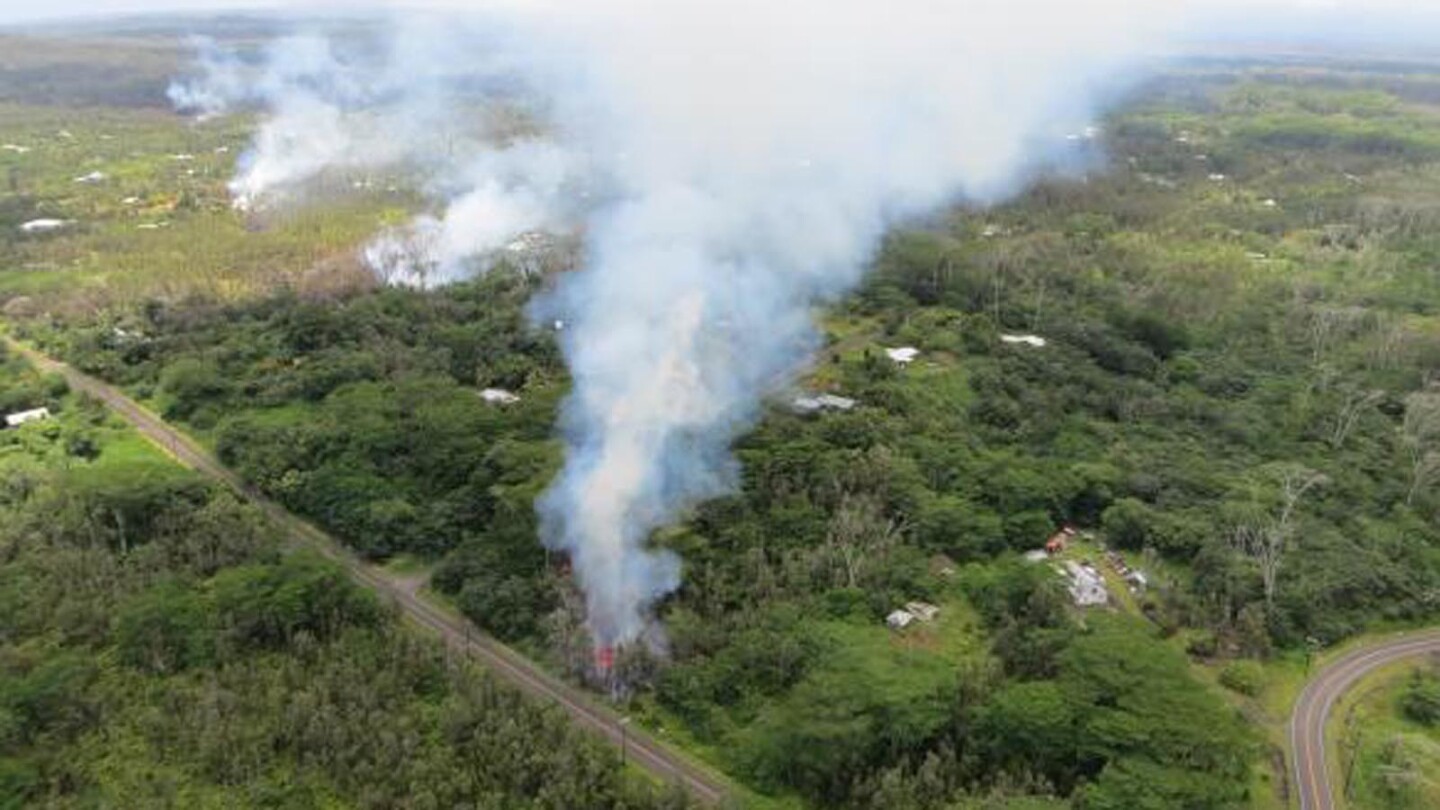 An eruptive area with fissures in Leilani Estates subdivision.
(USGS / EPA-EFE/REX/Shutter)
An ash plume rises after a magnitude 6.9 earthquake shook the Big Island of Hawaii.
(USGS / EPA-EFE/REX/Shutter)
"Even though it sounds like it's really high, it's not high for an opening phase for a more voluminous and dynamic long-lived eruption," Stovall said. "What we don't know is whether there is more magma that's going to come into that system. There's some signal there is more magma in there. But the latest data hasn't told us yet whether magma is moving into the Lower East Rift Zone."
Only one or two of the cracks have been erupting at any single time, Stovall said. By Saturday morning, six cracks ceased activity, but two new cracks emerged that are spewing lava. "This is a continually evolving situation," Stovall said.
The biggest hazard to people on the ground is toxic gas coming out of the cracks, Stovall said.
The fault plane that's moving is the boundary between the ancient sea floor and the Kilauea, which is Hawaii Island's youngest volcano.
Stovall said there were reports of earthquake damage in the city of Hilo, but she did not have details.
Cindi Preller, a geologist at the Pacific Tsunami Warning Center on Ford Island in Pearl Harbor, confirmed shaking in Hilo and "some minor sea-level fluctuations" that suggested a tsunami was unlikely.
There have been more than 500 earthquakes in the last week in the area of the Kilauea volcano. Six hours before the new eruption Thursday, a magnitude 5 earthquake was felt in the region. The 6.9 magnitude came about an hour after a 5.4.
The epicenter of the earthquake is a closed section of Hawaii Volcanoes National Park where there are few structures, according to Bruce Presgrave, a USGS geophysicist at the National Earthquake Information Center in Colorado.
The USGS's Hawaiian Volcano Observatory, which is perched on the rim of the Kilauea summit, suffered some damage, Presgrave said, but details weren't immediately available.
Scientists at the observatory "were ducking for cover," Presgrave said.
Residents farther away on Hawaii Island said they'd been feeling the earthquakes all day.
"We're far away from the lava eruptions but getting affected by the earthquakes three times today," said Pauline McClees, who lives in Pepeekeo along the Hamakua Coast, 11 miles north of Hilo. "Everything was falling off my shelf, and I was cleaning up and picking up glass two times.
"It shattered crystal glass, a mirror and mementos, all material things," she said. "We just let everything rock 'n' roll."
Nobody was hurt, she said: "When the 6.9 earthquake hit, I put my arms around my 89-year-old mom. I take care of her and didn't want her to be afraid. We're removing things on shelves now, like glass that could shatter."
Times staff writer Lin reported from Los Angeles, special correspondent Chang from Honolulu.
Follow @ronlin on Twitter
---
UPDATES:
10:05 a.m.: The article was updated with information on two new fissures spewing lava, raising the total number of fissures to eight since Thursday.
8:50 a.m., May 5, 2018: This article was updated with revised data on lava eruptions and gas emissions.
8:25 p.m.: This article has been updated with details of the earthquake and its cause.
5:45 p.m.: This article was updated with a quote from a resident.
4:55 p.m.: This article was update with information about a previous earthquake.
4:45 p.m.: This article was updated with information about where the shaking was felt and that a damaging tsunami is not expected.
This article was originally published at 4:20 p.m.
---
Must-read stories from the L.A. Times
Get the day's top news with our Today's Headlines newsletter, sent every weekday morning.
You may occasionally receive promotional content from the Los Angeles Times.