Hawaii's Kilauea volcano continues to erupt amid earthquakes. Here's how things could get worse
Hawaii officials have ordered evacuations for the communities of Leilani Estates and Lanipuna Gardens.
Reporting from Honolulu —
Hawaii's famed Kilauea volcano continued to erupt Friday, opening massive fissures in a residential neighborhood for the first time since 1960, demolishing two homes and shooting fountains of red-hot lava up to 100 feet in the air.
Mandatory evacuations were ordered for the rural communities of Leilani Estates and Lanipuna Gardens, which sit on the eastern base of the volcano and are home to at least 1,500 people. News stations captured video of people fleeing with their pets and whatever else they could quickly pack into their vehicles.
A total of 66 people were in shelters Thursday night, said Richard Rapoza, spokesman for the Hawaii Emergency Management Agency.
Hawaii County declared a state of emergency and Gov. David Ige proclaimed the affected zone a disaster area to release emergency response funds. The National Park Service on Wednesday closed off nearly 16,000 acres near the volcano.
Hundreds of earthquakes have been rattling the area around the volcano this week, including a magnitude 6.9 that struck at 12:32 p.m. Friday and could be felt on other islands and in the capital of Honolulu. Damage estimates were not immediately available.
At least three cracks have opened in Leilani Estates since Thursday afternoon, according to the U.S. Geological Survey's Hawaii Volcano Observatory. Lava gushed into the air.
"Additional outbreaks are likely," the agency said.
The risk to people comes not only from the lava, but also from sulfur dioxide gas that is particularly dangerous for people with respiratory problems. Fire officials said the levels of the toxic gas in the evacuation area were extremely high.
Tourism officials said the eruption affected a limited area on Hawaii Island and posed no threat to visitors elsewhere. Airports remained open.
Though the volcano has been erupting continuously since 1983, it rarely inflicted major damage, and tourists often hiked to view the lava.
The lava flowed up into a crater named Puu Oo on the eastern shoulder that acted as a reservoir. Eventually it would seep back underground and out to sea.
But on Monday, the crater suddenly collapsed. "The bottom kind of fell out," said Wendy Stovall, a scientist with the U.S. Geological Survey and an expert on Kilauea.
The crater's contents seeped into a network of underground channels. Scientists were able to follow the lava's path by tracking hundreds of small earthquakes. Whether and where it would rise to the surface remained unclear.
But on Wednesday, residents of Leilani Estates reported the first cracks in the ground. And at 4:30 p.m. local time Thursday, the first eruption began, shooting lava into the neighborhood.
Drone images broadcast by Hawaii News Now showed a long line of hot lava gushing up into the air out of a long crack in the ground.
The eruption lasted about two hours.
Then on Friday, eruptions started anew as at least two more fissures opened.
"USGS volcanologists are on the ground, and we are monitoring the situation 24/7," Stovall said. "How the eruption proceeds from this point is yet to be seen."
An aerial view shows smoke rising from the Puu Oo crater on the Big Island of Hawaii.
(Bruce Omori / EPA / Shutterstock)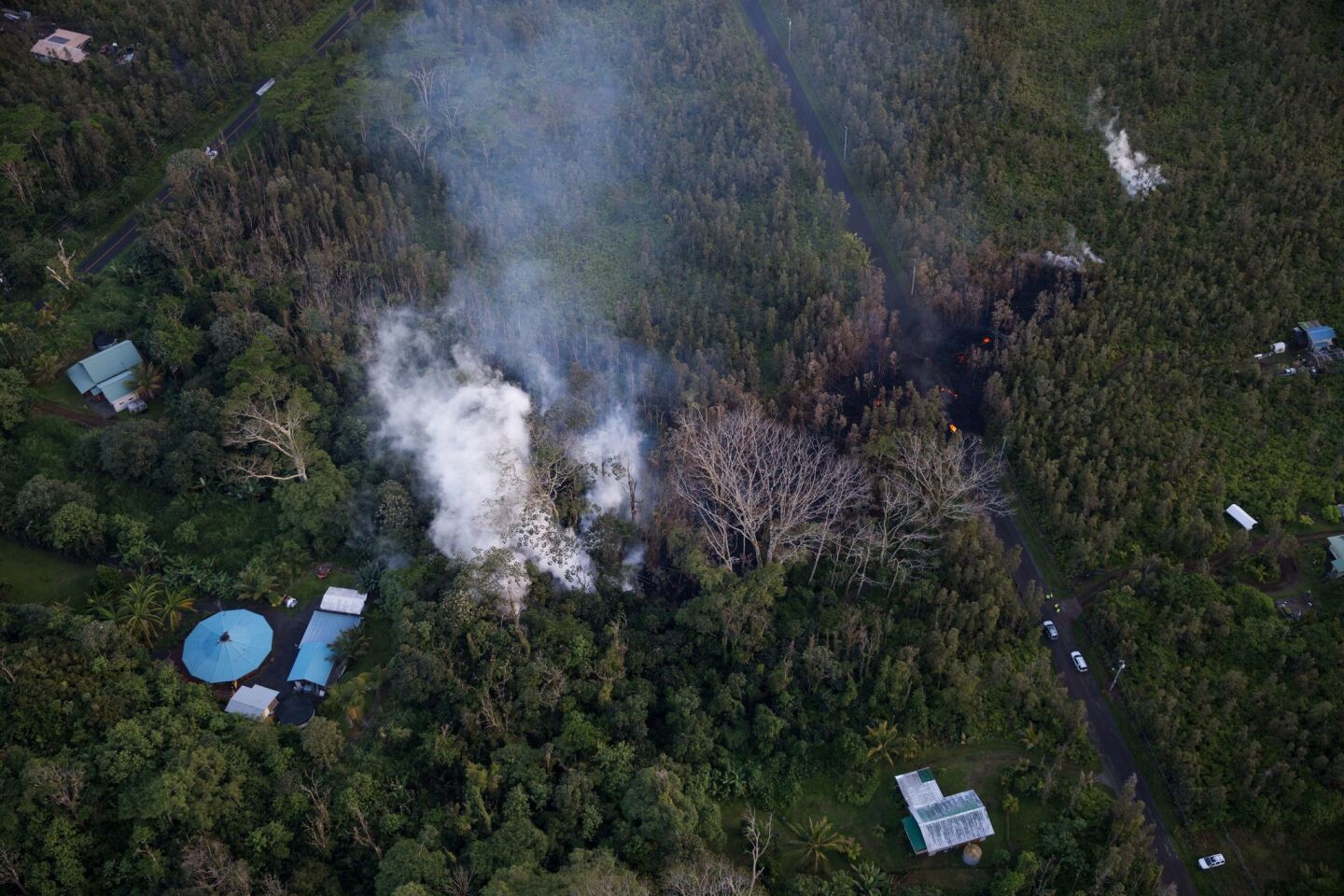 A highly anticipated, but feared, volcanic eruption occurs within the Leilani Estates subdivision, threatening a home lying directly in its path after the Kilauea volcano eruption.
(Bruce Omori / EPA / Shutterstock)
Volcano evacuee Stella Calio, a resident of Leilani Estates, watches social media videos of the volcanic eruption that took place just blocks from her home.
(Marco Garcia / Associated Press)
An ash plume rises above the Kilauea volcano on Hawaii's Big Island.
(Janice Wei / AFP/Getty Images)
Kilauea, the youngest volcano on Hawaii Island and one of the world's most active, sits on the southeastern flank of the iconic Mauna Loa.
In contrast to volcanoes in California and the Pacific Northwest, Kilauea has a gentle slope, and only reaches a height of 4,091 feet. Mt. St. Helens in Washington state rises 8,330 feet high, while California's Mt. Shasta has an elevation of 14,163 feet.
The last time Kilauea opened fissures in a residential area was 1960.
That eruption, just outside the town of Kapoho, started with a fissure that was much larger than the ones in Leilani Estates this week, Stovall said. It grew as long as 3,000 feet. The lava fountains were much higher too — up to 330 feet. When the crack began to seal up, the lava fountain that resulted was even taller.
Efforts to divert the lava away from homes failed. Kapoho managed to survive for two weeks after the first eruption, but its fortunes changed when less viscous lava spilled out.
"They tried to do things to stop the lava — they built dams, they built barriers," Stovall said. "That didn't do anything to stop the lava. … You can't really stop a volcano from erupting. If there's magma coming into the system continually, it's just going to push everything out of its way. The eruption will stop when the eruption stops."
In the end, Kapoho was destroyed.
The eruption that began in 1983 has been destructive at times, and began similarly to Thursday's, with cracks in the ground that unleashed a fountain of lava, followed by the fissure zipping up until there was just a small opening and a geyser of lava as high as 835 feet, Stovall said. Lava flows from Puu Oo reached the sparsely populated Royal Gardens subdivision just outside the town of Kalapana later that year, destroying some homes.
The lava fountains stopped in 1986, and the flow shifted to a lower elevation on the volcano. It also got faster. That eruption entered its most destructive moment in March 1990. Lava flows up to 80 feet high buried Kalapana, which is known for its historical sites and black sand beaches. A church, a store and roughly 100 homes were destroyed.
By 1992, the center of activity returned to Puu Oo, where lava flowed into the ocean with little drama or spectacle, Stovall said.
In 2014, lava spilled out of the volcano and for five months threatened the town of Pahoa. One home was destroyed.
At times, it seemed that lava released from the Puu Oo crater was moving toward destruction, but flows dried up before it reached more populated areas, Stovall said.
The Kilauea volcano is notable for its wide range of active areas. The 1983 eruption began in the middle elevations of its east side, known as the Middle East Rift Zone. Separately, the summit of the volcano began erupting in 2008, and continues to emit lava to this day.
This week's eruption occurred in the lower elevations of the east side, known as the Lower East Rift Zone.
"It's unusual to have an eruption at the summit simultaneous to an eruption in the Lower East Rift Zone," Stovall said.
Twitter: @ronlin
Times staff writer Lin reported from Los Angeles and special correspondent Heidi Chang from Honolulu.
---
UPDATES:
4:30 p.m.: This article has been updated with information about continuing earthquakes.
12:15 p.m.: This article was updated with information on extremely high levels of dangerous sulfur dioxide gas in the evacuation area and declarations by the county of a state of emergency and the proclamation of the governor of a dsiaster area.
11:10 a.m.: This article was updated with news of fresh eruptions Friday morning and a warning by the USGS that additional eruptions are likely.
5 a.m.: This article was updated with information about sulfur gas noticeable around the fissure, and the chance that new cracks could appear in the ground from which lava could flow.
2:30 a.m.: This article was updated with new information about the timing of the pause in the eruption, and information on the hundreds of earthquakes felt in recent days, including a magnitude 5 temblor felt about six hours before the eruption began.
1:50 a.m.: This article was updated with a history of past eruptions at Kilauea volcano.
May 4, 12:05 a.m.: This article was updated with a quote from a USGS volcano scientist.
11:50 p.m.: This article was updated with details on how the lava traveled only about a few yards from the crack in the ground.
11:30 p.m.: This article was updated with information that lava flows erupted for about two hours, and had paused as of about 8 p.m. Hawaii time (11 p.m. Pacific).
11:10 p.m.: This article was updated with a staff story.
This article was originally published on May 3 at 8:50 p.m.
---
Must-read stories from the L.A. Times
Get the day's top news with our Today's Headlines newsletter, sent every weekday morning.
You may occasionally receive promotional content from the Los Angeles Times.