Breaking: Jacksonville shooting suspect identified as David Katz, gamer who had lost in Madden NFL tournament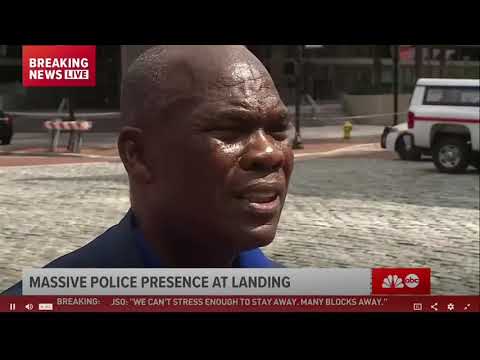 In video captured from the livestreaming network Twitch, a popular service for broadcasting professional gaming matches, shots can be heard as two players began a kickoff return. The video feed was quickly replaced by the message "controller disconn
The young men had gathered at Chicago Pizza in Jacksonville, Fla., to conduct some serious business: crushing one another at "Madden NFL 19" as their fans watched online.
The finalists in Sunday's regional video game tournament would proceed to the Madden Classic in Las Vegas, where the top prize is $25,000. David Katz, a slender 24-year-old who nicknamed himself "Bread," had traveled from Baltimore to compete — only to be eliminated, witnesses said.
But Katz wasn't done. As his competitors continued to game Sunday, Katz got a handgun and opened fire in the pizzeria. Horrified fans watched the violence unfold on a livestream online.
The shooter "targeted a few people" before killing himself, according to Stephen "Steveyj" Javaruski, one of the gamers, who took shelter in a bathroom.
At the end of it, Katz and two of his competitors were dead: Elijah Clayton and Taylor Robertson — better known to their rivals and fans in the gaming world by the handles they adopted for the screen.
"RIP to Trueboy and Spotme," Javaruski tweeted. "This is the worst day of my life."
Sunday's shooting was the latest in a tragic sequence for Florida, which was home to the Pulse nightclub shooting in Orlando in 2016 and the Marjory Stoneman Douglas High School massacre in February.
Florida Gov. Rick Scott, whose office said he was headed to Jacksonville to meet with law enforcement officials about the shooting, tweeted that President Trump had "offered any federal resources needed to respond."
Each of the Florida tragedies invaded a corner of American culture that was supposed to be safe from mass violence. This time the victims are gamers, and the city is Jacksonville.
"Jacksonville is mourning," Mayor Lenny Curry said. "We have faced an occurrence that is all too common."
Gaming tournaments are common in the increasingly lucrative world of professional gaming. Talented gamers and personalities who take up popular titles such as "Madden" and "Overwatch" can harness social media to rack up fans and endorsement deals while earning advertising revenue from streaming video services. The online audiences can be massive.
And just like in the living room — where emotions can run so high that players use the term "rage quitting" for sore losers who won't play to the end — professional matches can be tense. The stakes can be thousands of dollars, larger audiences and sometimes just honor.
But the violence is supposed to stay onscreen.
The start of the shooting was captured on the livestreaming network Twitch, which broadcast footage of the restaurant and the game. A red laser dot can be seen on Clayton's sweater before the stream's video feed switched to a kickoff return.
Then 11 gunshots can be heard as the video feed was quickly replaced by the message "controller disconnected."
Clayton was on the 2012 football team at Chaminade High School in West Hills and played at Calabasas High School in 2013.
Twelve victims had gunshot wounds, and two others suffered injuries while escaping, officials said. All the hospitalized victims as of Sunday evening were in stable condition except for one, who was in serious condition.
The wounded included gamer Tony "GTech" Montagnino of Austin, Texas, whose daughter was due to start school Monday. Drini "Young Drini" Gjoka, a player from Washington, D.C., was shot in the hand. "InfamousGuru" was shot in arm. George "Fitzmagic13" Amadeo, a 17-year-old from Belford, N.J., was shot and wounded so seriously that fellow players started a GoFundMe campaign so that his family could travel to see him at the hospital.
The gaming community reacted in shock, and some industry figures tweeted that security was often lax for such tournaments across the country.
"I've been saying events NEED better security," tweeted Seth Abner, a popular "Call of Duty" player. "Such a damn shame that now event coordinators will respond after a tragedy happens. Thoughts are with everyone at the Madden tournament and their families."
This weekend's tournament was sanctioned by EA Sports, which owns the Madden franchise.
"We are working with authorities to gather facts at this stage," EA Sports tweeted. "This is a horrible situation, and our deepest sympathies go out to all involved."
The two-day competition began Saturday morning. The opening round featured round-robin matchups for as many as 256 players, though it's not clear how many attended.
The first- and second-place finishers were to advance to the next round in Las Vegas and each receive $250, plus travel and lodging. The third- and fourth-place finishers were to receive $1,000 each but not advance.
The operators of the pizzeria, which was hosting the event, couldn't be reached for comment after the shooting.
The attack could have an impact in the current race for the U.S. Senate seat held by Democrat Bill Nelson, who is being challenged by Gov. Scott, a Republican.
After the Marjory Stoneman Douglas High School massacre, Scott broke with the National Rifle Assn. to sign into law several measures aimed at preventing shootings.
Those measures include raising the minimum age to purchase a firearm from 18 to 21; increasing funding for school police officers and mental health services; allowing teachers and staff to carry guns; broadening the power of law enforcement to seize firearms; and banning bump stocks, which essentially convert semiautomatic weapons to automatic ones.
Nelson has called for more gun control.
"Have spoken to FBI," he tweeted Sunday. "Making sure that all federal resources will be available to assist victims and their families, and to help law enforcement do their jobs."
The student gun-control activists of Stoneman Douglas quickly leaped into the fray after news of the shooting.
"Remember in November," activist David Hogg tweeted. "We need everyone to put 100% of their energy into: volunteering on congressional campaigns; registering new voters; voting on November 6th."
The attack came two days after one student was killed and two others were wounded in a shooting at a Jacksonville high school football game that drew a crowd of 4,000. Investigators said the two male victims — including the student who was killed — had gang ties and were targeted, while the female victim was caught in the crossfire.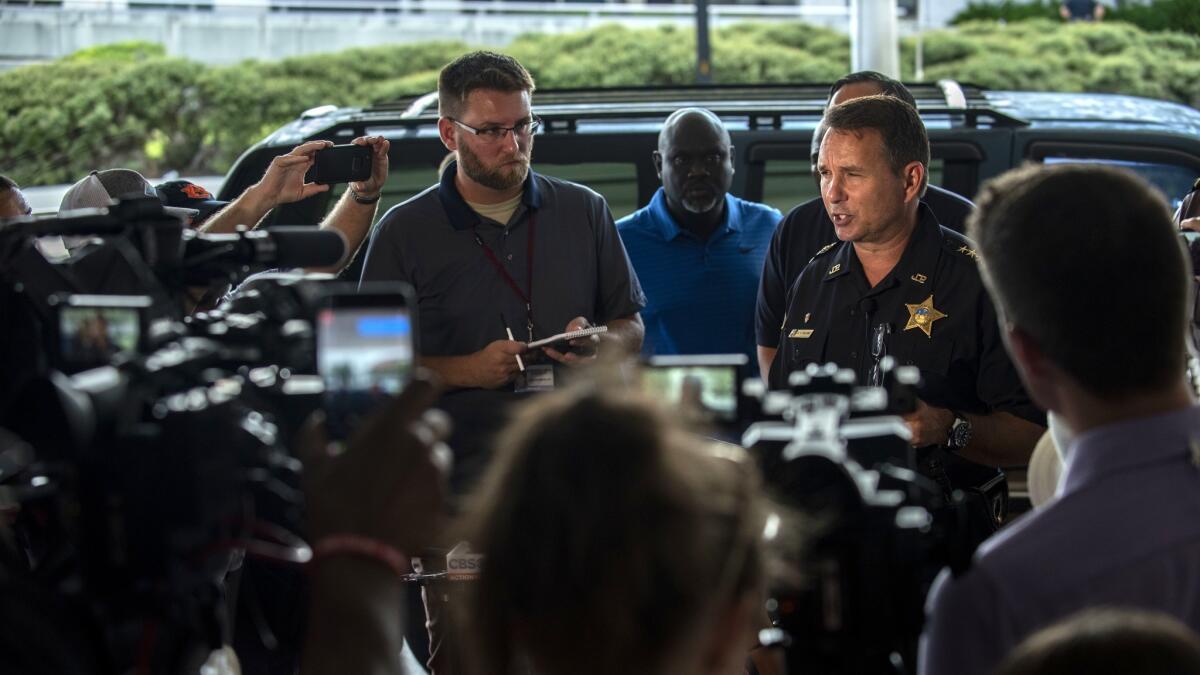 Times staff writers Eric Sondheimer and Todd Martens contributed to this article.
This post will be updated as more information becomes available.
matt.pearce@latimes.com | Twitter: @mattdpearce
molly.hennessy-fiske@latimes.com | Twitter: @mollyhf
---
UPDATES:
6:25 p.m.: This article has been rewritten with information about the suspected gunman and the victims.
3:45 p.m.: This article has been updated with information about the video game tournament and statements from two hospitals where shooting victims were taken.
2:35 p.m.: This article has been updated with a description of the video, including the identity of one of the players, and details from a news conference held by the sheriff.
12:07 p.m.: This article has been updated with staff reporting on more details about the shooting.
11:58 a.m.: This article has been updated with a suspect dead at the scene.
11:48 a.m.: This article has been updated with a report of multiple fatalities.
This story originally published at 11:15 a.m.
Sign up for Essential California for news, features and recommendations from the L.A. Times and beyond in your inbox six days a week.
You may occasionally receive promotional content from the Los Angeles Times.