Lucky Dragon casino was supposed to be a Vegas hot spot for Asians. Two years later, it's going up for auction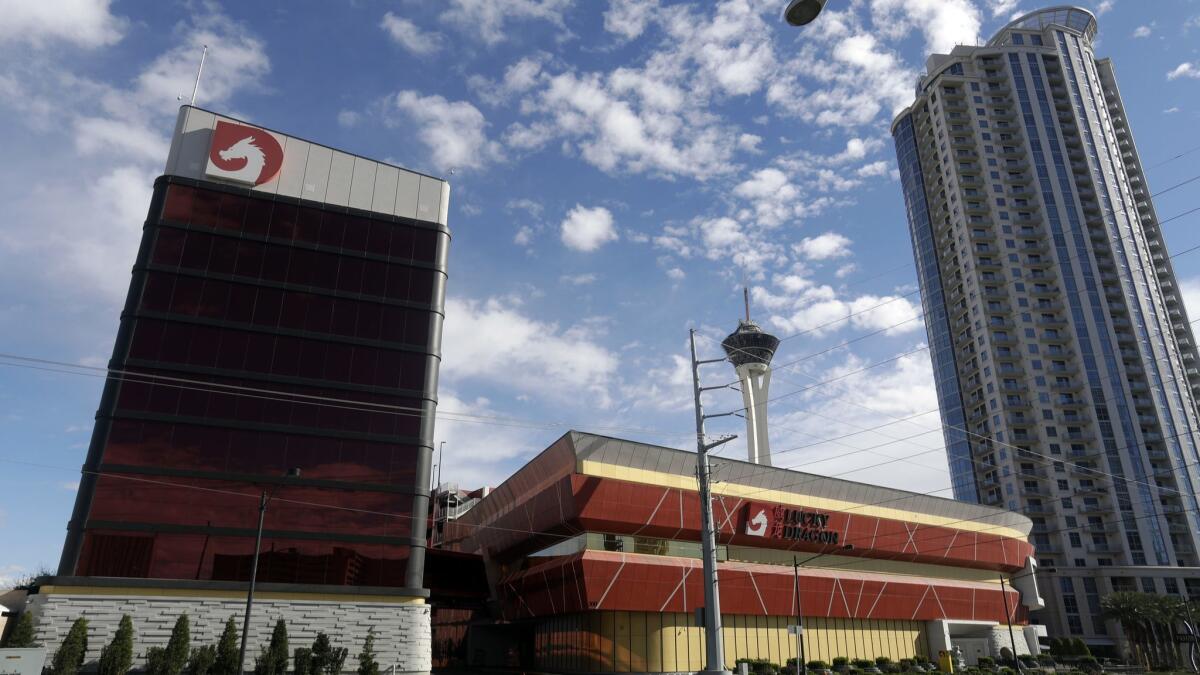 Reporting from Las Vegas —
It opened up in the Year of the Monkey and closed in the Year of the Dog — a two-year stretch of bad fortune for a casino that once had designs on being the go-to place for an authentic Asian experience in Vegas.
The official end probably will come the morning of Oct. 30, in a small parking lot tucked away from the bright lights of the Las Vegas Strip. That is where the Lucky Dragon Hotel and Casino is scheduled to be auctioned off to the highest bidder.
It's unclear who might scoop up the property. When an auction was scheduled in February, Derek Stevens, owner of the D Hotel and Casino, showed up and rumors swirled he was interested. But he said at the time he was just an interested observer.
A few others in suits and sleek black cars parked along the road and idled in the lot, waiting for the auction to start. When told there wouldn't be an auction after all, they slipped silently back into their cars to bid another day. Michael Parks, senior vice president of the real estate and investment firm CBRE, said the auction will be held this time, and that there is interest in the property.
"For the right visionary and owner, this site and amenity-rich property represents an excellent opportunity to own a first-rate Las Vegas hospitality property," he said.
Since the Lucky Dragon opened in December 2016 as the first casino to be built from the ground up since the Great Recession, its gleaming red exterior has belied a troubled interior, tied to high debts, low visitor traffic and being a newcomer trying to court a demographic already loyal to existing casinos.
FROM THE ARCHIVES: Las Vegas casinos love Chinese gamblers. So these guys built a casino just for them »
David Schwartz, director of the center for gaming research at the University of Nevada Las Vegas, said the problems were too much for the Lucky Dragon to overcome.
"The market they were trying to get into is very competitive," Schwartz said.
Lucky Dragon never found its footing.
When the casino opened, it touted itself as the "first casino resort to deliver an authentic Asian lifestyle experience" and "a community hot spot for Asian visitors, locals and anyone looking for the best Pan-Asian food and excitement in town." The casino promised signs in Chinese first and English second along with a multilingual staff.
It opened with fanfare and a parade for Chinese New Year. But soon the excitement and crowds began to thin out. Over the course of its short life, it never stood out. There were complaints that the rewards system wasn't generous enough. That there weren't enough baccarat table games. That it had no craps tables.
Roger Chin, 58, of Las Vegas went to the Lucky Dragon in its early weeks. The food was good, he said. It looked nice too.
He didn't return.
Chin sat at the bar in the Boathouse, Palace Station's new restaurant that serves primarily Asian fare, on a Friday afternoon the day after the Lucky Dragon auction was announced. He was eating calamari and chicken with a ginger dipping sauce. He has been coming to Palace Station for more than 15 years and didn't see the Lucky Dragon as a viable competitor for his money.
"They didn't have the variety of games I liked. It was cramped. It felt too small," Chin said. "I like to walk around and the way it was set up, you couldn't really wander."
Palace Station is in the final stages of a $192-million modernization that has made its interior unrecognizable from its days as a railroad-themed casino.
The color red dominates its interior. Asian cuisine is plentiful and players can be seen eating noodles while playing baccarat.
Palace Station is minutes from Lucky Dragon off Sahara Boulevard and close to Las Vegas' Chinatown. Other nearby resorts, including the SLS Las Vegas Hotel and Casino, have also aggressively targeted the Asian market.
Clark County, according to U.S. census data, has an Asian population of about more about 225,000, or 10.5% of the total, and has been steadily growing.
But the Lucky Dragon also claimed to have bigger ambitions of drawing customers from the overseas Asian market — China and Taiwan, in particular.
Schwartz said, however, the need to lure high-end Asian customers from those markets required a much larger infrastructure — including private jets — to support that business plan.
MGM Resorts International, which owns several Las Vegas Strip properties, does have the resources to lure those customers, including two-story sky villas at Aria and the Mansion at MGM, which features 5,000-square-foot units and 5,000-square-foot gardens.
A senior MGM official said Asian customers coming in from overseas aren't looking for "themed" hotels. He said it's about providing luxury, good food and a gambling experience that makes them feel comfortable. He noted that visitors from New York, for instance, aren't as likely to stay in the New York-New York Hotel and Casino "because they see that every day."
In its February bankruptcy filing, Lucky Dragon laid out debts owed to 179 individuals who invested $500,000 each for a total of $89 million through the federal Immigrant Investor Program and it owed Snow Covered Capital more than $50 million.
The casino ceased operations around the time of the bankruptcy filing, but the hotel and restaurants remained open until Oct. 2. It had about 100 full-time and part-time employees.
Michael Brunet, a Nevada attorney working with the Lucky Dragon auction process, said the buyer must bring cash to the sale. He said Snow Covered Capital wants the bid to exceed the more than $50 million in debt it holds.
And although an auction isn't a typical way to unload a casino, this is not the first time Las Vegas has seen one go under. The history of the city is littered with imploded casinos — the Sands, Dunes, Aladdin, Stardust, Frontier. But those were older properties that were razed and had fresh casinos built in their place. Lucky Dragon is still new.
Its location on the north end of the Las Vegas Strip beyond the Circus Circus resort doesn't lend itself to casual foot or vehicle traffic.
Schwartz said it could be used for residential or timeshares on the 2.5 acres of land.
"It depends on how much revamping the new owners would want to do," Schwartz said. "Would they want the same footprint? The same theme? If not, they obviously would have to change a few things."
But, for now, the Lucky Dragon continues to light up its facade and the red and gold exterior shines brightly each night — all behind a locked chain-link fence.
david.montero@latimes.com | Twitter: @davemontero
Sign up for Essential California for news, features and recommendations from the L.A. Times and beyond in your inbox six days a week.
You may occasionally receive promotional content from the Los Angeles Times.