Las Vegas casinos love Chinese gamblers. So these guys built a casino just for them
The Lucky Dragon Hotel & Casino, set to open Dec. 3, is billing itself as Las Vegas' first Asian-themed resort.
Reporting from Las Vegas —
Casino operators know there are no gamblers quite like the Chinese.
With their affinity for baccarat, the most lucrative game in Las Vegas, Chinese gamblers have long commanded special treatment — be it with private Chinese gaming salons, Lunar New Year festivities or performances from pop stars flown in from Hong Kong and Taiwan.
No one in Las Vegas, however, has built a casino and hotel strictly for Chinese visitors until now.
The Lucky Dragon Hotel & Casino is billing itself as Las Vegas' first Asian-themed resort, funded in large part by Chinese investors. The property, set to open Dec. 3 with a traditional lion dance, will offer bilingual staff and signage, a luxury tea bar and a host of restaurants with food that wouldn't look or taste out of place in Guangzhou or Shanghai.
"No General Tso's or egg rolls here," said David Jacoby, chief operating officer for the resort, which left no Chinese superstition unturned.
The rose-colored resort's front entrance is designed in a dragon motif. A feng shui master blessed its kitchens. The main bar is eight-sided for good fortune. And it's hard to find a No. 4 on the property. The unlucky digit is absent from room numbers and the phone directory. The nine-story hotel even skips a fourth floor.
"This place is heavily feng shui'ed" Jacoby said.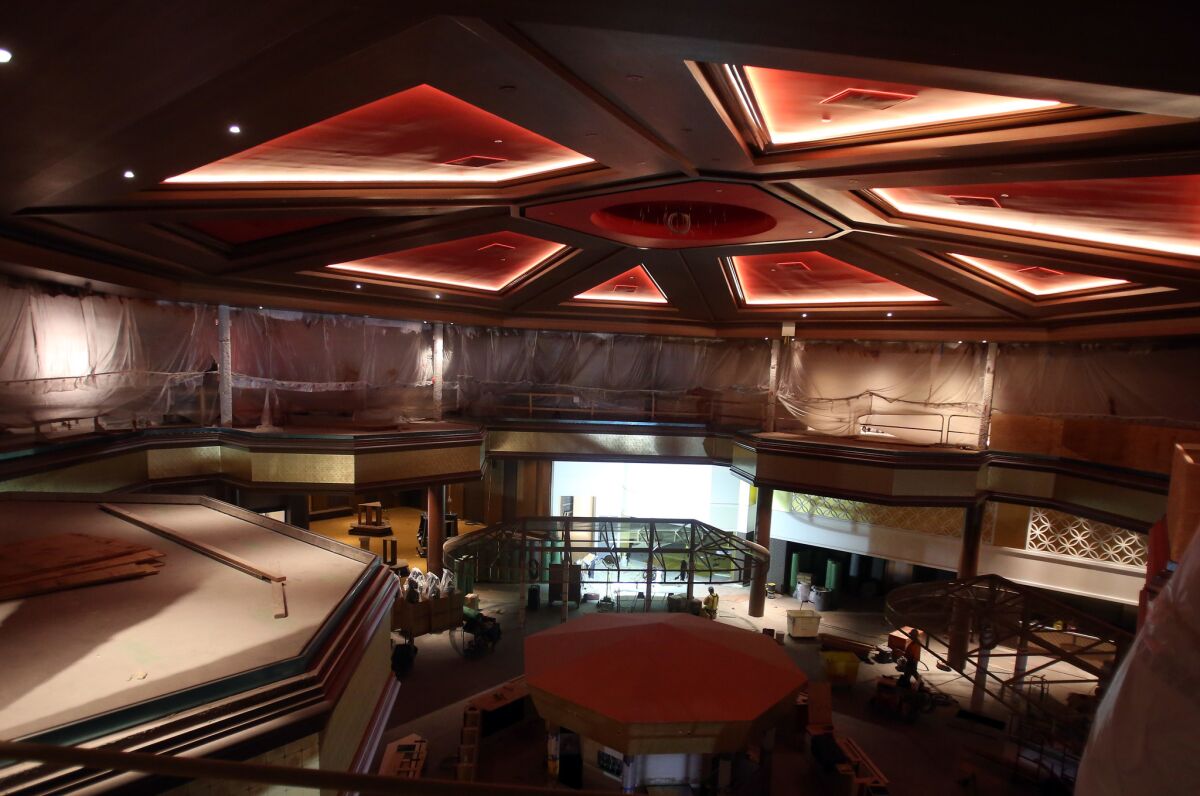 With all that attention to detail, you'd think Lucky Dragon's brain trust was born in Beijing. But the idea behind the 203-room boutique resort off the northern end of the Las Vegas Strip was largely conceived by an American veteran gaming executive, Bill Weidner, the former president and chief operating officer of Las Vegas Sands Corp.
Weidner, an advisor to Lucky Dragon, is no neophyte to the Chinese market. He worked with some of China's most powerful government figures to lead Sands' expansion into Macau when the former Portuguese colony relaxed its monopoly on gaming licenses in 2002. Macau now generates nearly five times the gambling revenue of the Las Vegas Strip, forever changing the fortunes of the global casino industry.
Weidner was also involved in the development of the $5.5-billion Marina Bay Sands in Singapore before leaving the company in a bitter dispute in 2009.
Weidner and Jacoby know major Las Vegas gaming resorts like the Sands' Venetian, MGM or Wynn already cater to China's high rollers with VIP parlors and relationships forged in Macau.
Lucky Dragon, though tiny compared with those properties, addresses what they see as a gap in the market: middle-class Chinese gamblers, Chinese Americans as well as the broader Asian American community.
"Let them fight over the 1% and let us fight over the remaining 99%," said Jacoby, who previously worked for Weidner's firm, Global Gaming Asset Management, opening a casino resort in the Philippines.
That pool of Chinese gamers will almost certainly grow. On Dec. 2, Hainan Airlines will fly the first direct flights from China to Las Vegas' McCarran International Airport (Lucky Dragon guests are confirmed to be on that flight, Jacoby said).
Already, a record 206,743 visitors from China traveled to Las Vegas last year, nearly double the number in 2010, according to the Las Vegas Convention and Visitors Authority.
Meanwhile, ground was broken on another Asian-themed resort, this one much bigger than Lucky Dragon. Resorts World, a Malaysian hospitality and casino giant with decades of Asian gaming experience, is spending up to $4 billion for a 3,200-room property on the North Strip that will feature Chinese architecture such as an ersatz Great Wall. It's slated to open in 2019.
Plans are also underway to build a $2-billion resort on the Strip called Alon Las Vegas. The project is owned by Australia's Crown Resort, who count Chinese gamers as a major source of business.
"It's going to be even more of a competitive market," said John DeCree, an analyst at Union Gaming in Las Vegas. "Everyone's coming for the same customer. It's going to be a challenge."
Competition could also be fierce for Chinese high rollers, whose gambling activity has been curtailed by a slowing Chinese economy and an anti-corruption campaign at home that, until recently, sent Macau gambling revenue into a two-year slump.
Las Vegas isn't immune to those headwinds. After years of explosive growth, casinos on the Strip experienced a decline in the amount of money bet on baccarat to about $10 billion in 2015. That's nearly $2 billion less than 2014, according to the Nevada Gaming Control Board.
The casino industry uses the card game as a proxy for Chinese gambling activity because of its massive popularity within the culture. That's both for practical and superstitious reasons. Baccarat has the best statistical odds of beating the house compared with other games. And as a game of chance over skill, baccarat also plays into Chinese fatalistic attitudes toward luck.
"The vast majority of baccarat play comes from the Asian market," said Jacoby of Lucky Dragon.
Jacoby's casino will offer seven VIP baccarat tables on a second-floor terrace with access to a vast menu of authentic Chinese food. In addition to live seafood flown in from all over the world, the property will serve staples like congee, wonton noodles and dim sum.
Food is expected to be a big draw because Chinese vacationers overwhelmingly prefer their native cuisine over others.
Las Vegas has a number of well-regarded Chinese restaurants such as Ping Pang Pong at Gold Coast Hotel & Casino, China MaMa in Chinatown and an outpost of Chengdu Taste, the San Gabriel Valley stalwart for Sichuan cuisine. High-end Chinese food is also served at high-roller rooms such as the Venetian's Paiza Club.
No casino, however, boasts the concentration of Chinese restaurants that Lucky Dragon will, with five altogether. The hope is Chinese tourists staying at other properties will choose to eat — and gamble — at Lucky Dragon when they venture off the Strip.
The emphasis on food means Lucky Dragon's owners can eschew things that aren't particularly important to Chinese tourists, like a whiskey bar or nightclub. And because Chinese tourists often don't like to sunbathe, Lucky Dragon's pool isn't much bigger than the backyard variety.
Jacoby says his competitors on the Strip offer Chinese gamers a diluted experience by operating a handful of Chinese restaurants and parlors in mega-casinos that have to serve all manner of people, not just Chinese. By comparison, visitors to Lucky Dragon can start conversing in Mandarin with staff as soon as they walk in, he said.
"We're trying to take [the Asian gaming experience] and bring that front and center instead of hiding the most valuable customer in a segregated portion of a large building," Jacoby said.
Though Lucky Dragon will rely heavily on Asian American customers at first, its funding was largely drawn from mainland Chinese investors through the federal EB-5 visa program. The visa allows foreigners and their immediate family to gain permanent U.S. residency in exchange for a minimum investment of $500,000 that also creates American jobs.
Chinese investors have dominated the program nationwide, accounting for 80% of applicants awaiting EB-5 visas. Though occasionally subject to fraud, the program has successfully funded a handful of mixed-used projects in New York, the JW Marriott hotel at L.A. Live and the SLS Hotel & Casino across from Lucky Dragon.
Jacoby declined to say how many Chinese investors are involved in Lucky Dragon, which is expected to employ 800 people. Jacoby also declined to disclose how much the project cost, adding that earlier media reports pegging the price tag at about $370 million were inaccurate.
The company hit a snag last year when it unsuccessfully sought tax subsidies from the city. But financial commitments from Weidner's family and others put the project back on track.
Lucky Dragon isn't the first Las Vegas resort to target a specific demographic. The Hard Rock Hotel & Casino and the Palms Casino Resort opened years ago catering to young partygoers and clubbers before eventually being overshadowed by larger competitors on the Strip such as the MGM Grand and the Cosmopolitan.
Lucky Dragon's early backers even considered building an LGBT resort before settling on their current strategy, one they say will live and die on being able to deliver an authentic Chinese gambling experience.
"We set out trying to put together a place that would stand alone in Shanghai if you dropped it off down there today," Jacoby said. "We didn't want to [have] just gongs, Asian tapestries and caricature-stuff like that."
Follow me @dhpierson on Twitter
ALSO
Gambled and lost: Normandie Casino ordered to pay millions after hiding high-roller winnings
For victims of tour bus crash, $20 bought them a ride, friends, laughs and the excitement of the casino
Hawaiian Gardens gambles on a $90-million overhaul of its casino as rivals invest in their own upgrades
Sumner Redstone says ex-girlfriends made off with $150 million, leaving him 'in debt'
---
Sign up for the California Politics newsletter to get exclusive analysis from our reporters.
You may occasionally receive promotional content from the Los Angeles Times.