Arizona Sheriff Joe Arpaio faces contempt hearing in Phoenix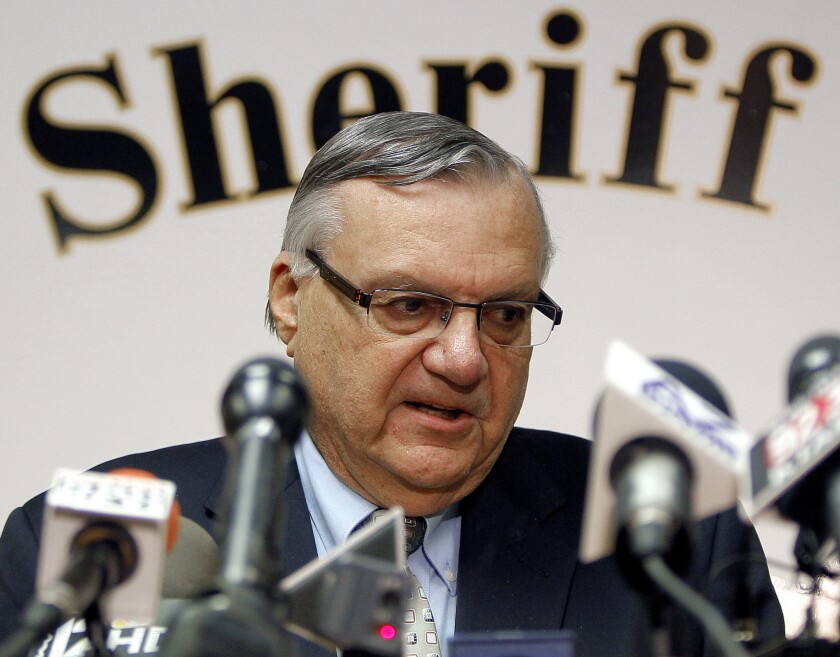 Maricopa County Sheriff Joe Arpaio cut a wide swath even beyond his Arizona world, where he was a very big political fish. He became the voice for a type of tough justice that harked back to the Wild West, when the lawman's word was absolute and few worried about the rights of prisoners or immigrants.
On Tuesday, Arpaio faced what may be his most demanding and dangerous opponent: U.S. District Judge G. Murray Snow, who will decide whether the man who has called himself "America's toughest sheriff" should be held in contempt for deliberately ignoring court orders in a long-running civil rights case.
"He has been trying to get out of this desperately," Alessandra Soler, executive director of the American Civil Liberties Union of Arizona, said in an interview on Tuesday, the first of what is expected to be four days of hearings in Phoenix. "He has been hiding behind the badge and that's why it is very, very important to have a public trial."
Arpaio has refused to comment on the current proceeding, which could result in a fine and perhaps a criminal case down the road. The sheriff is on the witness list of about two dozen people but is not expected to testify until later in the week.
One of the first witnesses, Sgt. Brett Palmer, testified that the prevailing mandate was "to make the sheriff look good to the media and the public." He blamed Arpaio for the department's defiance of Snow's order, according to the Associated Press.
After hearing testimony, Snow will decide whether Arpaio and four top aides should be held in contempt for violating the judge's order, which barred the sheriff's policy on immigration patrols that were designed to enforce tough restrictions on anyone in the country illegally.
The issue of contempt came after top officers were caught on video disparaging the court order, which was never passed on to the rank and file, so the harsh patrols continued for about 18 months after they were supposed to stop.
Arpaio has acknowledged disobeying the judge's order and accepted responsibility for some of the other issues, such as his agency's failure to turn over traffic-stop videos in a profiling case. The sheriff has offered to make a $100,000 donation, with Chief Deputy Jerry Sheridan, to settle the case, but Snow has said more may be needed.
Battles over the rights of undocumented immigrants have been a frequent and contentious issue in Arizona, much as African American rights led to years of battles in the Jim Crow South. The current case has its roots in how the Sheriff's Department sought to enforce immigration law.
In December, 2007, Latino motorists brought a class-action suit against the department alleging that Arpaio and his officers "engaged in a custom, policy and practice of racially profiling Latinos and a policy of unconstitutionally stopping persons without reasonable suspicion that criminal activity was afoot," according to court papers.
The lawsuit came near the height of Arpaio's activities as a spokesman against immigration. In frequent appearances on cable television and elsewhere, Arpaio argued for strict enforcement of the border and against workers who were in the U.S. illegally.
That meant his department would stop people solely on the grounds that they might be in the U.S. illegally and check their immigration status. Arizona was also noted for passing what many considered the broadest and strictest anti-illegal immigration measure in 2010, SB 1070. Parts of that law were later struck down by the U.S. Supreme Court.
About four years after the original suit by Latino drivers, Snow issued a preliminary injunction that prohibited the Maricopa sheriff's office from detaining individuals thought to be in violation of federal immigration law. The injunction also said that a person may only be detained on a reasonable suspicion that "criminal activity may be afoot."
And in a blow to department policy, the order tightened the grounds by noting that "Hispanic appearance, an inability to speak English and a proximity to the border do not supply reasonable suspicion that a crime was being committed."
By October 2013, the court had found that Arpaio and his department had indeed violated constitutional rights "in its operations and procedures" and ordered injunctive relief.
About the same time, Chief Deputy Sheridan was videotaped at a training session telling deputies that the court order was "ludicrous" and "crap." In the recording, which surfaced the following year, according to the court papers, Sheridan and Arpaio "are seen apparently directing deputies not to take seriously the court's requirement that they track the race and ethnicity of individuals whom they stop."
Other sheriff's officials also disparaged and minimized the court's original findings of violations. By April 2014, the court ordered that officials issue a corrective statement summarizing the original findings against Arpaio and his deputies and reminding everyone that it must be followed.
The sheriff, who will be 83 in June, faces a run for his seventh term next year.
Follow @latimesmuskal for national news
---
Must-read stories from the L.A. Times
Get the day's top news with our Today's Headlines newsletter, sent every weekday morning.
You may occasionally receive promotional content from the Los Angeles Times.