Houston hospital curtails heart transplant program after reports of unusual number of patient deaths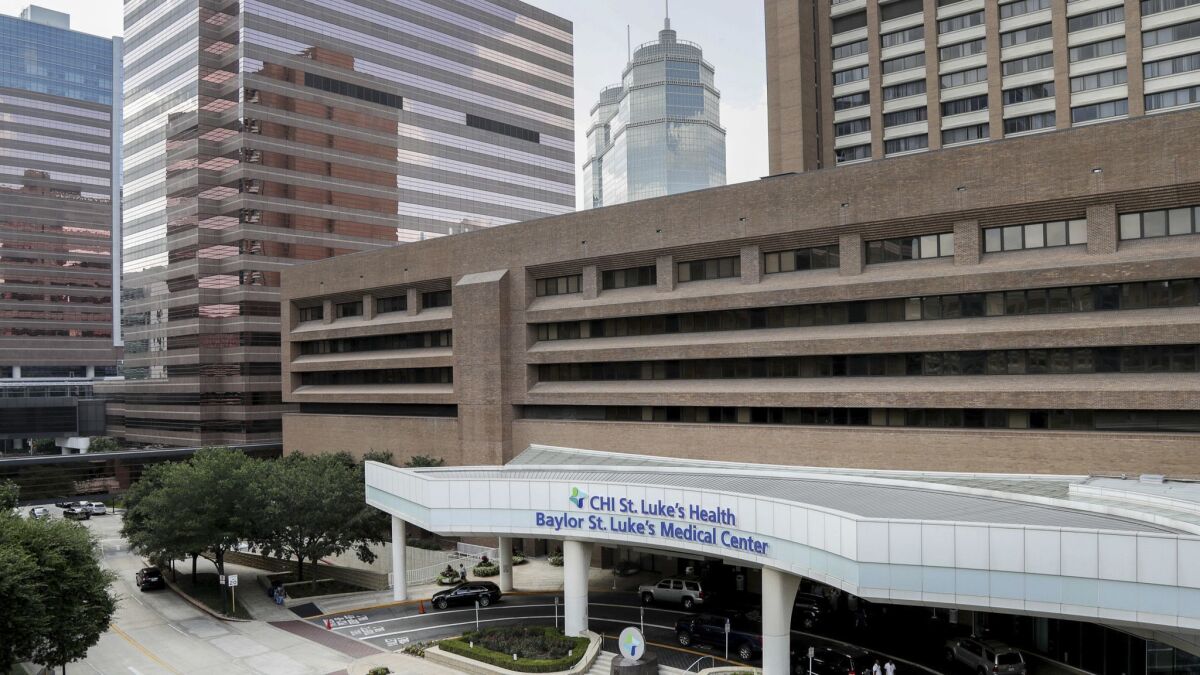 Reporting from Houston —
A Houston hospital has suspended all medical procedures in its renowned heart transplant program after the deaths this year of at least three patients and the departure of several senior physicians.
Baylor St. Luke's Medical Center said Friday that the transplant program would be inactive for 14 days as administrators assess what's gone awry.
The decision follows a series of joint reports by the Houston Chronicle and ProPublica revealing an unusually high number of patient deaths in recent years.
The program's inactive status means it will turn away all donor hearts during the suspension.
"Although extensive reviews are conducted on each unsuccessful transplant, the recent patient outcomes deserve an in-depth review before we move forward with the program," Doug Lawson, chief executive of Catholic Health Initiatives' Texas Division, which owns St. Luke's, said in a statement. "Our prayers are with the families, as well as all those on the waiting list."
The decision punctuates a dramatic fall for one of the nation's most respected heart transplant programs. It was at St. Luke's that famed surgeon Denton Cooley performed some of the world's first heart transplants back in the 1960s.
But staffers have recently raised concerns to hospital leaders about the program's direction under Dr. Jeffrey Morgan, its surgical director since 2016, according to Chronicle-ProPublica reporting. Morgan did not respond to requests for comment.
Some St. Luke's cardiologists grew so troubled by the program's direction in 2016 that they referred some patients to other hospitals for transplants.
Officials at St. Luke's and its affiliated Baylor College of Medicine have defended the program for weeks, saying they made improvements after a string of patient deaths in 2015. Officials said the program's one-year survival rate after heart transplants had reached 94% in 2016 and 2017.
But of nine patients who received heart transplants at St. Luke's since the start of 2018, at least three have died, according to interviews with patients' family members, information provided by the hospital and data from the United Network for Organ Sharing.
James "Lee" Lewis, a 52-year-old pipe fitter from Bay City, Texas, received a transplant on Jan. 2. Operating room equipment malfunctioned during surgery, and the donor heart failed. He died nearly three months later after more than a dozen operations and numerous complications.
His wife, Jennifer, chronicled her husband's transplant and drawn-out death on Facebook.
"I'm glad they are doing something," she said Friday. "That was my hope in speaking out and telling Lee's story."
Must-read stories from the L.A. Times
Get the day's top news with our Today's Headlines newsletter, sent every weekday morning.
You may occasionally receive promotional content from the Los Angeles Times.