Newsletter: Those tunnels on California's border are back in action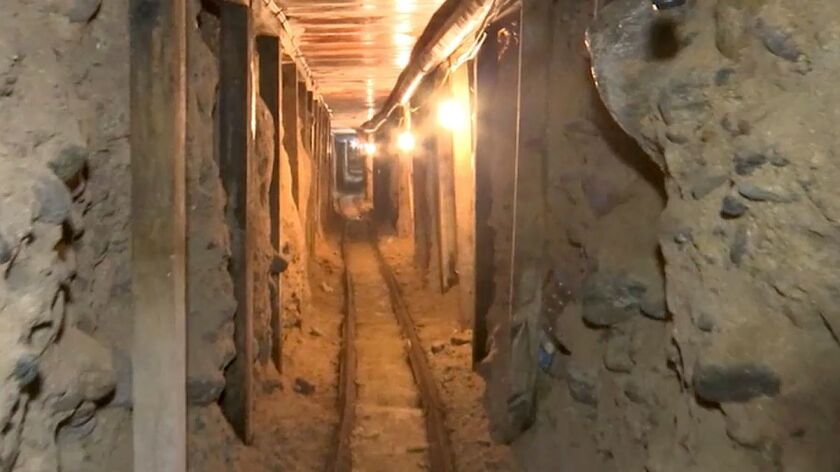 Good morning. It's Monday, Jan. 16, Martin Luther King Jr. Day, and here's what's going on across California:
TOP STORIES
Border tunnels
At least six previously discovered border tunnels have been reactivated by Mexican drug trafficking groups in recent years, exposing a recurring large-scale smuggling threat, according to U.S. and Mexican law enforcement officials. The breaches of border defenses, most recently in December, occur because Mexican authorities, unlike those on the American side, do not fill the tunnels with concrete once they have been discovered. Mexican authorities say they lack the funds. Los Angeles Times
Mall curfews
For generations, shopping malls have served as second homes for teenagers, and merchants were happy to have them. But at some shopping centers, the teens have worn out their welcome. After a series of high-profile incidents in recent years, more than 100 shopping centers have instituted curfews or bans on unaccompanied minors, according to a trade group. The restrictions often are on Friday and Saturday nights. Los Angeles Times
Campus debate
Inside the new free speech debate at the University of California. Oh sure, Milo Yiannopoulos was silenced at UC Davis. All the way to the bank, writes Robin Abcarian. Los Angeles Times Plus: The UC system had better get used to more of Yiannopoulos and his likes in the Donald Trump era. Los Angeles Times
REMEMBERING KEVIN STARR
The chronicler: For half a century, Kevin Starr chronicled the greed, cruelty, enlightenment, innovation, vanity and sacrifice that took California from a place of Native American hamlets through Spanish colonization, entry into the United States and growth into a diverse powerhouse of technology, culture and trade. His life's work made him the state's foremost historian and one of its most revered public intellectuals. He died this week, but he left a road map of California like no other. Los Angeles Times
Verbatim: Starr was particularly adept at seeing where California was going -- politically, economically, culturally -- before most others. Here's a look at his view of the Golden State over the decades in his own words. Los Angeles Times
An appreciation: Starr did much to redefine how we think about our history as Californians, filling essential gaps between the easy mythology. Los Angeles Times
L.A. STORIES
The new city order: "Los Angeles is rediscovering its sense of civic ambition even as Trump seems ready to turn the country inward and exploit, if not provoke, tensions with foreign powers. L.A. is a city on the verge in a nation that may begin to feel consistently on the brink." — Times architecture critic Christopher Hawthorne on this moment in the city. Los Angeles Times
What a relief: Our long (well, several-day) regional nightmare is over. Parts of Laurel Canyon Boulevard have reopened after a landslide high above in the Hollywood Hills. Los Angeles Times
Lasting effects: For Japanese Americans interned during World War II, the damage lingers on for decades. Daily News
POLITICS AND GOVERNMENT
Been there, done that? Before Trump, there was Arnold Schwarzenegger. How the California governor might offer clues to the future. Los Angeles Times
What's at stake: Running down the many issues -- from climate change and healthcare to immigration and police -- at stake as California and Trump begin their shotgun marriage. Mercury News
To attend or not to attend? Some California politicians are going to the Trump inauguration, but a growing number will not. Los Angeles Times
New math: If this sentence leaves you confused, you're not alone: Education spending rises under Gov. Jerry Brown's proposed state budget, but some California schools are bracing for cuts. Los Angeles Times
CRIME AND COURTS
Hate investigation: Parents of a Laguna Beach High School student said their son was the target of a hate crime two days after Christmas when a watermelon was tossed toward the family's home and splattered on the concrete driveway. Los Angeles Times
PCH and Diamond: Officials in Redondo Beach need to figure how to fix an intersection that resulted in a $27.5-million verdict over a car accident that badly hurt a UCLA athlete. Daily Breeze
Trying to rebuild trust: The man tasked with fixing the Sacramento Police Department's image. Sacramento Bee
CLIMATE AND DROUGHT
Whitewater: The extraordinary story of how one California river went from drought to deluge. Los Angeles Times
No rainy tea parties: When rains hit, crowds don't stay away from Disneyland. So what rides are forced to shut down when the atmospheric river arrives? Orange County Register
CALIFORNIA CULTURE
Canyon country: Amid the crush of suburban subdivisions that line Orange County, several canyon communities have managed to maintain a rural existence. But that is now threatened, and canyon residents are fighting back. "This place is a step back in time." Orange County Register
Back in business: Four months after a launch pad explosion, SpaceX returned to flight Saturday morning, delivering 10 satellites into orbit and landing its first-stage booster on a floating drone ship. Los Angeles Times
Fashion statement: How an L.A. woman's fancy hat became a symbol for the women's protest against Trump. Los Angeles Times
CALIFORNIA ALMANAC
Los Angeles area: Sunny with highs in the upper 60s. San Diego: Partly sunny with highs in the lower 60s. San Francisco area: Partly cloudy with highs in the mid-50s. Sacramento: Foggy in the morning, partly cloudy in the afternoon, with highs in the low 50s. More weather is here.
AND FINALLY
This week's birthdays for those who have called California home: Betty White (Jan. 17, 1922) and Buzz Aldrin (Jan. 20, 1930).
If you have a memory or story about the Golden State, share it with us. Send us an email to let us know what you love or fondly remember about our state. (Please keep your story to 100 words.)
Please let us know what we can do to make this newsletter more useful to you. Send comments, complaints and ideas to Shelby Grad.
---