Kevin Starr on California, in his own words
Kevin Starr, California's leading historian, devoted his life to chronicling the state, warts and all.
Starr wrote numerous histories of the state and also was a regular essayist for The Times and other publications. Here is a collection of his often prescient thoughts about California:
L.A. vs. S.F.
"The recognition has dawned, indeed, has been dawning for some time now, that Los Angeles has replaced San Francisco as the premier financial capital of the West. It is a tribute to San Francisco's reputation as a financial center that the recognition has been so long in coming. The reality has most likely been in place since World War II. Money and energy, the will to build and to create, a capacity for proper growth — of late, San Francisco has been lacking them. The recession of San Francisco as a financial center is not an isolated phenomenon. San Francisco's loss of financial predominance, symbolized most dramatically in the troubles besetting the Bank of America, are part and parcel of the large malaise which grips this once-proud and commanding city. In a variety of endeavors — art, literature, fine printing, in which San Francisco has so long predominated — a Venetian twilight mood of decline pervades this city."
-- 1986, examining Los Angeles' surpassing (for a time, before the Internet) San Francisco as California's economic and cultural engine.
Los Angeles fragmenting
"Like Marshal Josip Tito, Bradley held Los Angeles together by the force of his physical presence. The mayor must now watch Los Angeles become the Yugoslavia of U.S. cities: disestablishing itself into a murderous mosaic of warring parts. His successor will most likely be one of many warring chieftains — tribal warriors, enclave politicians, who slashed their way, temporarily, to the top. One might easily sketch a scenario in which the people of the City of the Angels decide that the city, in fact, no longer exists, that it has become West Los Angeles, San Fernando Valley, Downtown Los Angeles, East Los Angeles, South-Central Los Angeles: Each of these places being, not districts, but civic identities that, as did the breakaway republics of Yugoslavia, demand, simultaneously, their independence and the right to slit each other's throats."
-- 1992, marking the end of the Tom Bradley era in Los Angeles and predicting (correctly, it turned out) the coming Balkanization of the city that would end with a secession fight several years later.
Danger everywhere
"We flee to the suburbs for safety — and a firestorm engulfs us. We flee to the suburbs because we believe the human factor in the city has reached a critical mass of deficiency. In the city, there are too many criminals, too many sociopaths, too many homeless and marginalized. And then a transient — another way of saying marginalized — lights a fire in the suburb of Altadena, and 115 homes fall victim to the firestorm in the San Gabriel foothills. We know Los Angeles is combustible. We saw it burn in April-May, 1992. In that instance, the social factor — a volatile populace in certain sections of the city, an unpopular verdict, a contagion of criminal behavior spreading like wild fire — ignited the flames. And yet, in the case of the firestorms that engulfed neighborhoods in Altadena and Sierra Madre, in Laguna Beach, in Villa Park and the Anaheim Hills, in Thousand Oaks and Malibu, the human factor — a careless transient and as many as three, perhaps more, deliberate acts of arson — initiated the catastrophe."
-- 1993, writing about the culture of catastrophe in Southern California, and how you can't flee it by running to the suburbs.
Globalization makes L.A. look inward, too
"Los Angeles, in other words, invented itself as a totality, while New York brought itself into being from previously existing parts. Ask a New Yorker where he or she is from, and he or she will give you the precise street, in the precise neighborhood, in the precise borough. Ask an Angeleno the same question and he or she — until recently — would merely reply Los Angeles. Ask that same question today, and the residents of this city, like their New York counterparts, also will answer with street, neighborhood and geographical section of the city."
-- 1998, on how as Los Angeles became a world capital thanks to globalization, it also looked inward and came to love the diversity of its neighborhoods.
Lighting L.A.'s way forward
"Urban renewal can sometimes be an expensive proposition: tearing down entire districts, constructing vast public works, cutting through neighborhoods with freeways and boulevards. Urban renewal can sometimes function as moral renewal by tapping into better identities, energized by the best imperatives of culture and religion. Sometimes, urban renewal can be as simple as the relighting of a neon sign on Wilshire, Hollywood or Sunset boulevards, lights that recover the past and point to an equally bright urban future."
-- 1999, on how a small and cheap Los Angeles arts project, lighting up old neon signs, helped the city recover from its devastating riots and learn to appreciate its glorious past.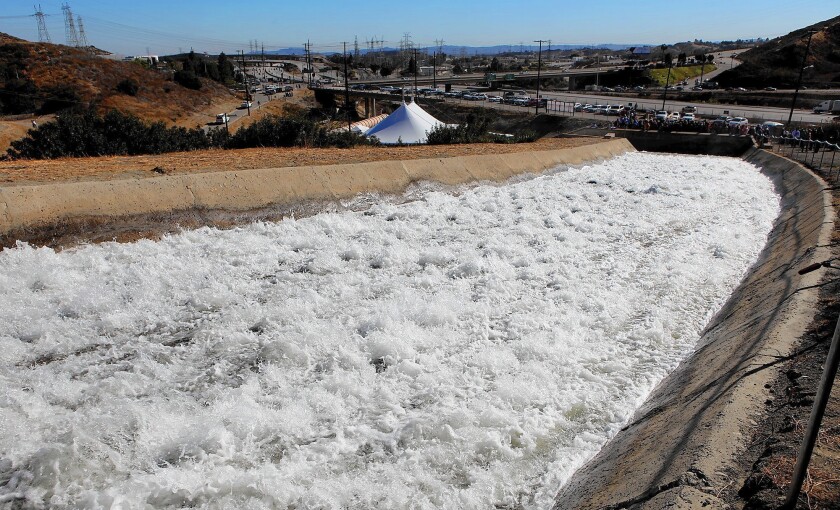 The new guard
"Mainstream culture will not only reflect the diversity of the population, it will also reinforce this growing condition of bipolar, or even tripolar, identities. A few years ago, certain Anglo Southern Californians were shocked when Mexican Americans cheered for Mexico's team, as opposed to America's team, at the 1999 World Cup soccer championship games in Pasadena. For the Millennial Generation, such dual or even triple responses will be commonplace."
-- 2001, assessing the coming majority-minority population of California and how it was going to focus the old guard and the new guard to change their thinking.
It's all about water
"The devastation in New Orleans should have made us take another look at how our political system can be used to preserve the society we've created. But a paralyzed state government still seems more willing to take up trivial issues while taking a pass on assuring that we have continued access to water — the substance that keeps us alive."
-- 2005, using the Hurricane Katrina disaster to remind Californians that they face their own disaster if a major drought hits the state. A few years later, they found out for themselves.
California's vastness is the whole point
"I think that's part of the California formula is its improbable size, the great command of natural resources, from San Diego to Eureka. ... Every time we begin to lose faith in California, we start talking about that again, that we are going to divide. It's an exercise. It relieves anxiety."
-- 2014, writing in the San Diego Union-Tribune, on the endless efforts to break up California.
ALSO
Making history: a 2009 interview with Starr
Starr on history: 'You don't make up your world. You find it'
Author of California histories and former State Librarian Kevin Starr dies at 76
---
The stories shaping California
Get up to speed with our Essential California newsletter, sent six days a week.
You may occasionally receive promotional content from the Los Angeles Times.