How these Los Angeles-born pink hats became a worldwide symbol of the anti-Trump women's march
Born of knitters — mostly women — crafting handmade pink caps with cat ears, the "pussyhat project" is a reference to President-elect Donald Trump's statements about grabbing women's genitals.
Krista Suh plans to attend the women's march in Washington, D.C., this week to protest Donald Trump's presidency, and she wanted to make a statement. But she also had a more primal goal: staying warm.
"I wanted to do something more than just show up," said the 29-year-old screenwriter who lives in downtown Los Angeles, recalling how her professors at the all-female Barnard College in New York City urged her to think about problems. "How can I visually show someone what's going on? And I realized as a California girl, I would be really cold in D.C. — it's not tank-top weather year-round. So I thought maybe I could knit myself a hat."
And so the "pussyhat project" was born. Knitters — mostly women — started crafting handmade pink caps with cat ears, a reference to Trump's vulgar statements about grabbing women's genitals, which were revealed in a leaked video shortly before the election.
What started as a project among Suh, Jayna Zweiman and other friends at the Little Knittery in Atwater Village has turned into a global movement. Knitting groups at yarn stores, cafes and coffee shops from Seattle to Martha's Vineyard have been churning out hats, and craft stores have reported a run on pink yarn. As word spread on social media, thousands of hats — knit with skeins of thick magenta or fuchsia yarn — have been made around the world, including in Australia and Austria. They're all being sent to collections spots around the country and a basement in Virginia ahead of the Saturday march.
Anja Liseth, 41, who lives in Bergen, Norway, learned about the project from fellow knitters' pictures on Instagram and promptly spent five evenings stitching five hats. "Made with Norwegian wool," she said proudly.
I feel that my contribution is important, and that since I've knitted these hats, part of me is there at the demonstration.
Anja Liseth, a Norwegian who knit several pink hats
"I feel that my contribution is important, and that since I've knitted these hats, part of me is there at the demonstration," Liseth said, adding that she was bewildered by Trump's win and attributes it to misogyny. "It feels really important, it's such a big issue for me, that I also can be there in a sense to demonstrate, because in Norway, we have gender equality in a lot of areas."
Liseth was among many knitters who said an essential part of the project was that it allowed women who cannot attend the national march to contribute.
"We want to see a sea of pink" on the National Mall, said Kat Coyle, the owner of the Little Knittery and Suh's knitting instructor.
Coyle, 54, who lives in Silver Lake, is the one who came up with the design and decided to keep it simple in order to maximize participation. The pattern, which is available for free online, is effectively a rectangle. It is folded and sewn together, and once the wearer puts it on, the corners poke out like cat ears. Some knitters have embellished their caps with beads and sparkly thread.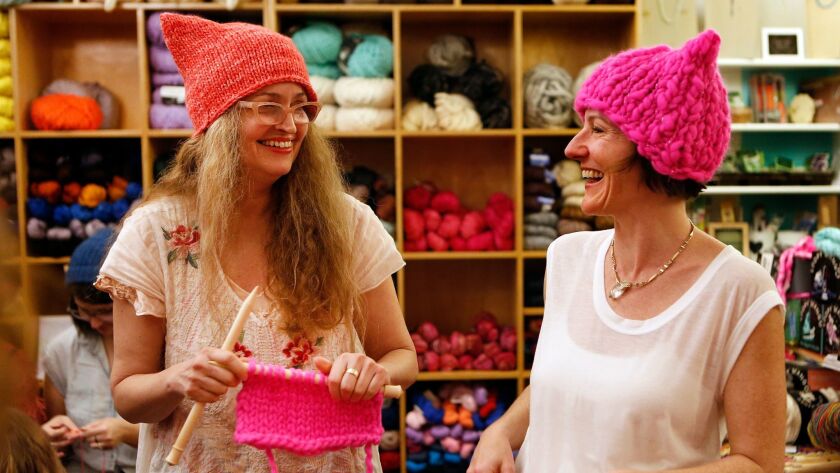 Megan Hollingshead, who also lives in Silver Lake, had never knit before but found solace in the project. The mother of two allowed her children to stay up on the night of the election, excited by the prospect of Democrat Hillary Clinton being elected the first female president. After it became clear that Clinton had lost, she was devastated.
"As soon as the election happened, I was looking for a way to get involved. I work, I have two kids, I'm really busy but when this came up, I was like 'That I can do,'" said Hollingshead, 48, as she joined more than a dozen women who gathered at the Little Knittery to make caps.
The voice actress has made one cap for a friend who is marching in Washington, D.C., and is working on hats for herself and her husband for a simultaneous march in Los Angeles. She calls the hats "a visual representation of unhappiness with the Trump presidency."
Veteran knitters also took to the project. Marina Mont'Ros, who lives in downtown Los Angeles, is working on her 24th cap.
"Having something homemade is always special," said the 46-year-old Mont'Ros. "To have something that's made by another woman, or someone whose supportive of you, that you can wear that's going to keep you warm, so it's practical, but it's also a symbol of somebody supporting you with something they've taken the time and effort to make you."
The women who are knitting the hats said they are a physical manifestation of their anger toward the president-elect's statements about women, minorities and the disabled. Suh has a younger sibling who is disabled and traveled to Ohio to campaign for Clinton.
"I've been channeling my grief through this project and my anger," she said. "If I can make a hat, maybe people everywhere could make these hats and send them in. So it had that dual function — people there could have it to make a unified statement and people at home who couldn't go could be part of it and represent themselves there."
For the latest on national and California politics, follow @LATSeema on Twitter.
ALSO
At least one in five California members of Congress are skipping Trump's inauguration
Trump blames dissolution of European Union on refugees — 'all of these illegals'
When Obama dropped the 'wet foot, dry foot' policy, he also snuffed out another program few Americans knew about
---
Get our Essential Politics newsletter
The latest news, analysis and insights from our politics teams from Sacramento to D.C.
You may occasionally receive promotional content from the Los Angeles Times.