Newsletter: Today: Why Haley Is Leaving Trump's Orbit
Nikki Haley is making a graceful exit from the Trump administration — a rarity these days — but it hints at something bigger.
TOP STORIES
Why Haley Is Leaving Trump's Orbit
What to make of Nikki Haley's plans to step down as ambassador to the United Nations at year's end? Taken at face value, her resignation reflects a desire to take a break — and make more money. To those reading the tea leaves, it's yet another sign that President Trump is feeling more empowered to press his nationalist "America first" agenda. Though Trump and Haley were all smiles Tuesday, she has not always toed the Trump line and her clout had diminished with the arrival of Secretary of State Michael R. Pompeo and national security advisor John Bolton. Now the guessing game over her successor is in full swing. But in case you wondered, Ivanka Trump already tweeted it won't be her.
The MAGA Never Stopped
On Tuesday night in Council Bluffs, Iowa, Trump whipped up a crowd of about 9,000 people, calling Democrats an "angry mob" intent on "policies of anger, division and destruction." It was his 32nd rally since taking the oath of office, and with the midterm election next month, he has a slew more scheduled. To longtime observers, they can be like a Grateful Dead concert (hardcore fans chanting "Lock her up!" and Trump's greatest-hits list of grievances) or a morality play. Here's a closer look at the makings of the Trump road show.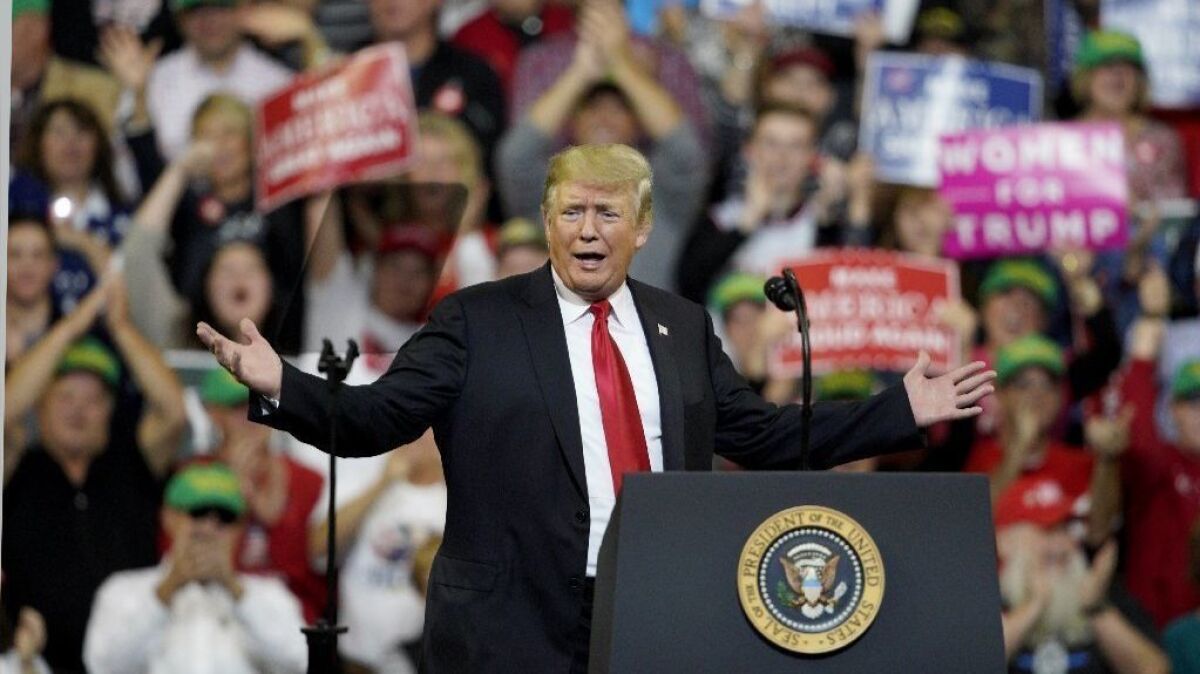 More Politics
-- A new poll says a slim majority of Americans believe Trump is just venting when he calls the press "enemies of the people." But they also think his words can be dangerous.
-- New Justice Brett Kavanaugh quickly joined the questioning as the Supreme Court tried to make sense of a federal law that imposes longer prison terms on criminals who have three violent felonies on their records.
-- FBI Director Christopher A. Wray will testify before a Senate committee this morning amid fallout over the bureau's background investigation of Kavanaugh.
A 'Monstrous Storm' Threatens Florida
Hurricane Michael is expected to move inland over the Florida Panhandle or the state's Big Bend area today and bring powerful winds, life-threatening storm surge and torrential rain. At its current strength, it would be the most powerful storm to hit the U.S. mainland this year. Meanwhile, the hurricane created a political storm, as the Florida Democratic Party filed a suit in federal court to extend the state's voter registration deadline by at least a week.
As California Grows, So Grows …
When California voters in 2016 chose to legalize recreational marijuana, they also made it easier for people with pot convictions to expunge their records. New Jersey, North Dakota and Michigan may soon follow suit. Proponents say the idea is to help many black and Latino neighborhoods that have been disproportionally targeted by drug law enforcement. Opponents say it just doesn't work that way.
Between a Rock and a Frog Place
Williamson Rock was once a proving ground for Southern California rock climbers. But 13 years ago, the area around the sheer granite wall in the San Gabriel Mountains was closed to protect a colony of endangered frogs. Now a group of climbers is hoping the Trump administration will lend a hand, as the federal government looks to weaken protections on public lands.
Sign up to get Today's Headlines delivered to your inbox. »
CALIFORNIA
-- The L.A. City Council voted unanimously to crack down on people for "disruptive acts" during its meetings at City Hall.
-- L.A. County supervisors voted to stop collecting fees once charged to families of juvenile delinquents for their incarceration, ending a practice decried by criminal justice advocates.
-- Mexican officials have discovered a sophisticated but unfinished cross-border tunnel that began in a home less than a football field away from the U.S.
-- After being convicted of criminal charges related to the death of a pit bull named Hershey, the mayor of Maywood says he didn't own the dog and is being targeted because of his ethnicity.
HOLLYWOOD AND THE ARTS
-- Film critic Justin Chang did a second viewing of "First Man," starring Ryan Gosling as Neil Armstrong, and found that it thrills, moves and perplexes.
-- Director Paul Greengrass' "22 July" explores what it takes to overcome an act of pure evil. Critic Kenneth Turan says the film is riveting.
-- In the new CW teen football drama "All American," a former NFL player's life gets the Hollywood treatment.
-- Taylor Swift opened the American Music Awards but didn't follow up on her newfound political outspokenness, although she did urge people to vote.
NATION-WORLD
-- Turkish media published images Wednesday of what it described as a 15-member "assassination squad" allegedly sent to target Saudi journalist Jamal Khashoggi.
-- South Korean officials say North Korean dictator Kim Jong Un wants Pope Francis to visit the officially atheist country.
-- Syrian President Bashar Assad announced an amnesty for army deserters and those who avoided military service, a gesture that could draw back thousands of refugees and displaced Syrians.
-- Mukalla is an oasis of stability in war-torn Yemen. So why do some residents miss Al Qaeda?
BUSINESS
-- Santa Monica-based Snap Inc. is getting into the scripted programming business, but an analyst says the company is "quickly running out of money."
-- Jack in the Box franchisees want to get rid of the company's chief executive. (And no, it's not the guy with the ball head and pointy hat in the commercials.)
SPORTS
-- The Dodgers will face a tough Milwaukee Brewers squad when they begin their series Friday. Both teams have been playing their best baseball.
-- An L.A. judge has ruled that the "show-cause" penalty, one of the NCAA's go-to sanctions, is no longer legal in California.
OPINION
-- The world is warming faster than we believed. All of us need to find the will to act now.
-- If you thought the Kavanaugh confirmation was ugly, brace yourself for what's coming next.
WHAT OUR EDITORS ARE READING
-- The connection between that Russian bank computer and the Trump Organization server. (The New Yorker)
-- Now hockey's Washington Capitals must decide what to do about the traditional White House visit after winning the Stanley Cup. (The Undefeated)
-- A new study finds that kids who grow up in homes with plenty of books reap the benefits into adulthood. (Pacific Standard)
ONLY IN L.A.
The makers of Juxtapoz magazine never expected to hit the heights with a publication devoted to "lowbrow" artists who had been excluded from the mainstream. Think hot-rodders, graffiti writers, and artists from the tattoo scene, skate and surf culture, psychedelia, underground comics and pop-surrealism. Yet, at nearly 25 years old, the outsider magazine is looking back at some of the success it's had inside the art world.
If you like this newsletter, please share it with friends. Comments or ideas? Email us at headlines@latimes.com.
---