L.A. will impose new punishment on audience members who disrupt City Council meetings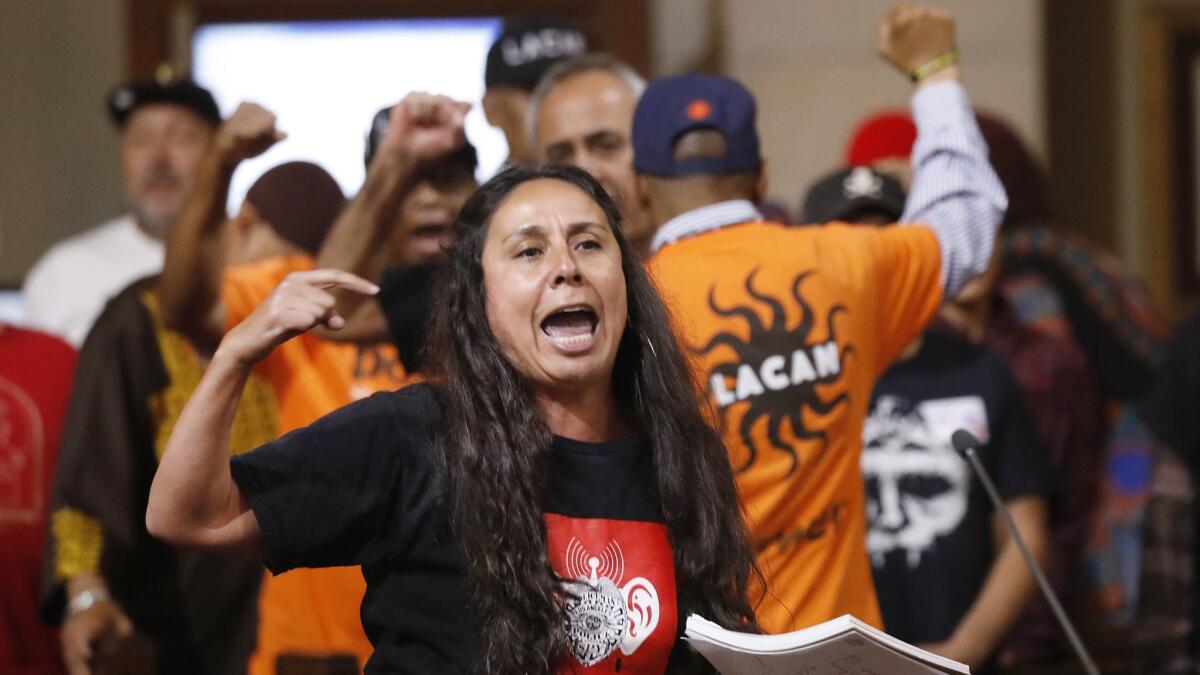 The Los Angeles City Council voted unanimously Tuesday to crack down on people who repeatedly disrupt their meetings at City Hall, defying attorneys and activists who charge that the new rules trample on free speech rights.
Beginning in January, people who are repeatedly ejected from City Council or committee meetings for shouting from the audience or other "disruptive acts" can be banned from attending other meetings that day and for up to six additional meeting days at a time.
Activists from the Stop LAPD Spying Coalition, the Los Angeles Community Action Network and other groups vigorously opposed the plan at City Hall, calling it a tool to squelch dissent.
"You're actually limiting our ability to protest, to say no, to use our bodies to say we are standing up for our communities," said Jamie Garcia, a member of the Stop LAPD Spying Coalition.
Garcia continued to speak after her minute to comment had ended. Council President Herb Wesson told her she was disrupting the meeting.
"Everybody gets one minute," Wesson said as Garcia repeatedly yelled back, "What you are doing is wrong!"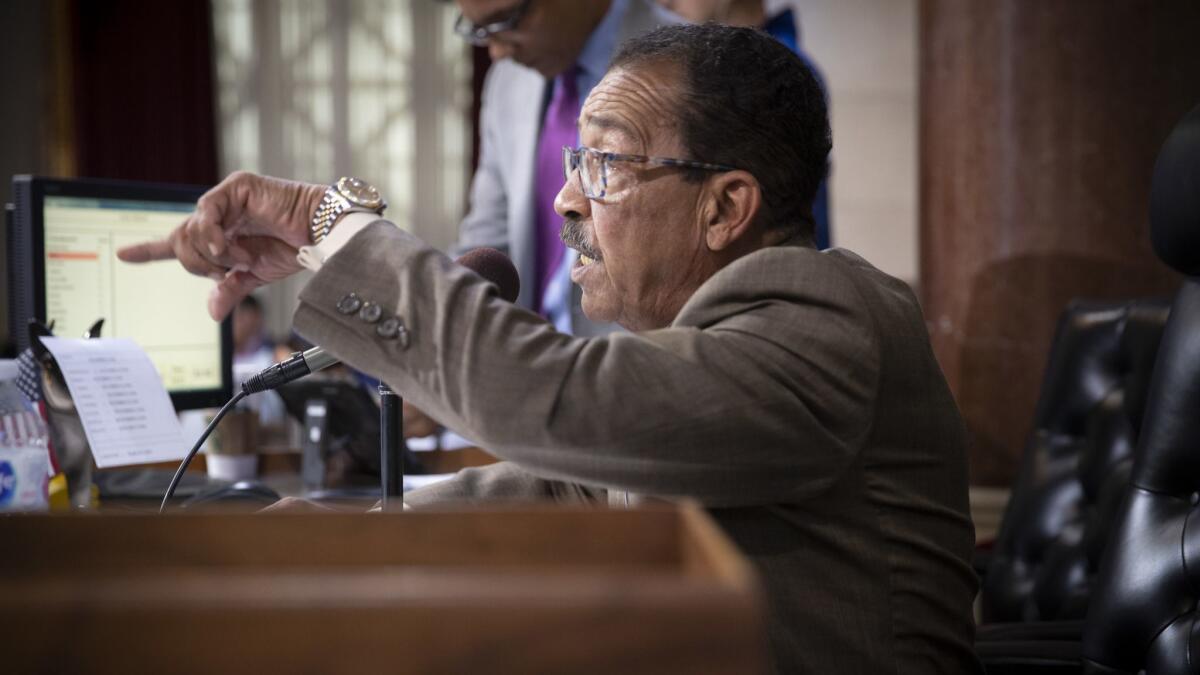 Others in the crowd joined in support of Garcia, shouting, "We do not approve!" and "We will not be silenced!" before she was escorted out of the council chambers by police.
The measure passed 14 to 0, with Councilman Mike Bonin absent. None of the council members spoke on the change in rules.
Bonin said he missed the vote because of child care issues and refused to say how he would have voted.
"I'm not getting into it," he said.
Council members first proposed new rules regarding meeting disruptions last month and have repeatedly met behind closed doors to discuss possible changes. A spokesman for City Atty. Mike Feuer said last month that council members wanted to be able to consult with their lawyers after David "Zuma Dogg" Saltsburg warned he might take legal action.
Saltsburg and another meeting attendee sued the city nine years ago after they were cut off or ejected from city meetings, and in some cases temporarily banned from speaking. A federal judge concluded in 2013 that the city had run afoul of the 1st Amendment in its enforcement of the rules and warned that the council "cannot sacrifice political speech to a formula of civility."
The American Civil Liberties Union of Southern California urged the council to reject the new rules, arguing that any disruptive conduct should be punished as it occurs, not by banning people from future meetings. The civil liberties group said that the new system of punishment would exacerbate the problems with the existing rules, which "categorize a wide array of expressive activity as disruptive."
Under those rules, disruptive conduct can include clapping, whistling, repeatedly waving arms and "the utterance of loud, threatening or abusive language" from the audience, as well as any "other disruptive acts." Carol Sobel, a civil rights attorney who has sued the city in the past, said many of the actions that the council rules define as disruptive are in fact "absolutely protected expression" under federal court rulings.
For instance, the U.S. 9th Circuit Court of Appeals sided with a man who was ejected from a Santa Cruz City Council meeting for silently giving a Nazi salute from the audience, she said.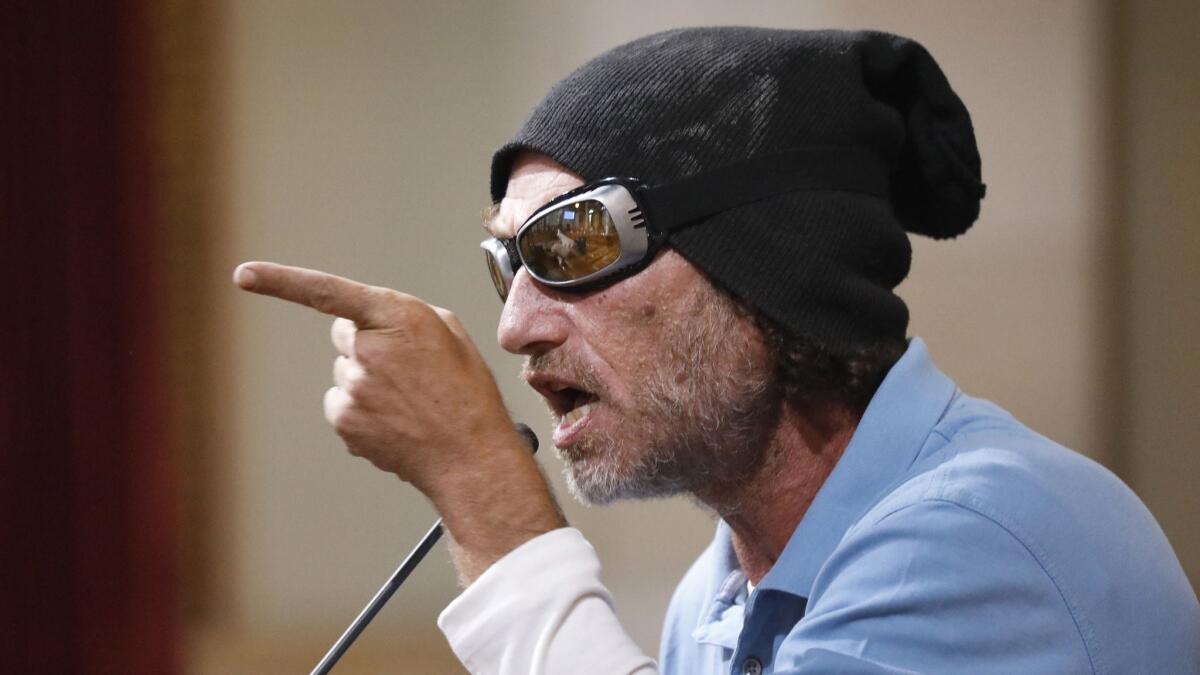 "Disruption alone is not enough," Sobel said. "The courts have been very clear: It has to be prolonged. It has to interfere with their ability to conduct the meeting."
Federal courts have also found that public speakers cannot be removed simply for uttering profane or offensive words. Racist slurs and profanity have become routine from a handful of regular attendees at L.A. city meetings, spurring some complaints.
Lisa Sarkin, a former board president with the Studio City Neighborhood Council, said many neighborhood volunteers avoid council and committee meetings to avoid cursing, racial slurs, and interruptions from the audience. On one occasion roughly six years ago, Sarkin said, an audience member called her "a dirty Jew with a black heart" after she testified in favor of restrictions on cannabis businesses.
On another, Sarkin said a police officer walked her from a committee meeting to the elevator because of concerns over her safety. "I don't think people bring children there anymore, because it's so vile," Sarkin said. "The language they use? You can't. It's despicable."
Council members argue that unruly behavior and outbursts from the crowd have made other attendees feel unwelcome at public meetings, infringing on their rights to participate. City staffers stated in a report that audience disruptions have been on the rise and "are often caused by the same few individuals."
Wesson declined to comment Tuesday but said last month that the city had a responsibility to "protect and make other visitors feel comfortable that come to our council meetings."
"No one is talking about limiting free speech," he said at the time.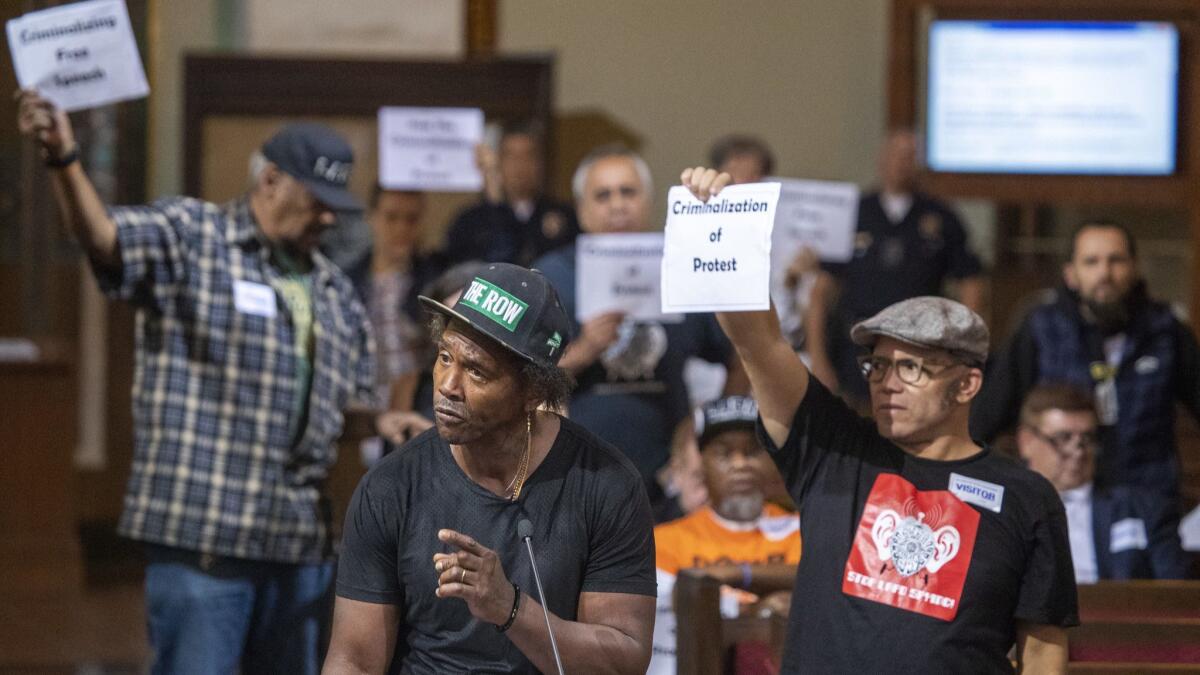 Gina Viola, who belongs to the group White People for Black Lives, said that audience disruptions had not dissuaded her from attending City Hall meetings. Instead, Viola said, those disruptions show that "the public doesn't feel like it's being heard here."
"This motion is a move toward an authoritarian regime," Viola added.
Two years ago, council members cut the period of time that members of the public could weigh in on each agenda item from two minutes to one. At the same time, they reduced the maximum time that members of the public could devote to multiple agenda items during a single council meeting from five minutes to three.
The council has also shortened the time period for people to speak at committee meetings. And it routinely prevents people from speaking about an issue before the entire council if there has already been public comment on the issue at a committee meeting, a practice that has sometimes surprised and irritated residents who show up expecting to be able to speak before a decision.
Critics also complain that the council has not fairly applied its rules about disrupting meetings, allowing groups that its members consider to be allies to clap, shout and make other noise from the crowd.
Over the past year, audience members have also interrupted or disrupted council meetings in other California cities, including Chico, National City and Sacramento, in many cases to protest responses to homelessness or allegations of police abuse.
City officials in Sacramento grew so frustrated that in July, they drafted a proposal to bar repeatedly unruly audience members from attending council meetings for up to 90 days. When the proposal came up for a vote, council members decided not to take it up.
Sacramento Mayor Darrell Steinberg concluded that the proposal was unnecessary and decided to pursue additional strategies for listening to his constituents in their communities, said Kelly Fong Rivas, his chief of staff.
Twitter: @AlpertReyes
Twitter: @DavidZahniser
---
UPDATES:
4:10 p.m.: This article was updated with a comment from City Council President Herb Wesson.
This article was originally published at 12:35 p.m.
Sign up for Essential California for news, features and recommendations from the L.A. Times and beyond in your inbox six days a week.
You may occasionally receive promotional content from the Los Angeles Times.