Ex-NFL player's life gets the Hollywood treatment in CW teen football drama 'All American'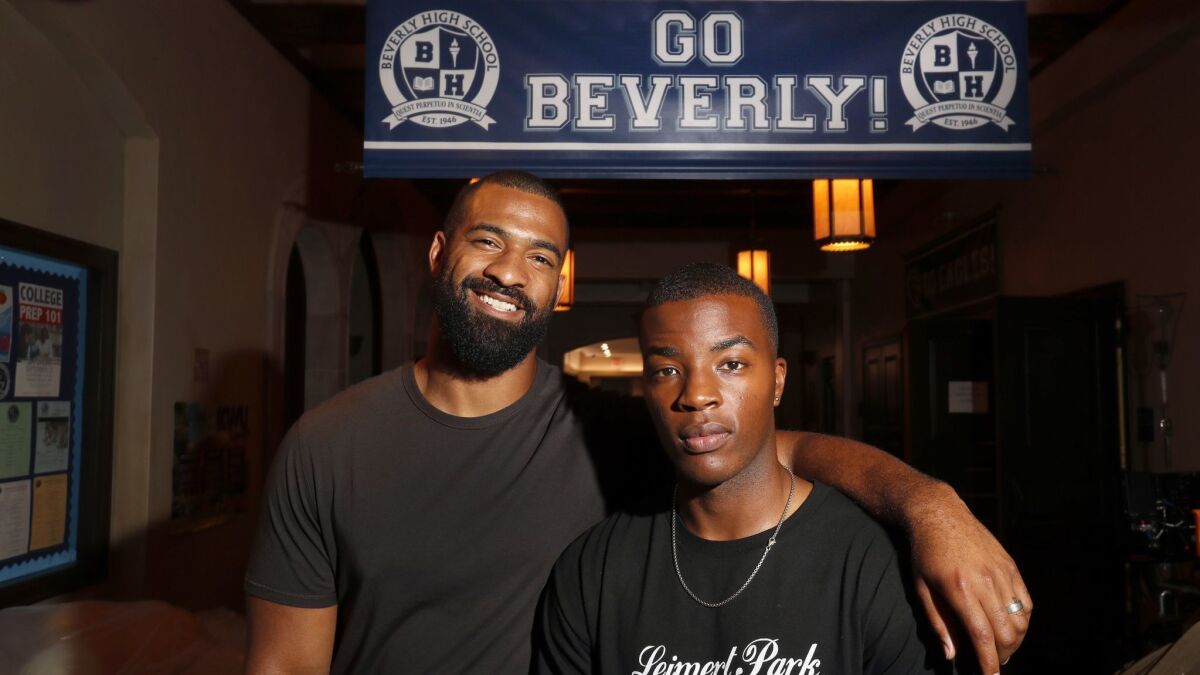 On a late August day, the cast of the CW's new teen football drama "All American" rehearsed a scene from the show's fifth episode at a Warner Bros. stage in Burbank. And although it was supposed to be a joyous affair, nobody was smiling.
Premiering Wednesday, "All American" is inspired by the life of former NFL player Spencer Paysinger, who grew up in a tough South-Central L.A. neighborhood and played high school football in Beverly Hills. Using Spencer as a connective tissue, the show threads tales from disparate communities through the lens of sports.
The scene taking place on a set that resembles the interior of a Beverly Hills mansion decorated with twirling towers of multi-colored balloons is set during a birthday bash for Spencer James (Daniel Ezra). But he is fuming, confronting Billy Baker (Taye Diggs), the Beverly Hills football coach who recruits Spencer and takes him under his wing and into his home, about a surprise revelation.
Spencer turns to his new friends from Beverly Hills and family from the south side who are gathered together in the living room and kitchen, accusing them of knowing something he did not: "Why don't nobody look surprised?"
When the actors break, the thick tension of the scene immediately dissipates as director Rose Troche gives the cast notes, Ezra walks over to the episode's writers quietly observing the scene to ask questions, and Diggs begins cooling himself with a hand-held fan.
At the heart of "All American" is the show's dedication to authenticity in both Spencer's story and the two worlds he straddled. And if the show sounds like a mash-up between "Friday Night Lights," the film and later TV series centered on a small Texas football team, and "The O.C.," the 2003 drama about a teen who moved from his rough Chino neighborhood into a wealthy Newport Beach community, that's because they both served as inspiration.
But it's the near 50/50 split focusing on both South L.A. and Beverly Hills that sets "All American" apart from its predecessors. This series, said the show's creator and executive producer April Blair, addresses issues like race, class and identity.
"Today, to do 'The O.C.' would feel dated," Blair said. "Today's teens … they're very civically and politically aware. How do you do a show that kind of gives you all the fun but also is about something … that feels current and topical?"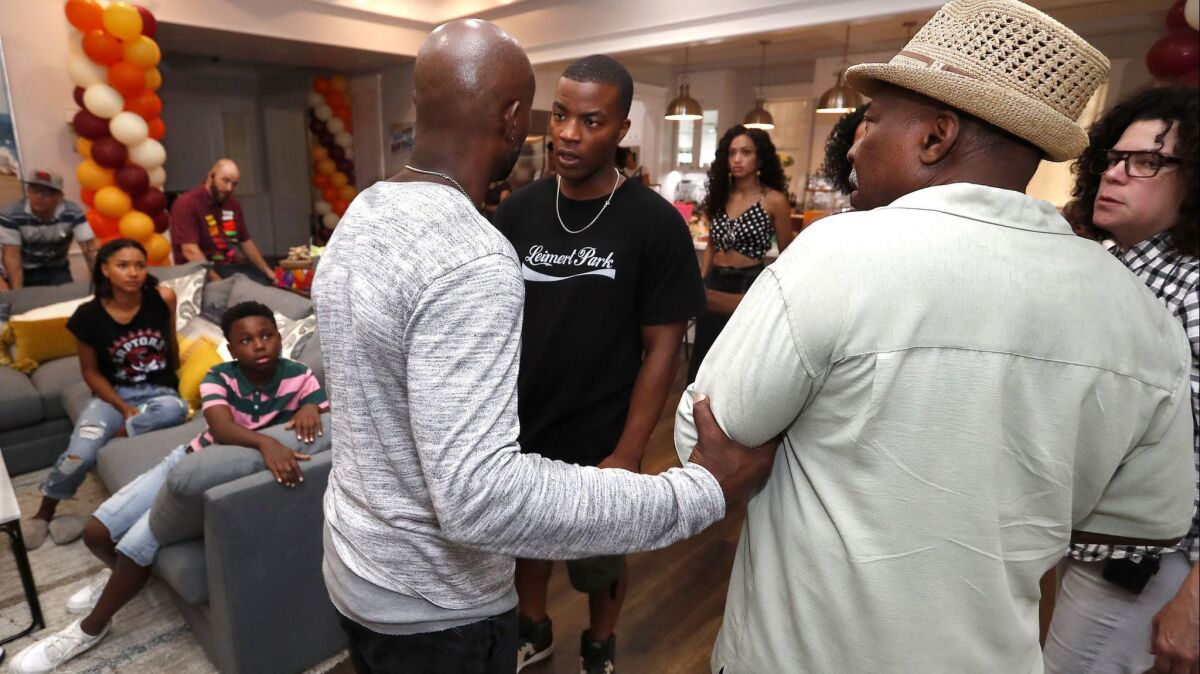 REVIEW: The CW's 'All American' dreams big with one foot in South L.A., one in Beverly Hills »
In between takes, Ezra revealed how he transformed from a British theater aficionado into a gifted football star from South L.A. for his first leading network role. But first, he made an apologetic request: "I'll have to do press in my own accent, sorry," Ezra said, and in an instant the actor became a bloke from Birmingham, England, once again.
Wearing a T-shirt emblazoned with L.A.'s historic black neighborhood, Leimert Park, a silver chain, olive green shorts and matching Nikes, Ezra certainly looked the part of a cool American teenager. And in rehearsals, he had the physical disposition of a confident athlete. Getting to that point required intensive research , since the actor had no knowledge of American football before landing the role.
Ezra spends much of his off time in South L.A., absorbing the unique energy of the community by hanging out at places like Crenshaw High School and the Slauson swap meet. For his accent, he turned to inspirations like one of his favorite rappers from the area, Nipsey Hussle.
And when Ezra wasn't in South L.A., he was training on the football field.
"The real Spencer can't have his name on a football show and the football not look good. That made me feel the extra responsibility of wanting to look as comfortable in the film as possible," Ezra said. "I bought a football, and I just carried the football around for like a month until we started shooting."
The real Spencer, both imposing and friendly, was an active presence on set, floating between the crew-built halls of Beverly Hills High to offer insight to Ezra on how a teenage version of himself would respond to high-school predicaments.
Less than a year into his retirement from the NFL, Paysinger never imagined his life would so quickly become Hollywood fodder.
Paysinger grew up near Crenshaw High School. Through a multicultural program at Beverly Hills High School, he commuted daily to the glitzy community and was captain of the football team. After playing at the University of Oregon, Paysinger was in the NFL for seven years as a linebacker for the New York Giants, New York Jets, Miami Dolphins and Carolina Panthers.
The 30-year-old also had a soft spot for film. Each Tuesday, Paysinger used his NFL off-day to see a new movie, and eventually began dabbling in writing his own short stories. After meeting up with a film producer who played football for a rival high school, they began exchanging anecdotes from their youth.
It led to Paysinger writing a short synopsis of his life story that made its way to the show's executive producer Greg Berlanti ("Riverdale"). Paysinger was closely involved in the series' creation even though he was still playing professionally, often dashing out of defensive meetings to meet with Berlanti and Blair to hash out plot lines and characters.
"One of the first things I mentioned to April was we can't disrespect South-Central," Paysinger said. "I didn't want to disrespect the neighborhood and say Spencer went to Beverly and everything was great. Beverly actually exposed me to a whole new set of problems — rich kid problems."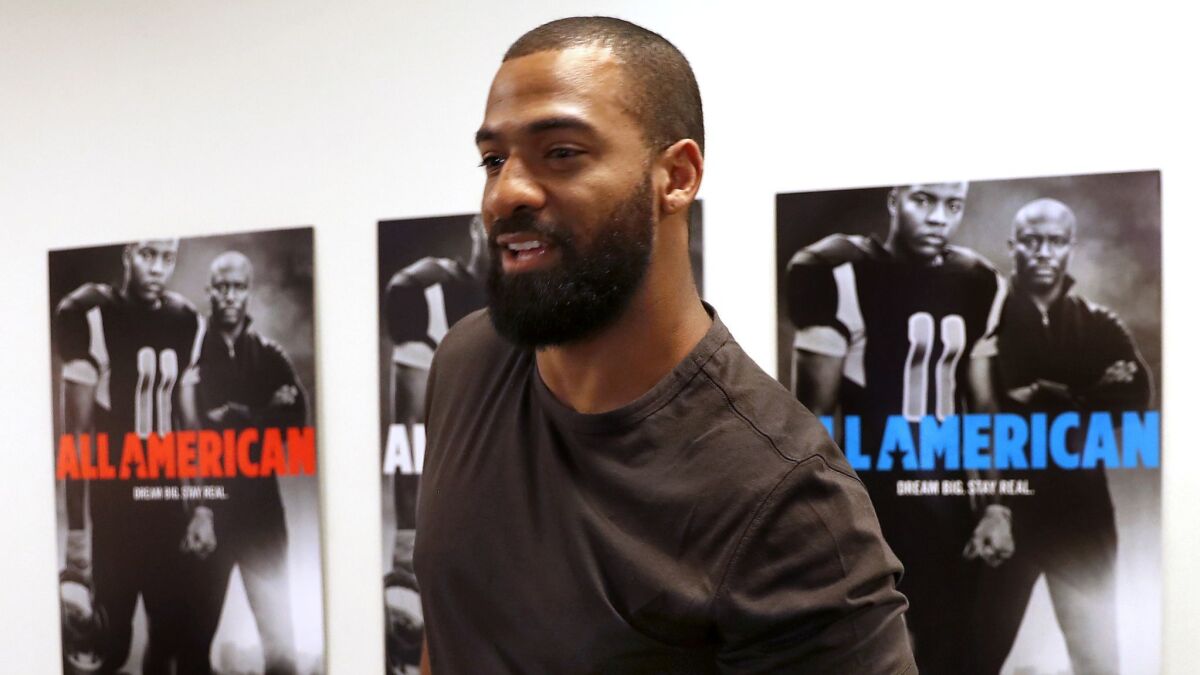 The South-Central Hollywood trope associates the area with poverty, drug addiction and gang violence. "All American" addresses some of those struggles but also focuses on the family aspect of the community. Many of the South L.A. scenes in the show were shot at important landmarks in Paysinger's life, like the park where he played sports as a child and Tolliver's barbershop, where he received his first haircut.
"I just wanted to show those areas as an extension of myself and just show that the sun shines down there too," Paysinger said. "We're doing a great job of that, of not showing Beverly Hills as a savior."
Some parts of Paysinger's story did get changed on screen including the character Coop, originally written as Spencer's male best friend from South-Central. Instead, Coop is Spencer's lesbian best friend, played by actor and rapper Bre-Z ("Empire").
Inside her sweltering trailer, Bre-Z was just waking up from a nap, exhausted from an early-morning call time. Stretched out on her back, with her heels resting on the edge of a makeshift bed, the actor said playing the role felt like a natural fit.
"With Coop, we're going to see that young girl finding herself," Bre-Z said. "She's dealing with sexuality, acceptance from her parents, acceptance from her peers and the acceptance within herself."
Producer Robbie Rogers said the key to ensuring the show doesn't fall victim to stereotypes is a diverse writer's room, which includes Jon Alston, a former Rams player, and Michael Bhim, a black British playwright.
"I can't speak to what it's like to be a black man in America so I have to surround myself with people who can speak a little more clearly to that. I wouldn't presume to be able to tell that story," Blair said.
It was exactly this awareness to social issues and timeliness that drew Diggs to the project.
After rehearsing the birthday party scene, Diggs sat perched on the edge of a lawn chair on a lush backyard set, complete with a pool filled with pink and gold flamingo inflatables. Holding a baby blue electric mini fan to keep himself cool, Diggs called "All American" a dream come true.
"The social impact that the show has spoke to me most," Diggs said. "Growing up, I had to deal with issues dealing with race and identity and socioeconomics, and all of those issues are being dealt with in this show with the backdrop of sports and high school."
"Lately I've been very aware of how I can be of service and how I can use the platform I have for good and this show fell right in line."
'All American'
Where: KTLA
When: 9 p.m. Wednesday
Rating: TV-PG-DLV (may be unsuitable for young children with advisories for suggestive dialogue, coarse language and violence)
Get our L.A. Goes Out newsletter, with the week's best events, to help you explore and experience our city.
You may occasionally receive promotional content from the Los Angeles Times.