Rock climbers campaign to access local cliff closed to protect endangered frogs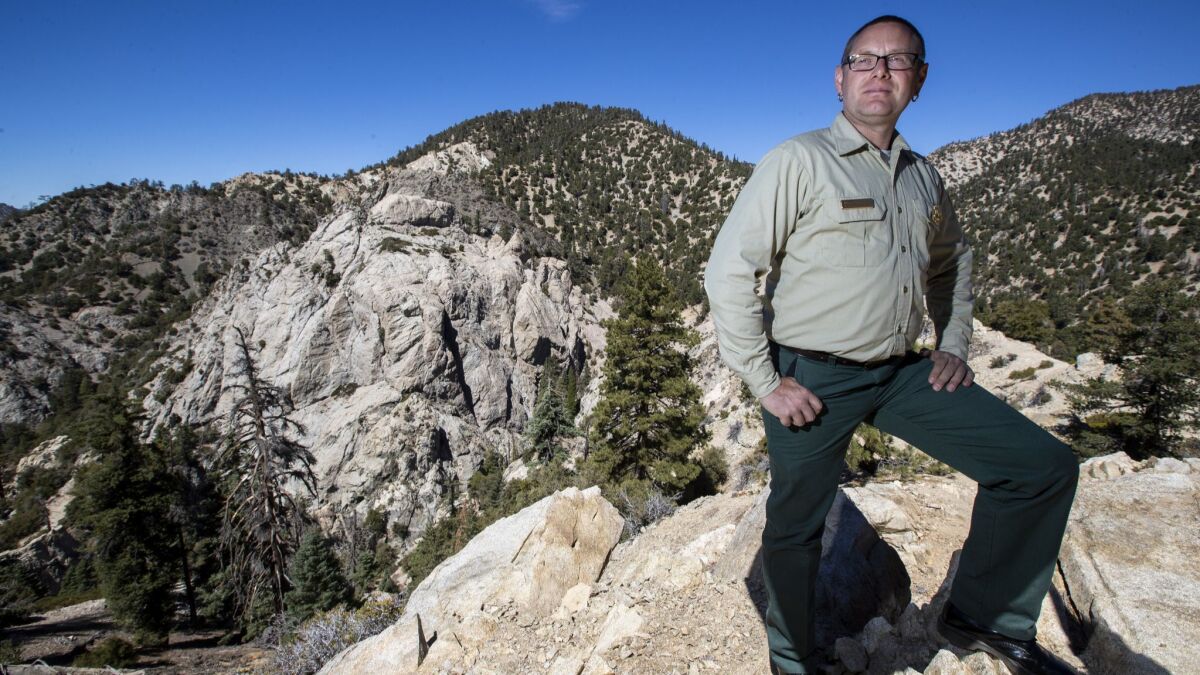 Williamson Rock is a sheer granite wall that rises from chaparral in the San Gabriel Mountains National Monument. Crisscrossed with 300 routes, it has been a proving ground for Southern California rock climbers since the 1960s.
But in a move that outraged many in the climbing community, the area was shut down in 2005 to protect an isolated colony of federally endangered Southern California mountain yellow-legged frogs from being trampled.

For the record:
3:40 p.m. Oct. 10, 2018An earlier version of this article misspelled the first name of Katie Goodwin, Access Fund's California regional policy analyst, as Katy.
Now, at a time when the Trump administration is downplaying the importance of conservation in public lands, rock climbers are stepping up efforts to reopen what had been a beacon for the growing sport just an hour's drive from Los Angeles. The U.S. Forest Service has made a priority of evaluating proposals to welcome climbers back — but environmental groups say they will fight attempts to increase access until frog populations rebound.
The rivalry for elbow room in Little Rock Creek Canyon comes amid a growing push to remove barriers to roads and trails on public lands, including national parks and monuments that have been set aside as designated refuges for sensitive wildlife and habitat.
"We don't agree with the Trump administration on everything," said Kenji Haroutunian, board president of Access Fund, a nonprofit dedicated to safeguarding public climbing areas. "But we think its policy to improve recreation in public lands is great so, yes, we're trying to take advantage of it."
Groups including Access Fund and Allied Climbers of San Diego have been working with the Forest Service and conservation groups for over a decade to forge a solution to protect the frogs and allow recreation at Williamson Rock.
The Forest Service is now studying four alternatives to reopen Williamson Rock, four years after President Obama declared the San Gabriel Mountains a national monument in a bid to link more communities surrounding Los Angeles with wild places in their own backyards.
The preferred option features a visitor-permit system that would allow 90 climbers per day, after installation of improvements including two bridges spanning frog habitat, and a restroom. On-site monitors would ensure compliance with protection measures.
"The purpose of this plan is to allow recreation in the canyon without impacting the frogs," said Jose Henriquez, a Forest Service landscape architect who helped design the "adaptive management plan" for Williamson Rock.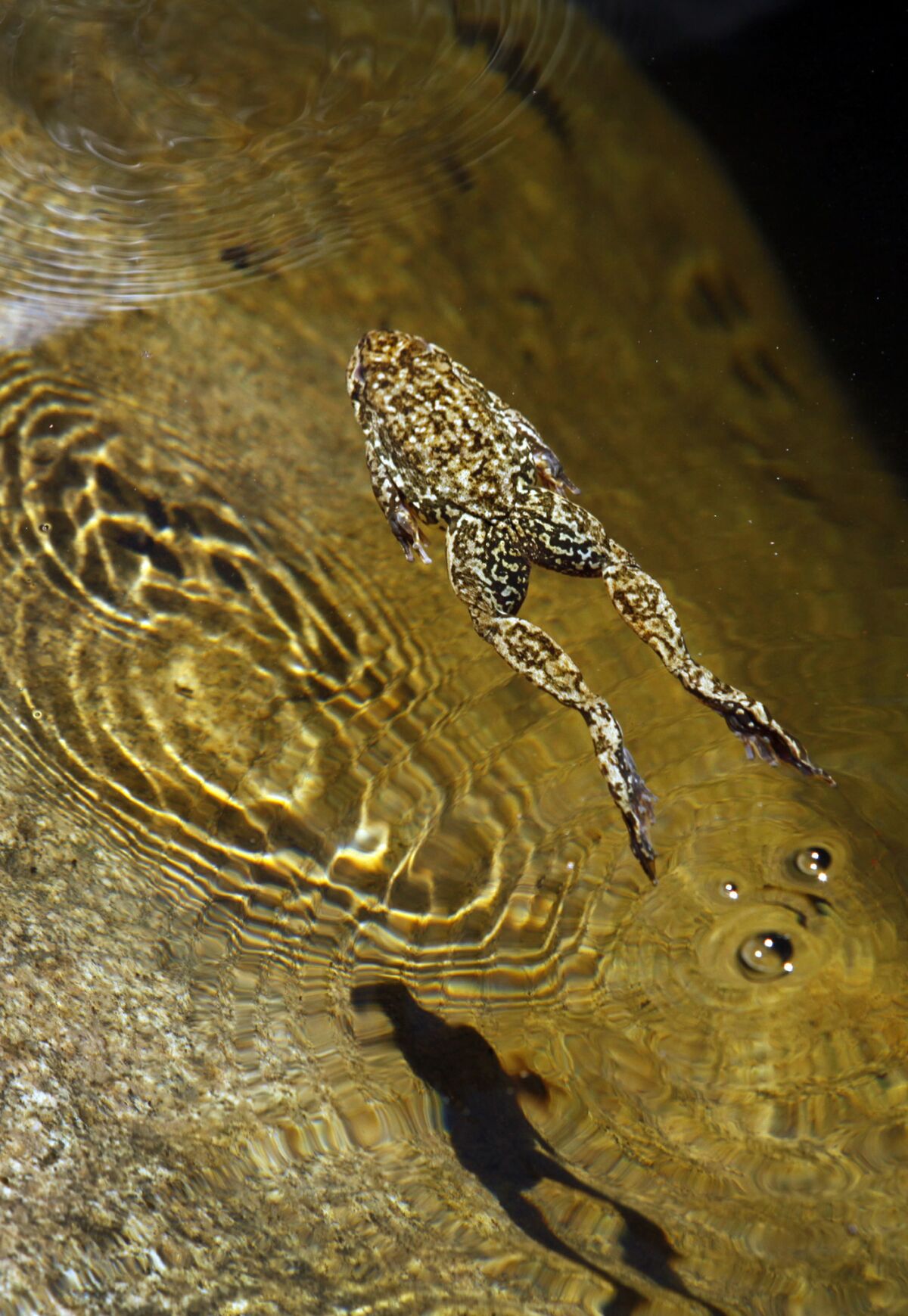 Henriquez was only half joking when he added, "If all goes well in some dream world without litigation, the area could reopen for recreation within two years."
But environmental groups led by the Center for Biological Diversity, whose lawsuits led to the closure of Williamson Rock, are in no mood to compromise.
"We understand that the Forest Service is under immense pressure from rock climbers to let them back in there," said Ileene Anderson, a biologist and spokeswoman for the Center for Biological Diversity. "But they're messing with a species that has lost 99% of its historic range in Southern California.
"We're prepared to take legal action, if necessary," she said, "to keep Williamson Rock and a two-mile stretch of Little Rock Creek closed until the frog is delisted."
That could take decades, some say.
Federal rules for delisting the species require a minimum population size of 500 adult frogs within at least one of three designated recovery areas: the San Gabriel, San Bernardino and San Jacinto mountains.
The current population in each of those areas is less than 50 frogs, except for the colony of 84 clinging to survival in the shadow of Williamson Rock.
"Maintaining the Little Rock Creek population of yellow-legged frogs is crucial to the recovery of the species," Anderson said. "It could be a source from which frogs, tadpoles and egg masses would be taken to reintroduce the species elsewhere."
Climbers say reopening Williamson Rock is of vital importance to a sport whose popularity has surged since 2005. It has gone from extreme sport to something of a mainstream staple: climbing is the subject of two major films this month and is set to make its Olympic debut in 2020.
"There are now at least 10 climbing gyms in Los Angeles alone," Haroutunian noted.
But there are few local outdoor sites where climbers can test their skills at great heights.
"There is now a full generation of climbers who never got to experience the thrill and beauty of Williamson Rock," said Katie Goodwin, California regional director for Access Fund. "For them, it has become folklore — an urban myth."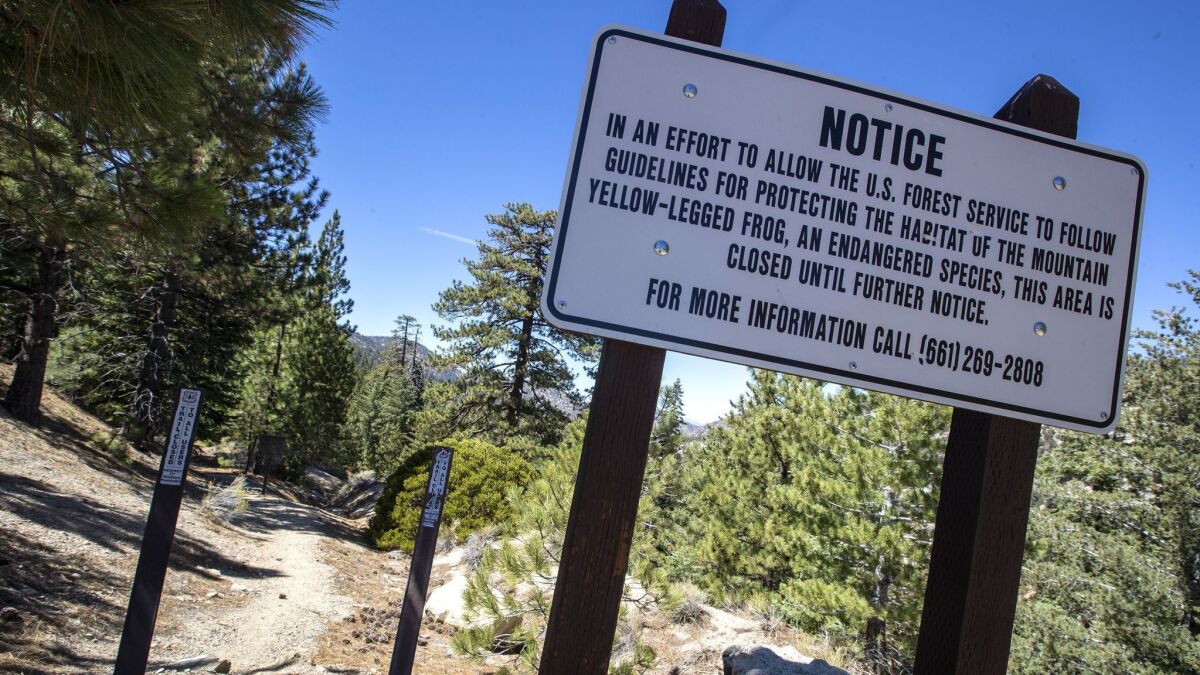 On a recent weekday, when the morning sun filled the canyon with a golden glow, Matthew Bokach led visitors to a ledge overlooking the rock, so enormous that it made the alders and oaks at its base seem like miniatures.
To Bokach, who took charge as manager of the 342,000-acre monument 2½ years ago, it was the start of a new era.
"A lot of creative thought, science and architectural expertise went into our proposal to reopen this place," he said. "It's our best shot at resolving one of the most challenging conflicts in the national forest."
The proposal would reopen the area for recreation between Aug. 1 and Nov. 15, beginning in 2020. It would pay for itself with daily permit fees expected to cost $7 to $10, Bokach said. Only 30 vehicles would be allowed each day in a nearby parking lot, about a quarter of a mile east of Eagles Roost picnic area on Angeles Crest Highway.
It would operate under a point system designed to quantify violations observed by monitors. The presence of human waste, for example, would be assigned 5 points.
"Finding a trampled frog would mean an automatic 50 points," Bokach said. "If the area exceeds 100 points, we'll shut it down for the rest of the season."
For thousands of years, mountain yellow-legged frogs thrived in hundreds of cascading streams across the San Gabriel, San Bernardino and San Jacinto mountains.
The 3-inch-long frogs are named for the bright yellow extending from the undersides of the hind legs onto the lower abdomen.
Since the 1960s, the species has been decimated by fires, mudslides, pesticides, fungal infections, loss of habitat and the appetites of nonnative trout, bullfrogs and crayfish.
Efforts to save the frogs have had mixed results. In 2010, federal wildlife authorities launched a recovery program that included captive breeding at institutions including zoos, trout removal in frog habitat and, in certain areas, banning public access. In 2012, the population at Little Rock Creek Canyon was breeding in numbers not seen in decades.
An environmental review prepared for the Forest Service proposal in August said there were about 130 yellow-legged frogs in the vicinity of Williamson Rock. However, more recent surveys conducted by the U.S. Fish and Wildlife Service showed the number has fallen to 84, for reasons that remain unclear.
Today, a few hundred Southern California mountain yellow-legged frogs are believed to exist in wild isolated populations.
In June, federal biologists released 500 tadpoles hatched at the Los Angeles Zoo into a knee-deep stretch of the San Gabriel Mountains' Big Rock Creek, where they've been absent for half a century.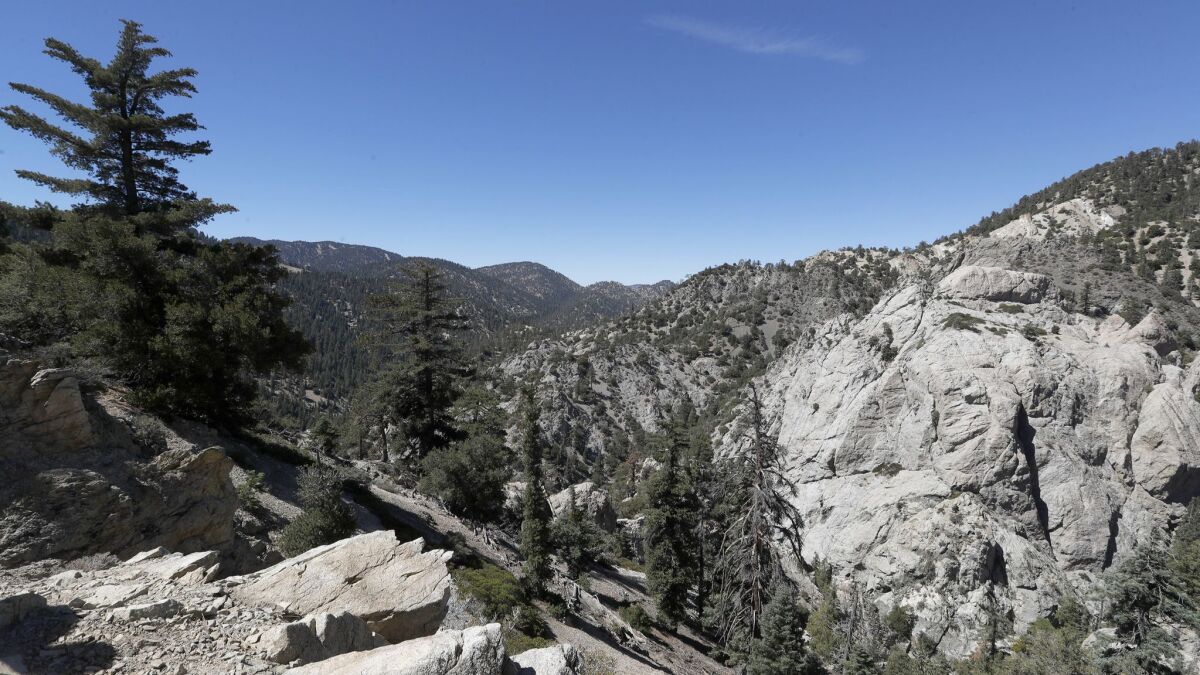 In the meantime, the Trump administration has shifted management strategies on public lands, raising industry and recreation as priorities and lowering conservation.
Rick May, the new senior national advisor to the Department of Interior on recreation and a former Navy SEAL, has said his mission includes creating partnerships among groups currently in competition for the relatively few chunks of public land with the magnets of a river or a road nearby.
Similarly, the bipartisan "Recreation Not Red Tape Act" under consideration in Congress aims to reconcile conflicting constituencies by devising "adaptive management strategies" that set out how to best use public lands indefinitely for people interested in preserving wilderness, wildlife or hunting, fishing and off-road vehicles.
"The prevailing interests used to be about enhancing protections on public lands," said Derrick A. Crandall, president of Outdoor Recreation Roundtable, a nonprofit coalition of trade associations. "Now, there's a new energy and interest from the highest levels in government to increase access into them, and we're working in harmony on this."
For example, Congress designated Sept. 29 as the first Urban National Wildlife Refuge Day to introduce people to more than 100 refuges near big cities across the nation. At the San Pablo Bay National Wildlife Refuge in the San Francisco Bay Area, sportfishing is now allowed for the first time.
Those trends helped make it possible for the Angeles National Forest to step up its efforts to complete a plan designed to balance the very things that make Little Rock Creek Canyon special — a mammoth rock that appeals to climbers and the isolated stream that is home to rare frogs at its base.
An environmental impact statement evaluating the alternatives for reopening Williamson Rock will be issued next summer, followed by a final decision made by the Angeles National Forest superintendent. That decision will require subsequent approvals by the U.S. Fish and Wildlife Service and a U.S. District Court judge, officials said.
It can't come soon enough for Haroutunian.
"I've climbed Williamson Rock lots of times — and I miss it terribly," he said. "It's been a constant source of sadness to know that I can't go back to that magical place."
---
UPDATES:
3:40 p.m.: This article was updated to note the climbing groups have been working on restoring access to Williamson Rock for more than a decade.
---
The stories shaping California
Get up to speed with our Essential California newsletter, sent six days a week.
You may occasionally receive promotional content from the Los Angeles Times.