Florida Democrats sue to extend voter registration deadline as Hurricane Michael nears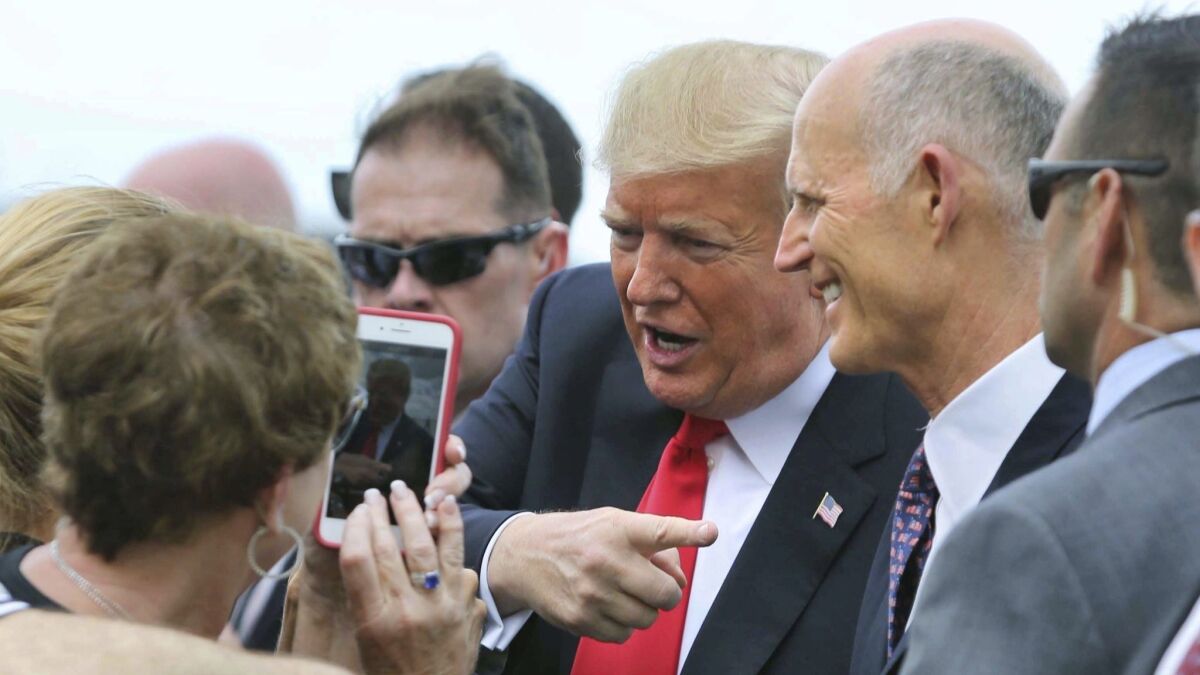 Reporting from TALLAHASSEE, Fla. —
A partisan brush fire blew up Tuesday amid the threat of Hurricane Michael over voter registration deadlines in the battleground state of Florida.
The Florida Democratic Party sued in federal court on Tuesday, asking a judge to extend the state's registration deadline by at least a week.
Florida's deadline to register to vote is Tuesday, 29 days ahead of the Nov. 6 election. Democrats including Tallahassee Mayor Andrew Gillum, who is running for governor against Republican Ron DeSantis, called for an extension as Michael's imminent arrival prompted evacuations and the closing of government offices across the Panhandle.
Shortly before midnight on Monday, Florida Secretary of State Ken Detzner, who works for Republican Gov. Rick Scott, told local election supervisors that if their offices were closed on Tuesday, then they could accept paper applications on the day their offices reopen.
In his order, Detzner said giving some supervisors this extra day to accept paper registration forms would ensure all offices in the state will be open the same number of days.
Democrats are contending in their lawsuit that Detzner's solution is inadequate and not equally available to all Floridians. The lawsuit asks what happens to people who evacuate and can't make it back to their local elections offices on the day they reopen.
"This limited, confusing, and inconsistent solution is not sufficient to adequately protect the voting rights of Floridians," reads the lawsuit, filed in federal court in Tallahassee.
Democrats two years ago sued to extend Florida's voter registration deadline due to the disruption caused by Hurricane Matthew. A judge sided with Democrats and extended the deadline by a week.
Scott, who is challenging U.S. Sen. Bill Nelson this year, was asked earlier Monday whether he would extend this year's deadline. Scott said state officials were considering it, but he pointed out that Florida now allows people to register to vote online, a key difference from 2016.
Detzner in his memo noted that 40,000 people had used the online site in the last week to either register or update their registration.
Florida had more than 13 million registered voters as of the end of August, according to the state Division of Elections. Several statewide elections in recent years have been decided by very narrow margins.
"I do think we ought to do whatever we can to extend registration to folks, especially given the fact that most people are trying to scurry away from these areas," Gillum said Monday. "They aren't thinking about voter registration."
Must-read stories from the L.A. Times
Get the day's top news with our Today's Headlines newsletter, sent every weekday morning.
You may occasionally receive promotional content from the Los Angeles Times.