Newsletter: Today: The Kingdom and the Cover-Up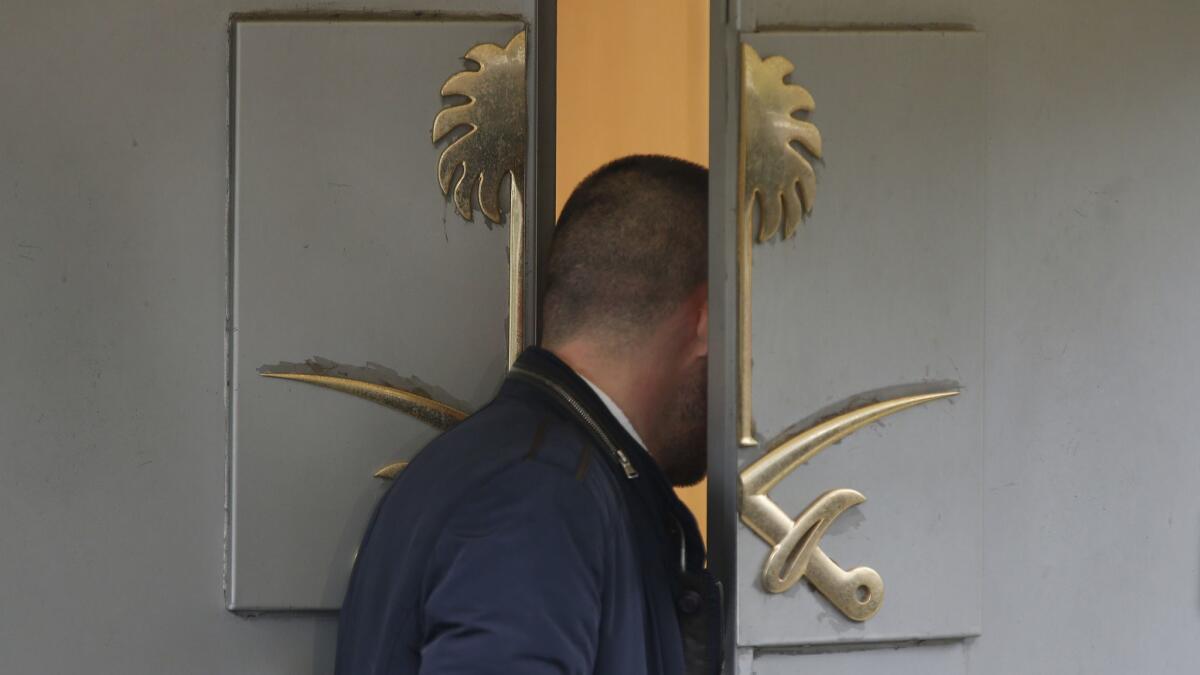 A Saudi Arabian official says "rogue" operatives tried to cover up the killing of a journalist, but leaders in Washington suggest a different cover-up is involved.
TOP STORIES
The Kingdom and the Cover-Up
It took more than two weeks for Saudia Arabia to shift from denying any role in the death of journalist Jamal Khashoggi inside the Saudi Consulate in Istanbul, Turkey, to claiming he died in a scuffle with security agents running a "rogue operation" who then tried to cover it up. Not many in Washington are buying that explanation, which is meant to shield Crown Prince Mohammed bin Salman from the international outrage that's ensued. Meanwhile, Turkey's president says he will make a statement on the slaying Tuesday: "We seek justice, and this will be revealed in all its naked truth."
Politics as Usual, or Not?
A lot has happened this year, but one thing remains the same: The latest USC Dornsife/Los Angeles Times poll shows that Democrats are favored to win back a majority of the House, while Republicans are more likely to keep control of the Senate. Will it play out that way on Nov. 6? More than anything, the numbers reflect the country's deep partisan divide. But billionaire political activist Tom Steyer is hoping to change the equation by encouraging young people to vote, even though they've rarely been a reliable factor at the ballot box.
The Caravan Keeps On Rolling Along
President Trump has made a caravan of mostly Honduran immigrants a campaign issue, threatened Mexico and Central American countries with economic reprisal, and vowed to send the military to close the U.S. border. At first, Mexican police used tear gas to block them from crossing over from Guatemala, then stood down. The caravan has grown to roughly 7,000 people stretching at least two miles. Most say they intend to cross into the United States, in hopes of finding work or fleeing violence or political repression.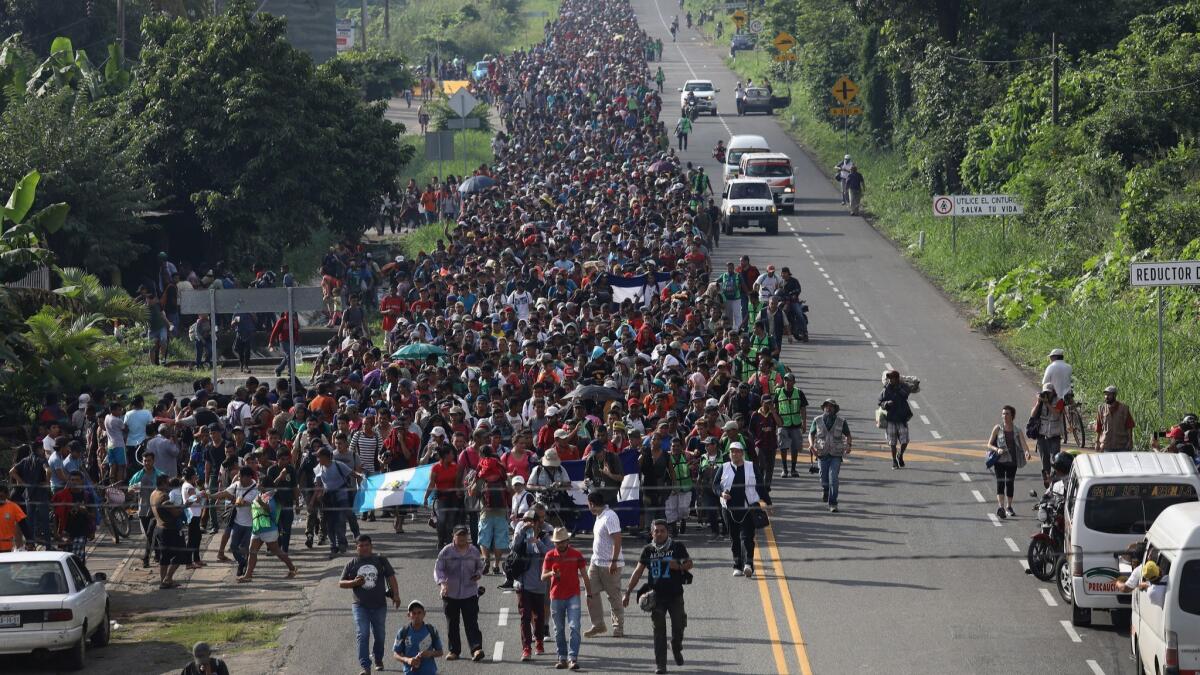 More Politics
-- National security advisor John Bolton faces two days of high-tension talks in Moscow after Trump announced his intention to withdraw from a landmark nuclear weapons treaty.
-- Is there foreign interference in the 2018 U.S. midterm election? Here is a look at what is known.
-- At the so-called Comic-Con of politics, Michael Avenatti wouldn't say whether he'll run for president, but his ideal Trump challenger sounds a lot like him.
An Existential Crisis in Florida
Devastated. Underinsured. Priced out? Just as residents of Santa Rosa have struggled to rebuild after the Tubbs fire, the people of Mexico Beach, Fla., are facing the same existential crisis after Hurricane Michael pummeled the tiny seaside town less than two weeks ago. "They're gonna make you build so heavy duty, you can't afford to rebuild," said one owner of a 1940s-era motel that was reduced to rubble.
Sign up to get Today's Headlines delivered to your inbox. »
OUR MUST-READS FROM THE WEEKEND
-- Overtime costs at the Los Angeles County Fire Department surged 36% in the last five years, placing some firefighters among the highest-compensated workers in local government.
-- Fentanyl and related drugs have become the No. 1 cause of opioid-related overdose deaths. The largest source? Rogue chemical companies in China, officials say.
-- At Hollister Ranch, homeowners enjoy private beaches and get huge property tax breaks. Columnist Steve Lopez weighs in.
-- Columnist Bill Plaschke on the Dodgers' return to the World Series, where they will try to complete the dream that ended in a nightmare last season.
MUST-WATCH VIDEO
-- Inside the clubhouse celebration after the Dodgers defeated the Milwaukee Brewers in Game 7 of the National League Championship Series.
CALIFORNIA
-- Experts say California needs to build a lot more housing. But a USC Dornsife/Los Angeles Times poll found only 13% of voters think that.
-- A real estate investment firm has agreed to pay $2.5 million to settle a federal lawsuit alleging that it pressured Latino and mentally disabled tenants to leave its rent-controlled Koreatown buildings so that it could raise the rents.
-- Joe Hunt, the leader of the Billionaire Boys Club who was convicted of murder, is trying to persuade Gov. Jerry Brown to commute his sentence of life without the possibility of parole.
-- Elon Musk says that the first tunnel of a proposed underground transportation network across Los Angeles County will open Dec. 10.
HOLLYWOOD AND THE ARTS
-- Universal's revival of the horror franchise "Halloween" made — what else? — a killing at the box office this weekend.
-- A social media star is born in "Dear Evan Hansen," as the hit Broadway musical arrives in L.A. in tip-top form.
-- Music critic Mark Swed says Los Angeles Opera's "Satyagraha" is a "must-see magnificent production."
CLASSIC HOLLYWOOD
This will turn your head around: "The Exorcist" came out 45 years ago this month. Director William Friedkin recalls that he and screenwriter William Peter Blatty enjoyed having fun with the executives at Warner Bros. At one point, the two wanted to shoot a mock scene with Groucho Marx and send the footage.
NATION-WORLD
-- A U.S. brigadier general was wounded in an attack last week in Afghanistan's Kandahar province that killed two senior Afghan provincial officials and targeted a group that included the senior U.S. commander in the country, four people with knowledge of the assault said.
-- Authorities in Taiwan say 18 people were killed and 175 injured when the train they were on derailed. It was the island's worst railway accident in nearly three decades.
-- One of the world's longest bridges opens this week, linking Hong Kong and mainland China, but not everyone will be celebrating.
BUSINESS
-- Paid protesters can be a real thing, and a Beverly Hills firm that hires them stands accused of extortion in a lawsuit.
-- The payments aren't late, but the debt collectors are calling. What does it mean?
SPORTS
-- Manager Dave Roberts is returning to Boston with the Dodgers as underdogs in the World Series.
-- The Angels have found Mike Scioscia's replacement in Brad Ausmus, who signed a three-year contract to manage the Angels.
-- The NBA has suspended the Lakers' Brandon Ingram, Rajon Rondo and the Houston Rockets' Chris Paul for fighting during L.A.'s home opener.
-- The Rams' perfect record is intact after a 39-10 victory in San Francisco, while the Chargers notched their fourth straight win.
OPINION
-- Trapping and relocating coyotes? That's a really bad idea.
-- Remember Alexander Solzhenitsyn? Something is desperately wrong when the U.S. is accused of covering up the killing of a dissident.
-- The complete list of L.A. Times endorsements for the Nov. 6 election.
WHAT OUR EDITORS ARE READING
-- The Trump administration is reportedly considering narrowly defining gender as a biological, immutable condition determined by genitalia at birth. (New York Times)
-- Those jobs figures related to the Saudi arms deal that Trump has been citing? He said 40,000 in March; that became 1 million on Friday. Hmm. (Axios)
-- Cover songs are making a comeback. Maybe. (Slate)
ONLY IN CALIFORNIA
In Orange County, there are 24 people of Vietnamese descent running for office — 13 of them with last name of Nguyen. After all, it is the most common surname out of about 100 Vietnamese last names. But it can lead to some interesting Nguyen-Nguyen situations, such as in Garden Grove's Council District 3, where Duy Nguyen is challenging incumbent Councilwoman Thu-Ha Nguyen … for the win.
If you like this newsletter, please share it with friends. Comments or ideas? Email us at headlines@latimes.com.
Sign up for Essential California for news, features and recommendations from the L.A. Times and beyond in your inbox six days a week.
You may occasionally receive promotional content from the Los Angeles Times.