NBA suspends Lakers' Brandon Ingram, Rajon Rondo and Rockets' Chris Paul for fighting
Rockets guard James Harden collides with Lakers forward Brandon Ingram, who was called for a foul on the play with 4 minutes left in the fourth quarter. That led to an exchange of words before Ingram shoved Harden, igniting a brawl.
(Marcio Jose Sanchez / Associated Press)
Lakers guard Lonzo Ball tries to separate teammate Brandon Ingram and Rockets forward Carmelo Anthony after Ingram ignited a brawl by shoving Rockets guard James Harden.
(Kevork Djansezian / Getty Images)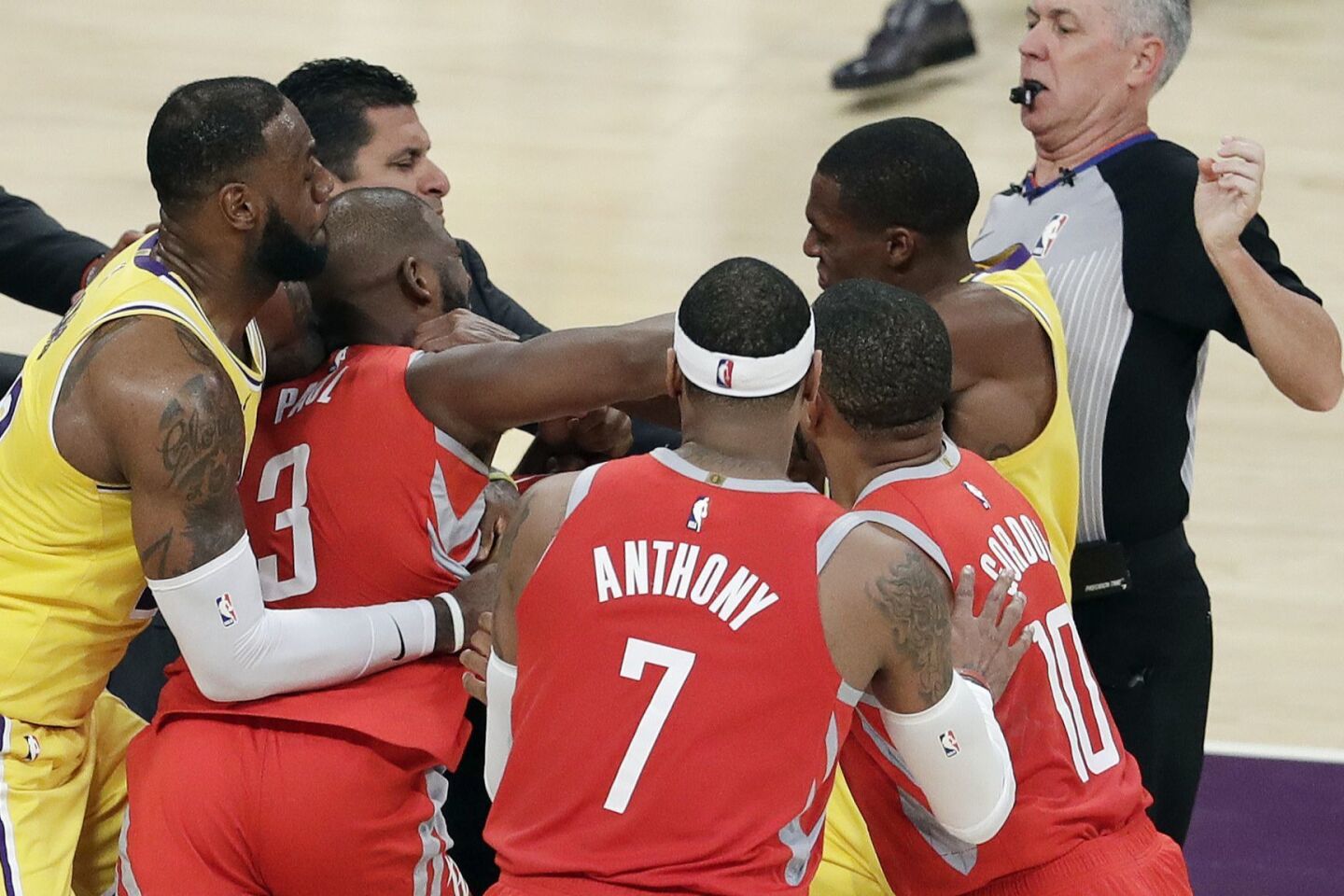 Rockets guard Chris Paul, second from left being restrained by Lakers forward LeBron James, trades punches with Lakers guard Rajon Rondo, who next to the referee. Rondo and Paul were both ejected.
(Marcio Jose Sanchez / Associated Press)
Players try to separate Chris Paul and Rajon Rondo after Paul appeared to poke Rondo in the face as they exchanged words.
(Marcio Jose Sanchez / Associated Press)
Rockets guard Chris Paul, left, is held back by Lakers forward LeBron James after Paul and Rockets guard Rajon Rondo (not pictured) exchanged punches.
(Marcio Jose Sanchez / Associated Press)
Lakers forward LeBron James talks to Rockets guard Chris Paul as he's escorted off the court after getting ejected for throwing punches.
(Kevork Djansezian / Getty Images)
Long after practice ended, Rajon Rondo stood all alone beneath a basket. Every other player had left the courts, but the Lakers point guard held a basketball with a towel draped over his left shoulder. Occasionally he turned back to look at a crowd of reporters gathered around a tight-lipped Luke Walton.
At that moment, the NBA was reviewing a fist-fight that erupted Saturday night in the Lakers' home opener against the Houston Rockets.
Rondo was suspended for three games Sunday, Lakers teammate Brandon Ingram for four games and Rockets point guard Chris Paul for two games for their involvement in the fight. All three will forfeit their pay for the games they miss.
Ingram got the biggest penalty because he returned to the fight and behaved aggressively with an official. The league determined that Rondo spat at Paul, instigated the fight and threw punches. Paul's suspension was for throwing punches too.
"We had multiple punches here of two of the players, Chris and Rondo and there was contact. It was difficult to judge how much contact, but there was contact," Kiki VanDeWeghe, the NBA's vice president of basketball operations, said in a conference call.
"And then with Brandon, again, we looked at the whole incident. There was the push on [James] Harden. There was the confrontation with [official] Jason Phillips in very tight quarters. And then there was a period when he walked away and he was pushed away and taken away. When things started up again, he came back in extremely aggressively and then threw a very aggressive punch to somebody who wasn't looking. That's a very dangerous play. I think we made it clear in the strongest terms that that was a dangerous play and it's completely unacceptable."
As they assembled for practice Sunday, the Lakers anticipated some form of penalty. Their coach began with a group discussion about what happened.
"I talked to the guys, opened it up and then we moved on," Walton said. "Got into the film from last night, and we put our focus on today, about being about today and getting better today, and we did that. We had a good practice."
The trouble Saturday night began when Ingram was called for a foul on Harden as Harden dribbled to the hoop. Harden, an expert at drawing fouls, collided with Ingram, leading to Ingram being called for his fourth foul. Ingram shoved Harden in the back, drawing a technical foul.
That made Ingram more angry and he ran to Phillips and stood over him, yelling.
Rondo and Paul, who have disliked each other for at least a decade, stood face to face and jawed at each other. Paul put his finger in Rondo's face, then Rondo punched him in the jaw and Paul punched back. Ingram, who had walked away, ran back and threw a punch of his own.
Paul told teammates and the game's broadcast crew that Rondo spit on him, prompting his reaction. The Lakers and Rockets both reviewed video and said it supported their players' differing accounts. A video circulated on social media Sunday morning that showed spit flying from Rondo's mouth.
"We have a clear view that, however you want to interpret it, that there was spitting in Chris Paul's direction," VanDeWeghe said.
When Walton was asked Sunday morning if there was "any spit," he said "No."
Walton declined to give specifics about the Lakers' morning meeting. Ingram and Rondo declined to speak to reporters after the game and were not available after practicing Sunday.
"We're expecting to have them out obviously and hopefully they get back sooner than later," Lonzo Ball said.
Ball was the Lakers' starting point guard last season, but he has come off the bench in the first two games. The Lakers have kept him on a minutes restriction as he recovers from a July knee surgery.
Walton said he would speak with the training staff about Ball's minutes but he did not concede he would lose his players to suspension.
Two hours later the NBA announced their fate.
TONIGHT
VS. SAN ANTONIO
When: 7:30 p.m
On Air: TV: Spectrum SportsNet; Radio: 710, 1330.
Update: After opening the season with two losses to teams that made the playoffs last season, the Lakers will face the new-look Spurs featuring Compton native DeMar DeRozan, who was acquired from the Toronto Raptors for Kawhi Leonard. The Lakers will be short-handed because of the suspensions of Ingram and Rondo.
Staff writer Broderick Turner contributed to this report.
Follow Tania Ganguli on Twitter @taniaganguli
All things Lakers, all the time.
Get all the Lakers news you need in Dan Woike's weekly newsletter.
You may occasionally receive promotional content from the Los Angeles Times.