In Orange County, 24 Vietnamese Americans are running for office. 13 share the same last name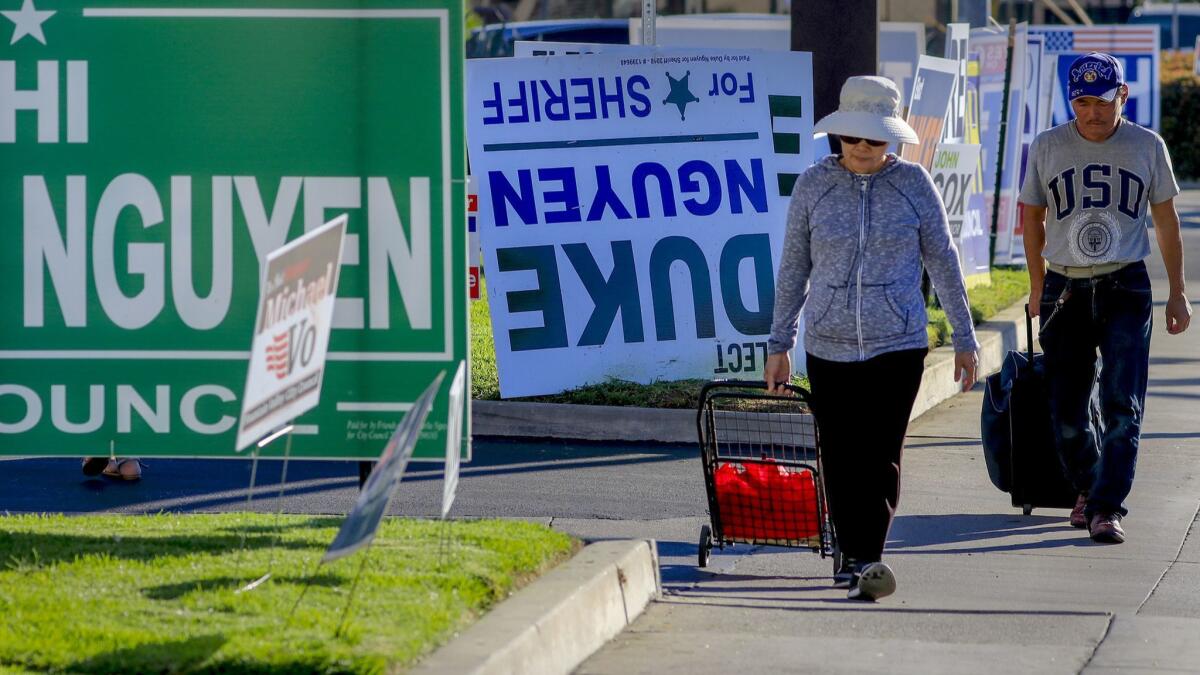 Gripping the wheel of his SUV, Chau Nguyen steered his car along Little Saigon's clogged Bolsa Avenue before turning into the parking lot of a bank.
Before long, he came face to face with a colorful collage of names: Janet. Charlie. Tyler. Duke. Tri.
They are candidates for state senator, city council member, the California Assembly, sheriff and Westminster mayor. And they are part of a whopping 24 people of Vietnamese descent running for office in Orange County — their campaign signs dominating street corners in Little Saigon.
In this part of the traditionally Republican county, it is open to debate whether a much-touted Democratic "blue wave" will sweep through the midterm elections.
But it's indisputable that there will be a Nguyen wave.
Thirteen of the candidates share that last name — just like the 38-year-old business consultant from Garden Grove ogling their campaign signs and snapping photos.
"Wow, the signs are everywhere!" exclaimed Chau Nguyen. "I had no idea we had so many possibilities from our community. This is amazing. Why is everyone surfacing now?"
The surge in political candidates in Orange County is happening against a backdrop of intense Asian voter registration drives nationally, including in the largest business and cultural district for Vietnamese Americans outside Vietnam. But it's also the latest sign of the evolution of the politically precocious Vietnamese American community.
"It shows the power of the Vietnamese at the ballot box, spreading their influence in central O.C. politics," said Karthick Ramakrishnan, professor of public policy and political science at UC Riverside. "What you're seeing now is the seed that was planted decades ago when the first Vietnamese ran and succeeded."
It started with a 1992 victory, when Westminster Councilman Tony Lam became the first Vietnamese-born person to be elected in the U.S.
"Over time, with so many wins, it built the farm team for future candidates…. The numbers have grown so high that people are encouraged to enter the ring," Ramakrishnan said.
The candidates are concentrated in Fountain Valley, Garden Grove and Westminster — the cities that span Little Saigon. Vietnamese are running not only for prominent roles in city halls and the state Legislature, but for school, water and sanitation districts.
"We have been visible advocating not just for our community but for the mainstream community as well. We are here to do the work because all children and parents deserve attention," said Lan Quoc Nguyen, a four-term veteran on the Garden Grove Unified School District Board of Education who is running unopposed for reelection.
He joined multiple other high-profile candidates, including Tyler Diep, Westmister mayor pro tem, and Janet Nguyen, state senator representing the 34th District, in running for reelection on Republican slates.
The fact that so many candidates share the same surname isn't surprising when you consider how prevalent Nguyen is among those of Vietnamese descent.
It is the most common surname among about 100 Vietnamese last names. Nguyen was the last dynasty in power before Ho Chi Minh and his communist forces took control of North Vietnam in 1945. Historians say more than 5 million Vietnamese answer to Nguyen.
Some Nguyens tire of correcting the pronunciation of their names and decide to Westernize the spelling so that it matches how it sounds: Win or Winn.
Flip through the Vietnamese Yellow Pages and you'll spot thousands of Nguyens, and you're likely to shake dozens of hands belonging to Nguyens at mixers organized by the Vietnamese American Chamber of Commerce. At Vietnamese American weddings, it's often a Nguyen-Nguyen situation.
But sometimes — as in divorces — it's a Nguyen-versus-Nguyen situation. Such is the case in Garden Grove's Council District 3, where Duy Nguyen is challenging incumbent Councilwoman Thu-Ha Nguyen.
"I don't see anything special about our name. It's a normal name," the challenger, a commercial banker and small-business owner, said curtly. "Many people vote along the party line, not for a name."
A member of the California State Military Reserve, Duy Nguyen said he is more concerned about what he calls "true" representation.
"When I walk around, I ask, 'Do you know who your representative is?' No one knows. There's trash and there's the homeless," he said. "Our city is in shambles and we need new people to clean it up."
Thu-Ha Nguyen, a supervisor in the hematology-oncology department at Quest Diagnostics Inc., said "it can be overwhelming that there are many Vietnamese choices, but that's why our camp is focused on my first name — Thu-Ha, Thu-Ha. We try to repeat it as well as get the message out for what we stand for — responsible leadership."
Among the 24 Vietnamese American candidates in Orange County, state Sen. Janet Nguyen is a veteran going into her ninth election this November. She's hardly surprised by the depth of political engagement in her community.
As political refugees, her fellow Vietnamese "know what it's like to live in a country where freedoms are virtually nonexistent and where one party controls all aspects of their lives," she said.
She said that experience has helped make Vietnamese Americans relatively active politically, with higher turnout rates at the polls than some other groups.
A majority of Vietnamese American candidates, Nguyen or otherwise, are Republicans, though increasingly, the younger generation who are part of their electorate tend to lean toward being Democratic or independent, according to experts.
Vietnamese American voters "were considered a lock for the Republican party in the past," Ramakrishnan said, especially since they were inspired by the group's aggressive anti-Communist stance.
But as the refugee population ages and their children and grandchildren become more liberal, Ramakrishnan sees Republican leaders pushing for more strategic outreach to grow and maintain their base.
After 2012, when GOP nominee Mitt Romney lost the presidential election to Barack Obama, the Republican National Committee assembled an Asian outreach team, dispatching staff to key cities around the U.S. and learning better how to court millennials and members of the second generation.
Xuan Nguyen, a registered Republican who's an assistant sales manager in Westminster, said she isn't fazed by so many identical names when she goes to the polls.
"I don't think people would be confused if they remember that the point is do we know anything about the candidate — or the work they've done?" said Nguyen, 53, before adding: "In the past, I judged candidates on their record or their expertise, not their nationality."
Amy West, a small-business owner who has launched a campaign for the Westminster City Council and who's a Vietnamese American who took on her husband's last name, didn't think about switching back to her maiden name to boost interest from immigrant voters.
"I am a proud American of Asian descent. My driver's license, voter registration and even Facebook page all say I am Amy West. I love being Mrs. Amy West. I also love my culture and heritage," adding: "My personality is to want to help people and serve."
Chau Nguyen, the consultant, isn't yet sure who he will support at the polls. He's just grateful that the evolution of the community has pushed participation forward.
"We're from a country that not many people may want to return to, unlike another Asian country like [South] Korea. We don't have a stable government back home," he said. "That's why we want to work to help the government where we live now."
Twitter: @newsterrier
Sign up for Essential California for news, features and recommendations from the L.A. Times and beyond in your inbox six days a week.
You may occasionally receive promotional content from the Los Angeles Times.