Global Development: One of the world's longest bridges opens this week, linking Hong Kong and mainland China. That's stirring concern
Reporting from Hong Kong —
Nearly every other day for the last few years, volunteers from the Hong Kong Dolphin Conservation Society chartered a yacht to search for Chinese white dolphins at the mouth of the Pearl River where it meets the South China Sea. The estuary was once a sanctuary for this endangered species until the constant burr of jackhammering and welding chased them away.
Where once mostly freighters and tugboats plied the placid waters, this westernmost fringe of the Hong Kong archipelago mushroomed over the last several years into a sprawling construction site at sea. The largest of the islands, Lantau, is now lined with cranes and rigs for a rash of infrastructure projects.
This week, the most awaited among them — the Hong Kong-Zhuhai-Macau Bridge, which will be the world's longest crossing of its kind — will open to traffic.
More than a decade in the making, this combination of an underwater tunnel, bridges and artificial islands spans the Pearl River Delta and stretches longer than 14 Golden Gate Bridges lined up end to end.
However, what should be a celebrated feat in this Chinese metropolis built upon engineering marvels has turned controversial. Its much-delayed completion has resulted in significant cost overruns, and several workers were killed during its construction. The city's budding environmental movement decries the destruction of marine habitat and the pollution that the increased traffic will bring, while casting doubt on economic benefits trumpeted by government officials.
An even greater concern for some is that the bridge marks Beijing's first concrete move to subsume Hong Kong into a regional integration plan with mainland China called the Greater Bay Area, which encompasses a cluster of cities with a population of more than 60 million people.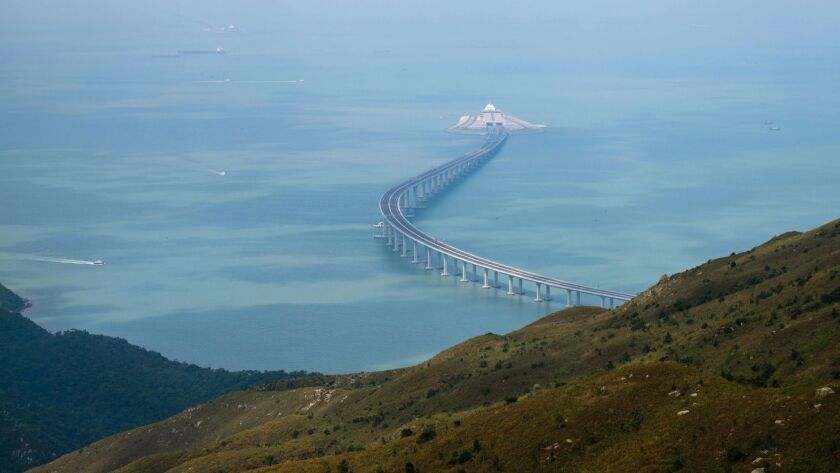 Hong Kong is a former British colony of 7.4 million that was returned to Chinese rule in 1997 under a framework known as "one country, two systems," whereby it maintains a semiautonomous status apart from the mainland. But that independence has been eroded in recent years, and many Hong Kongers view the sea link as a further leash to mainland China.
Zhuhai and Macau are adjoining areas on the mainland due west of Hong Kong. Both are significant tourist draws, with Macau now rivaling Las Vegas as an international gambling mecca.
That China's top leaders, President Xi Jinping and Premier Li Keqiang, are expected to preside over the ribbon-cutting for the bridge in Zhuhai on Tuesday only underscores the political significance of the project.
The government has projected that as many as 29,000 cars will traverse the sea link daily by 2030, although construction of another delta-spanning bridge less than 20 miles to the north in mainland China is underway.
Hong Kong taxpayers footed 60% of the total $20-billion bill, including more than $1 billion in cost overruns. "It's not going to break even," said Albert Lai, a civil engineer who is an advocate for sustainable development.
Some experts argue that some of the benefits may be intangible.
"This makes Hong Kong a lot more accessible for goods, passengers and trade, so this is a benefit from the economic perspective," said John Ap with the Institute for Tourism Studies in Macau. "The bridge will help enhance Hong Kong's status as the region's hub."
The Macau and Zhuhai sections of the link were completed years ago. With the Hong Kong section being the laggard, workers such as Thapa Paul Denedick were under pressure to hurry.
"They told us to work quickly," said Denedick, a scaffolder who worked 12-hour days, six days a week. "I thought it was hard and scary because I was in the middle of the sea."
In March 2017, Denedick, along with two other workers, plunged into the ocean as their work platform collapsed.
"I thought I was already dead," Denedick recalled, before he eventually unfastened his safety harness latched to the platform. His colleagues died.
All told, 20 deaths were reported throughout the project, making it the deadliest construction in the city's history.
Still in recovery from his injuries, Denedick recently moved to a newly developed town on Lantau with a clear view of the bridge, but he said he tries not to get a close look.
In addition to the new town, Lantau is already home to the Hong Kong International Airport, with a third runway under construction, a Disneyland resort and a marine park. With the sea bridge coming online, the government announced an ambitious plan to reclaim 4,200 acres of land and build more new towns for 1.1 million residents. The plan stoked a protest this month by those who see the development as unsustainable.
In Tai O, the last surviving fishing village on Lantau's western tip, retired fisherman Wong Ho gazed at the sea link, which lights up at dusk like a serpentine ribbon of blue lights.
"More construction might be bad for the environment, but there's little I can worry about," Wong said. "As far as I can tell, development is still king."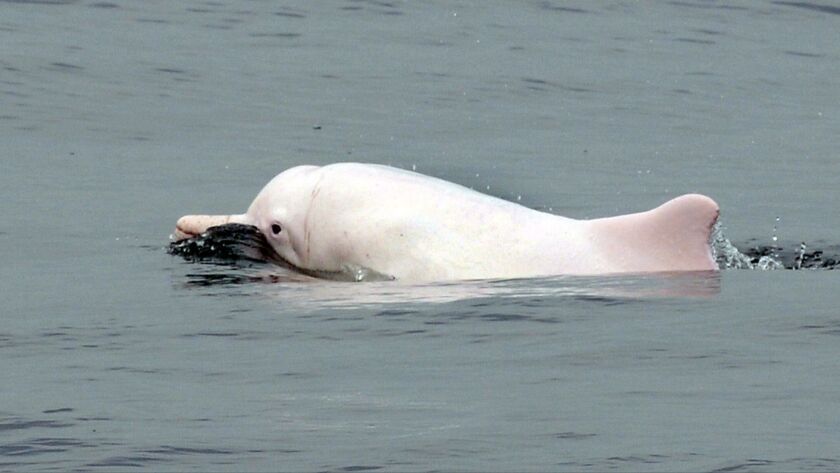 Other than the workers who died, perhaps the most tangible losers in the massive development are the Chinese white dolphins. The Hong Kong Dolphin Conservation Society's census shows a sharp decline in their population during the five years of bridge and tunnel construction on the Hong Kong section — from 80 in 2012 to 47 in 2017. Hong Kong boasts the largest population along China's coastline of such dolphins, dubbed "pandas of the sea."
"The government set up the conservation zones only after construction has begun — that's too late," said Heyman Mak of the conservation society as she completed another excursion with zero sightings. "These wild dolphins are now living more like caged animals."
Law is a special correspondent.
---
Must-read stories from the L.A. Times
Get the day's top news with our Today's Headlines newsletter, sent every weekday morning.
You may occasionally receive promotional content from the Los Angeles Times.