Newsletter: Today: The Geopolitics of a Journalist's Death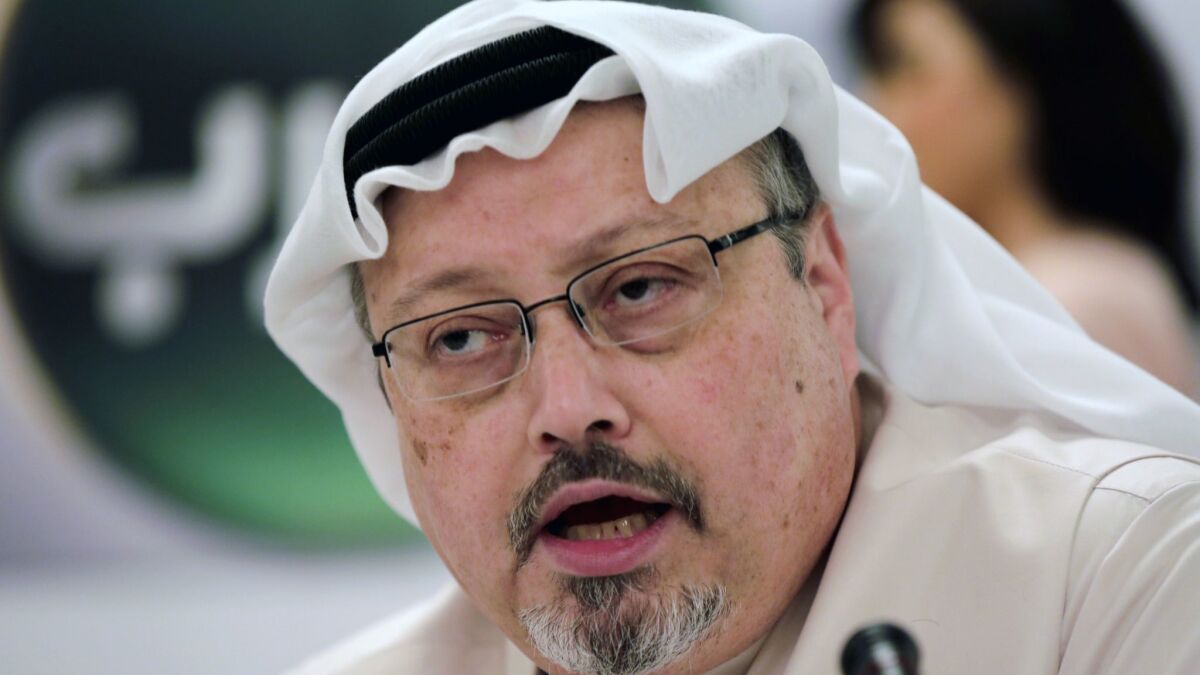 While the world seeks answers in the killing of Jamal Khashoggi, Turkey has found leverage against Saudi Arabia.
TOP STORIES
The Geopolitics of a Journalist's Death
Turkish President Recep Tayyip Erdogan on Tuesday described new details of the death of Jamal Khashoggi. Calling the Saudi journalist's killing a "savage murder," Erdogan said the 18 Saudis suspected of carrying it out should be tried in Turkish courts. But there's also a complex political context surrounding the case. Turkey and Saudi Arabia have had a long-standing competition as Sunni Muslim Middle East powers, one that has played out in the relationship between Erdogan and Saudi Crown Prince Mohammed bin Salman.
More Politics
-- A caravan of immigrants continued its march north into Mexico, even as President Trump criticized the Mexican government and threatened to cut off aid to three Central American nations for allowing their people to leave.
-- While the president and some GOP candidates try to convince voters that they support protections for preexisting conditions, the Trump administration has taken new steps to make it easier for health plans that don't have to cover them.
-- No more "Lyin' Ted": Trump took the stage in Houston to deliver a message unthinkable two years ago to many of his most ardent fans: Vote for Ted Cruz.
A Campaign Issue That Won't Go Away
California's homelessness crisis is taking center stage in the final two weeks of the governor's race. Republican candidate John Cox, who visited L.A.'s skid row last week and likened it to a "third-world country," has ramped up his attacks on Gavin Newsom. The Democrat has countered by saying his efforts as mayor of San Francisco show he's willing to take unpopular positions — such as slashing welfare for homeless adults and using the money for shelters, housing and services.
The Scoop on Musk's Secret Tunnel
What is going on underneath the streets of Hawthorne? Though Elon Musk's Boring Co. began digging last year, not much has been revealed about a test tunnel for his vision of a transportation system known as "Loop" — other than that he plans to offer free rides to the public in December. Documents submitted to city officials offer a glimpse of what is to come, including an elevator shaft the company wants to build inside the garage of a shabby house near the Hawthorne Municipal Airport.
More Fallout for a USC Doctor
Dr. George Tyndall, the longtime campus gynecologist at USC and subject of a Times investigation earlier this year, is facing more potential trouble. He could lose his medical license after state regulators formally accused him of negligence and sexual misconduct with several patients. Tyndall has denied any wrongdoing. Last week, USC announced it had agreed to pay $215 million to settle a federal class-action lawsuit brought by several former patients.
Back in Beantown
The World Series opens tonight with the Dodgers facing the Red Sox for the first time in 102 years — and in the city where the "Beat L.A." chant apparently was born. Though it originated at a basketball game, those two words will be heard loud and clear at Boston's Fenway Park. More intriguing will be how the fans react to Dodgers manager Dave Roberts, who became a Red Sox legend in 2004 when he stole a base that sparked a comeback that ended the Curse of the Bambino.
Sign up to get Today's Headlines delivered to your inbox. »
FROM THE ARCHIVES
It's time for Dodger baseball history: Back on this date in 1981, Fernando Valenzuela pitched a complete game in the World Series to beat the New York Yankees, 5 to 4, at Dodger Stadium. It would prove a turning point, as the Dodgers won the next three games to capture the title.
CALIFORNIA
-- L.A.'s LGBTQ leaders are speaking out against a reported Trump administration proposal to define gender as fixed at birth.
-- Proposition 3, the latest state water bond before voters, would be especially generous to programs that directly or indirectly benefit Central Valley growers.
-- Michael Avenatti, the Stormy Daniels lawyer and Trump foil, has been hit with a $4.85-million judgment for unpaid debt. A court also ordered the eviction of his Orange County law firm.
-- Columnist Robin Abcarian checks in with Sonoma City Councilwoman Rachel Hundley, who had to defend herself after she was "slut-shamed."
HOLLYWOOD AND THE ARTS
-- The tough job of holding next year's Oscars ceremony to three hours goes to producer Donna Gigliotti and co-producer/director Glenn Weiss. You may remember him from proposing to his girlfriend at the Emmys.
-- PBS is starting its four-part documentary "Native America," and TV critic Robert Lloyd notes that it could not be more timely, though perhaps more in depth.
-- This is a bit different: Amy Schumer announced her pregnancy on a list of midterm endorsements.
NATION-WORLD
-- The Supreme Court is siding with the Trump administration to block the questioning of Commerce Secretary Wilbur Ross about his decision to add a citizenship question to the 2020 census.
-- Hurricane Willa is heading toward Mexico's Pacific coast with winds of 150 mph. It could threaten high-rise resort hotels, surfing beaches and fishing villages.
-- Two U.S. warships sailed through the Taiwan Strait in a show of military support for the self-ruled island of Taiwan by the Trump administration that is sure to worsen tense relations between Washington and Beijing.
-- Can organic food help you reduce your risk of cancer? A new study in France suggests the answer may be yes.
BUSINESS
-- A new report says California has lost more jobs to China than any other state in the nation since 2001. The biggest factors: Silicon Valley outsourcing and the shrinking of Southern California's apparel industry.
-- Facebook has spent millions of dollars on scripted shows that will air exclusively on its video platform. Will viewers give it a like?
SPORTS
-- The good news for L.A. fans: LeBron James hit the game-tying shot on Monday. The bad news: The Lakers still lost in overtime to the San Antonio Spurs.
-- When the Angels gave their new manager, Brad Ausmus, a long exam, they got the answers they wanted. The probability of winning, though, remains unanswered.
OPINION
-- Trump shouldn't tear up a landmark arms control agreement with Russia signed more than 30 years ago by President Reagan.
-- The Khashoggi case is far more complicated than the news media are making it out to be, columnist Jonah Goldberg writes.
WHAT OUR EDITORS ARE READING
-- Inside a Trump condo project in Tampa that failed. Guess what? The Trumps still came out ahead. (ProPublica)
-- Silicon Valley disruption: an "alternative history." (Wired)
-- The caterpillar fungus, the world's most valuable parasite, is in trouble. (The Atlantic)
ONLY IN L.A.
Tennis is Angela Kulikov's game at USC, but she has more than just a passing interest in another sport: Football, anyone? She earned her USA Youth Football coaching certification so she could lead her brother Chris' team and has an Instagram account (@theqbchick) that shows off her mad skills. The videos have gone viral to the point that passersby on campus now ask, "Are you the QB chick?"
If you like this newsletter, please share it with friends. Comments or ideas? Email us at headlines@latimes.com.
---