Michael Avenatti is hit with $4.85-million judgment for unpaid debt as court orders eviction of his law firm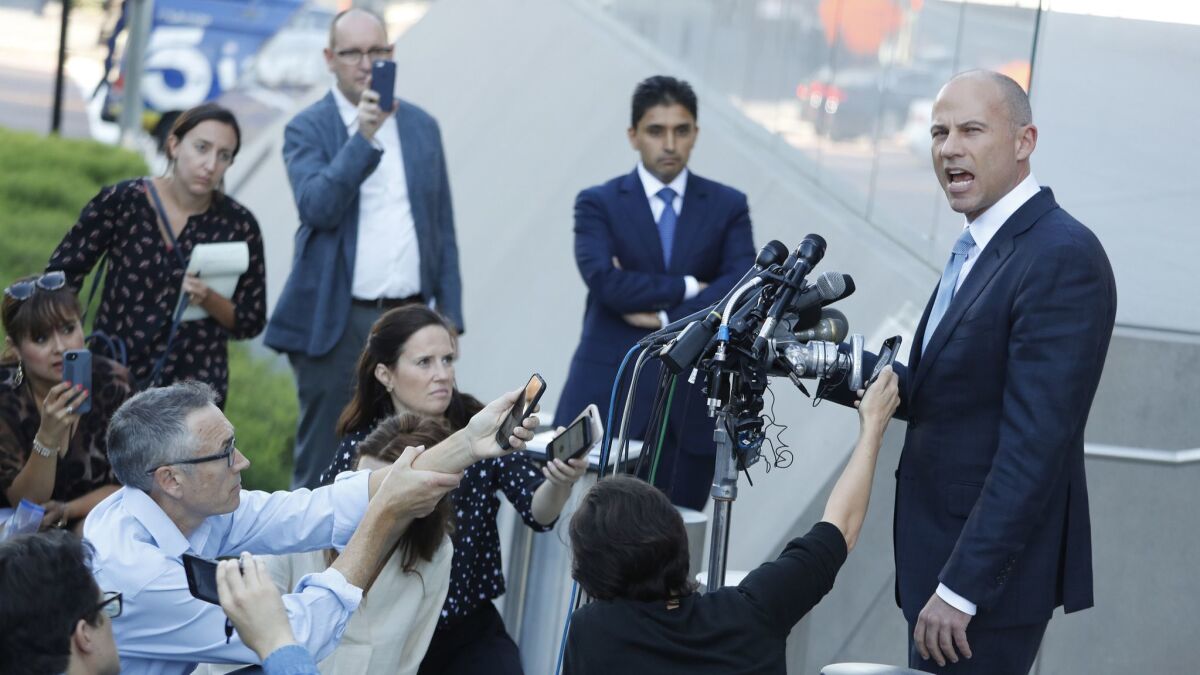 Michael Avenatti, the lawyer for porn actress Stormy Daniels, was hit with a personal judgment of $4.85 million Monday for his failure to pay a debt to a former colleague at his longtime Newport Beach firm.
Less than an hour after his defeat in the Los Angeles lawsuit, Avenatti suffered another setback at a trial in Orange County: The Irvine Co. won a court order evicting him and his staff from their offices because the firm, Eagan Avenatti, skipped the last four months of rent.
The twin blows came as Avenatti was heading to New Hampshire for his third visit to the state that kicks off the 2020 presidential primaries. The celebrity lawyer is exploring a run for the Democratic nomination. His troubled financial history could emerge as a significant campaign issue if he joins the race.
The personal judgment against Avenatti by Judge Dennis J. Landin in Superior Court in Los Angeles was his latest in a series of courtroom losses in a protracted dispute with Jason Frank, the former colleague.
Eagan Avenatti emerged from federal bankruptcy protection in March after Avenatti promised that it would pay millions of dollars to Frank and other creditors, including the Internal Revenue Service. It has defaulted on nearly every payment that was due.
No one has pursued Avenatti more relentlessly than Frank, who has been fighting in federal court to collect on a $10-million judgment that he won against the firm in May.
"My client has had an awful lot of money owed to him for a lengthy period of time," said Frank's attorney, Eric George, "and it has been delayed through one tactic or another. Today, finally, the right thing happened."
Avenatti has been the managing partner of Eagan Avenatti since its founding in 2007.
He recently told a U.S. Bankruptcy Court judge that his other firm, Avenatti & Associates, wholly owned by Avenatti, had acquired 100% of the equity in Eagan Avenatti, buying out his minority partner, Michael Eagan of San Francisco.
But Avenatti told the Los Angeles Times on Monday that he hadn't owned Eagan Avenatti for months. He refused to identify the new owner.
"Any judgment issued against me will be deducted from the over $12 million that Jason Frank owes me and my law firm Avenatti & Associates as a result of his fraud," Avenatti said by email.
No court has found Frank engaged in fraud, and Avenatti is not pursuing any court case alleging that he did. When Frank and two others left Eagan Avenatti to form their own firm, some clients went with them, angering Avenatti.
Frank alleges that Eagan Avenatti cheated him out of millions of dollars in compensation.
As part of its bankruptcy settlement, Eagan Avenatti agreed to pay Frank $4.85 million. Avenatti guaranteed that if the firm missed the deadlines for making the payment, which it did, he would personally be required to pay Frank.
To enforce the personal guarantee, Frank sued Avenatti, and on Monday he won the case.
Daniels, the adult film star whose real name is Stephanie Clifford, is represented by Avenatti & Associates, which operates out of the same offices as Eagan Avenatti and uses the same attorneys. Daniels is trying to void a nondisclosure agreement that bars her from discussing her alleged sexual affair in 2006 with Donald Trump.
Last week, a judge dismissed the defamation suit that Avenatti filed on Daniels' behalf against Trump, finding the president was exercising his right to free speech when he attacked her credibility on Twitter.
Avenatti had another reversal last month at the confirmation hearings of Supreme Court Justice Brett M. Kavanaugh. The Senate Judiciary Committee refused to interview an Avenatti client, Julie Swetnick, who alleged that Kavanaugh attended a 1982 party where where she said she was gang-raped.
In the Santa Ana trial, 520 Newport Center Drive LLC, an arm of the Irvine Co., alleged that Eagan Avenatti missed $213,254 in rent payments over the last four months for its ocean-view suite on the 14th floor of an office building at Fashion Island.
Nobody from Eagan Avenatti showed up for the trial.
Superior Court Judge Robert J. Moss ordered the firm to vacate the premises and pay the landlord the full amount of overdue rent. He also canceled the remaining three months of the lease. If the firm fails to move out, it could take a few weeks for the Orange County Sheriff's Department to enforce the eviction.
In court papers filed by Avenatti, the firm claimed it deducted the cost of needed repairs from its rent payments but did not receive proper credit.
The Irvine Co. denied that the offices needed any serious repairs. And the lease, signed by Avenatti, says the tenant "understands that it shall not make repairs at landlord's expense or by rental offset."
At the short morning trial, Mark A. Kompa, an Irvine Co. attorney, called just three witnesses. He asked one of them, Irvine Co. assistant manager Abigail Yocam, what happened to the last rent payments received from Eagan Avenatti in July.
She testified: "The checks bounced."
Twitter: @finneganLAT
---
UPDATES:
3:55 p.m.: The article was updated with the testimony of Irvine Co.'s Abigail Yocam and background on Stormy Daniels and the Brett Kavanaugh confirmation hearings.
1:45 p.m.: The article was updated with additional details on the court cases.
11:50 a.m.: The article was updated with background on Michael Avenatti exploring a run for president and the Stormy Daniels litigation against President Trump.
11:15 a.m.: The article was updated with a comment from Michael Avenatti, background on Eagan Avenatti and the eviction judgment.
The article was originally published at 10:15 a.m.
Get our Essential Politics newsletter
The latest news, analysis and insights from our politics team.
You may occasionally receive promotional content from the Los Angeles Times.