Readers React: The lesson from Hurricane Florence? Don't elect Republicans, readers say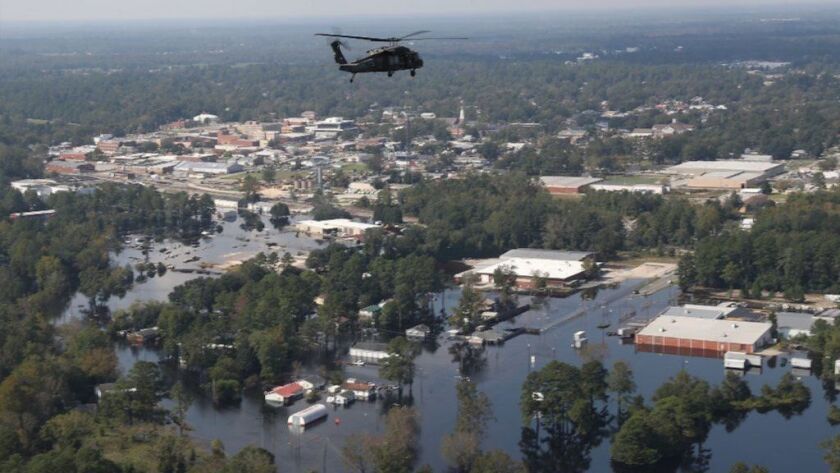 It goes without saying that hurricanes, like any other disaster, don't care about the political fealties of the populations they devastate. But those storms, unlike the earthquakes with which we in Southern California are familiar, are almost certainly influenced by human activity, and scientists have said the unprecedented rainfall by Hurricane Florence over the Carolinas this month and Hurricane Harvey over Houston last summer may be attributable to human-caused climate change.
This is where politics comes in. The vast majority of our letter writers' commentary on Hurricane Florence focuses on Republican politicians' inaction on climate change; fewer single out the Trump administration's inept response to Hurricane Maria in Puerto Rico for criticism, and fewer still leave politics completely out of it and simply express feelings of sadness or support for the survivors.
Here is some of what our readers have said about Hurricane Florence since the storm made landfall on Sept. 14.
Wendy Blais of North Hills has advice for North Carolina voters:
North Carolina residents might reconsider their future voting options. In 2016, they reelected Republican Sen. Richard Burr, a militant human-caused climate change denier. Burr was generously funded by fossil-fuel companies and naturally opposes any curbing of greenhouse gasses while pushing for off-shore drilling.
On the other hand, the state got it right by electing Democratic Gov. Roy Cooper, who is committed to combating climate change.
North Carolina, like every other state, soon faces a critical decision. Should elections be about further enriching Republicans and their insatiable, oil-spattered donors, or about the future of the planet their children will inherit?
Fullerton resident Barbara Rosen similarly advises voters across the country:
Is Mother Nature sending us a message just before the midterm elections?
Typhoon Mangkhut devastated the Philippines before moving on to cause massive damage and loss of life in China. Meanwhile, Florence has left dozens dead and caused major property damage. This is following historic fires throughout California, the Pacific Northwest and numerous foreign countries.
If there is a message here, it is that it is about time that we stopped electing climate change deniers. It is time to make this a major issue in political campaigns and for people to start paying attention. It is time to uncover that elephant in the room and ask candidates what their plans are to address climate-related issues.
Doug Lenier of Valley Glen takes a jab at Trump:
So, Trump visited North Carolina to view the damage from Florence. I demand to know: Where were the paper towels?
Craig Carr of Northridge suggests an infrastructure project:
Instead of wasting federal funds on a "border wall" with Mexico, there is far greater need to build a national aqueduct system connecting all states to prevent flooding and droughts. This would be a far wiser use of taxpayer dollars.
A project like this requires common sense, and sadly Washington lacks any of that right now.
Follow the Opinion section on Twitter @latimesopinion and Facebook
---
A cure for the common opinion
Get thought-provoking perspectives with our weekly newsletter.
You may occasionally receive promotional content from the Los Angeles Times.