Boosting black voter turnout is key to Clinton campaign's North Carolina strategy
Reporting from Durham, N.C. —
Hillary Clinton inserted a sly remark near the end of her speech from a Baptist church pulpit here on Sunday, telling the crowd, "I'm not going to tell you who to vote for."
She didn't need to, of course. The black congregants who packed the pews laughed and applauded, and when Clinton finished speaking, they said goodbye with the same standing ovation with which they had greeted her.
Driving up turnout among black voters is a key element of Clinton's campaign strategy in North Carolina. At an estimated one-quarter of this year's electorate, African Americans are a larger percentage here than in any other traditional battleground state.
The problem for Clinton in North Carolina, where polls continue to show a close race with Donald Trump, is not opposition — by all accounts, she'll win overwhelmingly among those blacks who do vote — it's the risk of apathy.
"Anemic black turnout, even if it overwhelming goes for Hillary Clinton, is a problem," said Andra Gillespie, a political science professor at Emory University in Atlanta.
To combat that possibility, the campaign has showered the state with visits from President Obama and black celebrities, networked with church leaders and invested heavily in organizing black students. Clinton is scheduled to be back in North Carolina on Thursday, this time with First Lady Michelle Obama.
After speaking at the Durham church on Sunday, Clinton gave an interview to the state's largest black newspaper, visited a polling place with actress Uzo Aduba from "Orange is the New Black" and spoke at a rally at St. Augustine's University, a historically black school.
"We've always understood that this is a crucial demographic for us," said Dan Kanninen, the campaign's senior advisor in the state.
Follow live coverage of the presidential campaign on Trail Guide »
North Carolina is where Obama had his smallest margin of victory in 2008 and his smallest margin of defeat in 2012. Now residents are already casting ballots in this election. Early voting at polling places began on Thursday; mail ballots were available as early as Sept. 9.
The Clinton campaign is "certainly putting forward a very aggressive effort," said J. Michael Bitzer, a political science professor at Catawba College in Salisbury, N.C. "Whether they can match what Barack Obama was able to achieve is still up in the air."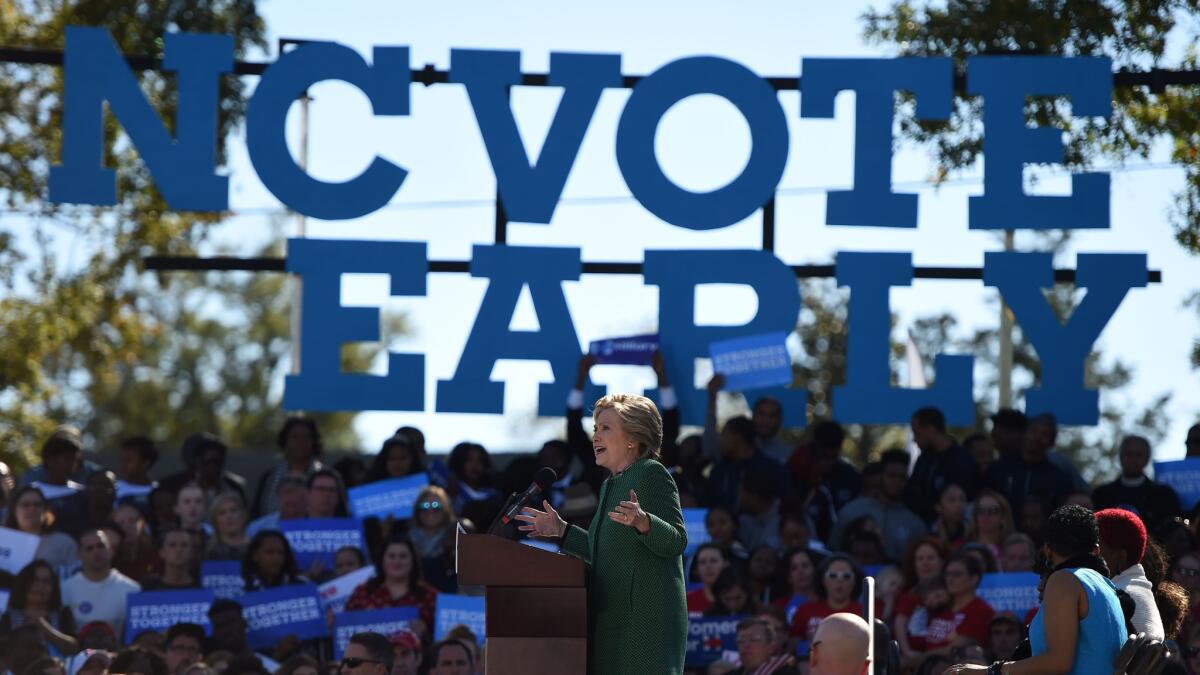 His analysis shows 26% of early voters this year are black, down from 29% in 2012.
Clinton's ties with the black community date back decades, and she often touts her work opposing school segregation at the Children's Defense Fund in the 1970s.
In the current campaign, Clinton has spoken bluntly about race — talking about racial discrimination in the criminal justice system in a way that no previous Democratic nominee has done, referring to "systemic racism" and "implicit bias." And she's embraced the Black Lives Matter movement, which sprung up in response to police shootings of unarmed black men.
In a recent interview with a Florida radio station, she praised Black Lives Matter for playing "a very constructive role."
"I've met with them, I've listened to them, they've come up with a lot of recommendations," she said.
But set against such statement are words she has uttered in the past. Critics have most notably pointed to her use of the word "super-predator" when speaking about the need for tougher criminal justice legislation in the 1990s during her husband's presidency.
Some young voters fear Clinton won't bring the sweeping change they feel is necessary to prevent the criminal justice system from unfairly targeting black people.
"They're more dissatisfied, and more impatient. They want to go for the jugular of problems," Gillespie said. "They view Hillary Clinton as a throwback to the past."
Clinton's most high-profile campaign partners are from an older generation, including mothers whose children died after encounters with law enforcement or during high-profile cases of gun violence. Five of them joined her at the church on Sunday.
Geneva Reed-Veal, whose daughter, Sandra Bland, died in a Texas jail after she was arrested during a traffic stop, said there was no excuse for not voting.
"You have no business staying home in this election," she said to applause. "If you decide to stay home, shut your mouth. Don't complain about anything that's going on."
Clinton has reached out to leading young black activists. Last week in Ohio, she sat down with DeRay Mckesson and Brittany Packnett, who endorsed Clinton in an interview with Elle magazine.
Packnett said her appreciation for Clinton's record had grown, as had her concerns about Trump.
"I knew I couldn't look at myself in the mirror if I didn't stand up and do what I could do now to encourage young people to vote in this election," she said.
The issue of police shootings received added urgency in North Carolina last month when Keith Lamont Scott was shot and killed in Charlotte. Police have said Scott had a weapon; his family said he was reading a book and waiting for his son.
Clinton had planned to travel to the city shortly after Scott's death, but delayed her trip at the mayor's request. When she arrived a week later, she met at a soul food restaurant with young black men, some of them who were involved in the protests.
"You can tell some politicians are uncomfortable about African Americans," said Shaun Corbett, a barbershop owner who was at the meeting. "Hillary sat right down and started talking about the banana pudding."
Corbett, who has gained national recognition for a program fostering dialogue between cops and residents, said he was impressed that Clinton spent the meeting listening rather than asking for votes. And he said Clinton didn't mince words about the problems facing the black community.
"There's not many white politicians who can say race is a problem," he said. "It's taboo."
Mario Black, a seventh-grade social studies teacher who has worked on anti-violence efforts, was also at the meeting. He knows others are skeptical about Clinton, even though they might still vote for her.
"She's trying to bridge the gap. She's trying to be a part of the solution," Black said. "It's not something that's going to happen overnight."
Clinton has acknowledged that gap.
"My worries are not the same as black grandmothers," she said in a Charlotte church earlier this month. "Because my grandchildren are white."
That frankness has made a difference for some young black voters, even those who didn't support her during the Democratic primary.
"She doesn't really understand our struggle because she's not black," said Camilia McAllister, 21, who went to see Clinton speak at St. Augustine's University on Sunday. "At least she's trying."
Twitter: @chrismegerian
ALSO
Republicans fear Trump's woes will flip Senate control to the Democrats and erode the House GOP majority
Red, blue, purple? Democrats see GOP overreach and an electoral opening in North Carolina
David Duke and other white supremacists see Trump's rise as way to increase role in mainstream politics
Get our Essential Politics newsletter
The latest news, analysis and insights from our politics team.
You may occasionally receive promotional content from the Los Angeles Times.