Red, blue, purple? Democrats see GOP overreach and an electoral opening in North Carolina
Reporting from Charlotte, N.C. —
North Carolina prides itself as occupying a special place in the South.
Yes, the state joined the Confederacy, but over time it embraced a more inclusive attitude toward minorities and respect for education that attracted large corporations, sports franchises and a thriving civic culture including one of the nation's oldest public universities and the renowned high-tech Research Triangle Park.

For the record:
3:00 p.m. June 2, 2019An earlier version of this article said North Carolina was the last state to join the Confederacy. It was one of the last.
North Carolina parted with its neighbors in 2008 to deliver a surprising Southern win for President Obama. Then in 2012 voters handed the state to GOP nominee Mitt Romney, capping a Republican sweep that gave the party the governor's mansion and statehouse for the first time since Reconstruction.
But a recent police shooting of a black man that sparked days of rioting in Charlotte and calls for a national boycott against the state over its anti-transgender bathroom law have turned the November election into the latest referendum on North Carolina's identity.
Capitalizing on what some see as Republicans' missteps and overreach since they took control of the state government, Democrats see an opening to win a Southern battleground they thought had slipped out of reach.
With polls showing a too-close-to-call presidential race here, Democrat Hillary Clinton is ramping up efforts in the Tar Heel state, dispatching President Obama, First Lady Michelle Obama and other top surrogates to rally the increasingly diverse population here.
Down-ballot races are also suddenly in play. Earlier this year, Republican Sen. Richard Burr was so confident of reelection that he said he would not even start campaigning until a month before the vote.
Gerrymandering helped Republicans take control of Congress, but now it's tearing them apart over Trump »
Now his contest is among the most closely watched in the nation, and could decide which party controls the Senate. Democratic challenger Deborah Ross, a former state legislator and ACLU executive, is rising in the polls thanks to her dogged campaign and Clinton's new push.
Even GOP Gov. Pat McCrory is facing an uphill battle to seek a second term amid a robust challenge from Democratic Atty. Gen. Roy Cooper.
The backlash against Republicans stems largely from their efforts to impose controversial social and economic policies after locking in their majorities.
Scope of Donald Trump's falsehoods unprecedented for presidential candidate »
A GOP redistricting plan that virtually guaranteed Republican domination of the state's congressional districts triggered a racial gerrymandering lawsuit to be heard this term by the U.S. Supreme Court.
A new voter identification law was recently blocked by the high court after federal judges concluded it sought to target African Americans — who account for more than 22% of the population — with "almost surgical precision."
The transgender bathroom bill generated negative headlines nationwide and could cost the state $5 billion a year in lost federal funding, tourism and business investment, according to one UCLA study.
The NBA and NCAA each pulled out of big championship events, and major companies, including PayPal, have stepped away from the state. House Bill 2 forces transgender people to use bathrooms that correspond to the gender on their birth certificates and bans cities from passing certain antidiscrimination laws to protect gays and lesbians.
"It just opened my eyes," said Krista Talbot, 25, who said she recently registered to vote for the first time because she was upset over the bathroom law and the police shooting.
"I used to think it didn't matter to vote, but it does," said Talbot of Charlotte, who is married to another woman and says she will likely vote for Clinton.
Democrats say the state's demographics are increasingly on their side.
North Carolina has gained 1 million new residents since 2000 — a rarity in the South, where many states are losing population. Latinos are the state's fastest growing group, increasing more than 10-fold since 1990, according to census figures. They are now almost 10% of the population. Black migration here has also been strong.
Brian Smalls, an African American auto parts salesman and father of two, moved to Charlotte 15 years ago from a West Virginia coal town.
When the community organizing group Action NC knocked on his door recently in Charlotte's working class East Side, he eagerly checked off the boxes listing which issues he thought mattered the most.
"Let me see: 'education,' 'healthcare,' 'gun rights,' 'taxes,' 'terrorism,' 'institutional racism.' That'll do it," Smalls said.
He said he's not as excited to vote for Clinton as he was when Obama ran to become the nation's first black president, but he believes the black community has been united again by the September police shooting of Keith Scott, which sparked some of the most violent protests the state had seen in decades.
Asked if he wanted a text reminder to go to the polls Nov. 8, he assured the group he didn't need one: "Nah, I'm going to be out there."
Republicans reject suggestions that they overreached and say their accomplishments have been overshadowed by the bathroom law.
"It does make things murkier," said Art Pope, a wealthy North Carolina donor who is often aligned with the billionaire Koch brothers. He blames Democrats for seizing on the issue to distract from GOP economic gains. "They saw it as an opportunity to muddy up the message of what has been a very positive record."
Republicans attribute the state's recent economic boom to their programs to slash individual and corporate tax rates and reduce government spending, which they say led to new jobs and a drop in the unemployment rate to 4.6%, below the national average.
Others see the backlash against Republicans as merely a reflection of a state that is in transition, and will continue to swing politically in years to come.
"We're like a 15-year-old boy in our political maturation – fast-growing, gangling and a little unsure of who we want to be when we grow up," said Joe Stewart, executive director of the North Carolina Free Enterprise Foundation, a nonpartisan think tank.
The combative 2016 presidential race, Stewart said, is stirring up those tensions, and "the icing on this cupcake is Donald Trump."
To counter the rising tide of millennials and minorities who appear to be rebuilding Obama's coalition, Americans for Prosperity, the free market group backed by Pope and the Kochs, has turned out its own army of door knockers.
North Carolina was one of the nation's first AFP beachheads, established here in 2004 before the group opened chapters nationwide. It was influential in encouraging the new GOP majority to cut taxes and government spending.
The organization's state operations manager, Misty Odell, a chemist by training, moved from Virginia after shuttering her pharmacy and soda fountain, which she said couldn't survive the onslaught of government regulations.
State leaders, she said, are trying to make it easier for small businesses to compete. "I'm at a loss to understand why anyone would want to take that away," she said.
But the economic boom is not being felt by all residents, particularly in low-income areas, which was apparent during recent hurricane-related floods. In Charlotte, growth has brought new challenges, such as worsening traffic and rising housing costs. And the influx of immigrants and out-of-staters is testing the limits of this city's usually tolerant sensibilities.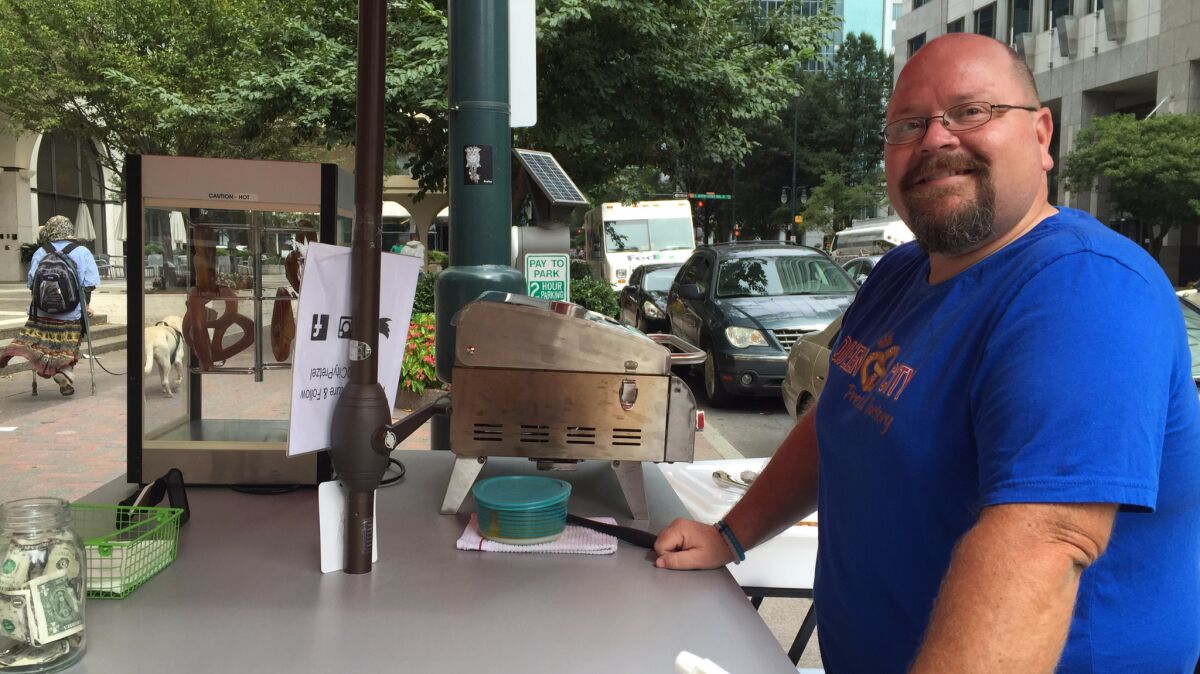 Selling pretzels under the skyscrapers of downtown Charlotte, Reed Goe, father of two college-age kids, said he wishes everything would just calm down like it was when he was growing up. He worries the state is headed for a new and lasting era of deeper partisanship.
"It's just going to be a progressive tension," said Goe, who plans to vote for Republicans.
From her family's Mexican bakery along Central Avenue, Zhenia Martinez, 40, points to nearby storefronts that earlier housed a biker shop and a Greek diner. Today the street reflects the changing demographics, with Honduran, Asian and Middle Eastern restaurants.
Her second-grader came home from school last year upset that the family might have to leave the country if Trump is elected. The GOP nominee's disparaging remarks about Mexican immigrants have energized many in North Carolina's Latino community.
Martinez, who said she plans to vote for Clinton, assured her son they were not going anywhere.
"Now," she said from the behind the counter of the bustling shop, "I guess it's our turn to be here."
Twitter: @LisaMascaro
ALSO
Trump's rise draws white supremacists into political mainstream: 'I am winning,' says David Duke
They teamed up to conquer Wall Street. Now, one is bankrolling Clinton, the other Trump
Republicans turned off by Trump still don't want to vote for Clinton, but her campaign keeps trying
Life is stressful. Our weekly mental wellness newsletter can help.
You may occasionally receive promotional content from the Los Angeles Times.