Trump says CIA director had a 'great meeting' with North Korea's Kim Jong Un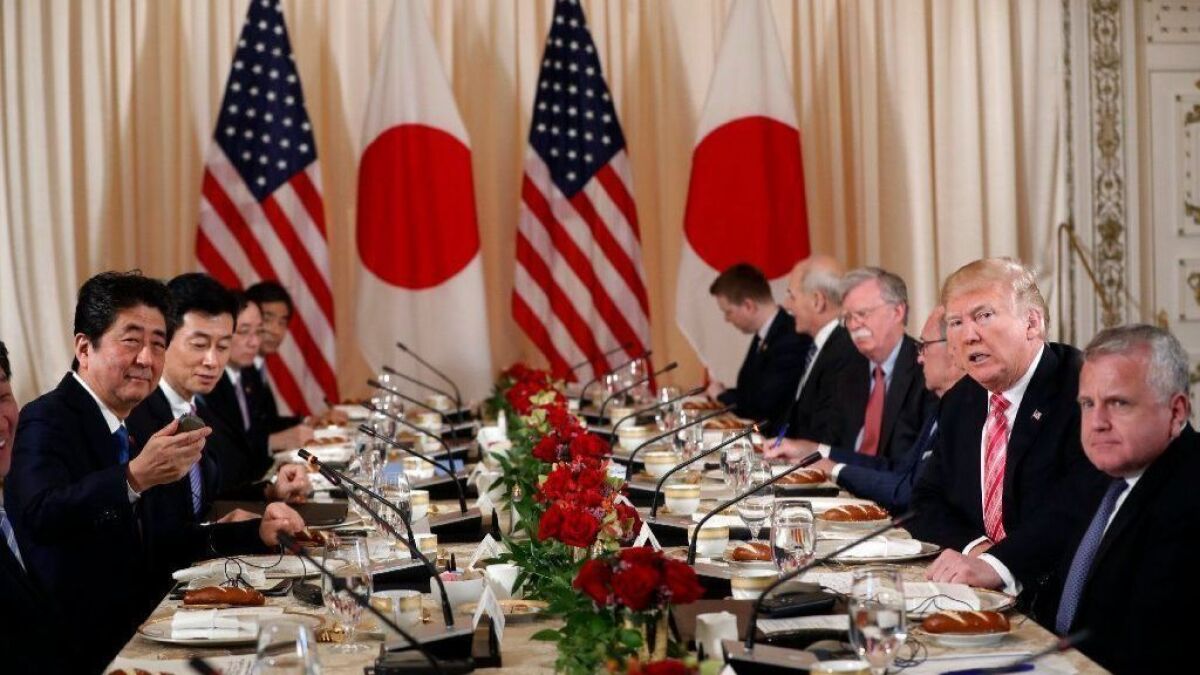 Reporting from Washington —
President Trump confirmed Wednesday that CIA Director Mike Pompeo held a secret summit-planning meeting with North Korea's Kim Jong Un, an assignment the White House hoped would boost Pompeo's standing ahead of what is expected to be a close Senate vote to confirm him as secretary of State.
Pompeo "just left North Korea, had a great meeting with Kim Jong Un and got along with him really well, really great," Trump told reporters amid his two-day summit with Japanese Prime Minister Shinzo Abe in Palm Beach, Fla. "He is that kind of a guy — he is very smart but he gets along with people."
Trump tweeted earlier Wednesday that the meeting in North Korea was a prelude to a summit between himself and Kim by early June, confirming published reports and providing the clearest sign to date that planning is underway to make a conference between Trump and Kim a reality. A White House official confirmed separately that Pompeo and Kim met over Easter weekend, though Trump mistakenly said in his tweet that it occurred last week.
It was the highest-level meeting between a U.S. official and a North Korean leader since 2000, when President Clinton's secretary of State, Madeleine Albright, met with Kim's father and predecessor, Kim Jong Il. In 2014, President Obama's CIA director, James R. Clapper, traveled to North Korea to win the release of two prisoners held by the regime, but he did not meet with Kim.
The developments underscore the dramatic turn in Trump's approach toward North Korea, which has unnerved Japan. The president has derided Kim as "Little Rocket Man" and had warned Rex Tillerson, the previous secretary of State whom he later fired, against negotiating with North Korea. Since he abruptly decided last month to pursue talks himself, however, his rhetoric has become more hopeful and conciliatory.
Trump did not appear to have won any concessions from Kim in exchange for the visit from Pompeo. At a news conference with Abe at the close of their summit Wednesday evening, Trump acknowledged North Korea was still holding three Americans after releasing the dying Otto Warmbier last year, but he didn't answer when asked whether he would meet with Kim if they remained in detention.
North Korea, a pariah nation seeking legitimacy on the world stage, mostly through its nuclear arms program, covets such visits from foreign leaders and has released political prisoners or made other promises when they occur.
Trump did say he would not meet with Kim "if we don't think it's going to be successful."
"If the meeting, when I'm there, is not fruitful I will respectfully leave" and continue the administration's "maximum pressure" strategy of sanctions against the regime, he said.
The discussion of North Korea came during the getaway with Japan's Abe at Mar-a-Lago, intended to reassure a key ally, though it was hardly clear that was the outcome.
Japan had been blindsided by Trump's announcement that he would meet with Kim, and it fears a deal in which Americans agree to reduce their military presence in the region, which has been Japan's shield since World War II. The country is also frustrated that, unlike other major U.S. allies, it has not been exempted from steel and aluminum tariffs that Trump recently proposed.
Trump indicated that he had given Japan no relief from the tariffs. Instead, he emphasized the size of the U.S. trade deficit with Japan, saying, "If we can come to an agreement" to alleviate that, "I would look forward to taking them off."
And he may have further embarrassed Abe, who already is in political trouble at home, on another trade issue: With a late-night tweet Tuesday after dinner with Abe, and again at the news conference, Trump all but dashed hopes that he would have the United States reenter a Pacific trade pact as Abe has urged.
Trump had said only a week ago that he would reconsider his decision, just after taking office, to withdraw from the Trans-Pacific Partnership.
It was unclear whether Trump offered Abe any other trade concessions during their meetings, which appeared to be dominated by the North Korea discussion.
In dispatching Pompeo to North Korea early this month, Trump avoided officially sending a diplomat to a country with which the United States has no diplomatic relations. Still, the assignment was unusual given that Pompeo is awaiting Senate confirmation vote to be secretary of State next week. Sending him showed that he is, in some ways, already taking on some of the duties of the job.
Pompeo's trip also underscores the thin ranks of the president's national security and diplomatic teams. His new national security advisor, John Bolton, has been pushing out National Security Council aides, and Trump still lacks an ambassador to South Korea.
Pompeo is expected to win Senate confirmation next week, but the vote is likely to be close and he will probably need the support of some Democrats. A divided Senate Foreign Relations Committee is expected to decline to recommend his confirmation. Several Democrats have come out against the nomination, including the minority party's top two members of Foreign Relations, Sens. Robert Menendez of New Jersey and Benjamin L. Cardin of Maryland.
Menendez complained about being kept in the dark about Pompeo's meeting with Kim as the panel was weighing Pompeo's nomination.
"Even in my private conversations with him, he didn't tell me about his visit to North Korea," Menendez said in a statement. "Now I don't expect diplomacy to be negotiated out in the open but I do expect for someone who is the nominee to be Secretary of State, when he speaks with committee leadership and is asked specific questions about North Korea, to share some insights about such a visit."
Republicans hold 51 votes in the Senate, but Sen. John McCain of Arizona has been undergoing cancer treatment and Sen. Rand Paul of Kentucky has announced he will oppose Pompeo's nomination, citing the CIA chief's support for the war in Iraq.
Trump is working to persuade Paul to change his mind. He called Paul and on Wednesday spoke about him publicly during lunch with Abe, in his brief remarks to reporters.
"I will say this about Rand Paul: He's never let me down," Trump said. "Rand Paul is a very special guy, as far as I'm concerned. He's never let me down. And I don't think he'll let us down again. So let's see what happens."
Trump lauded Paul for voting yes on the Obamacare repeal, which ultimately failed, while taking a shot at McCain, who opposed the measure.
Paul "voted for healthcare and he did us a big favor," Trump said. "It was somebody else that voted against it that hurt us," he added, referring to McCain.
A spokesman for Paul said the senator had agreed to meet with Trump to discuss Pompeo, but added, "Nothing else has changed." A time for the meeting has not been set.
Pompeo allies mounted a separate campaign on his behalf. Presidential counselor Kellyanne Conway and Republican Sen. Tom Cotton of Arkansas held an unusual conference call with reporters, mixing confidence about Pompeo's fate with warnings to senators about the dangers of thwarting his nomination.
They pointed out that Pompeo was approved as head of the CIA on a bipartisan vote just last year.
"His record of accomplishment speaks for itself," Conway said, adding, "He has been part of the team that kept America safe."
Cotton noted that more than a dozen Democrats voted for Pompeo last year. If they do not follow suit now, he added, "the only reason they're not is because of their blind partisanship."
The senator singled out three Democrats up for reelection this year in states that strongly supported Trump in 2016 — Joe Donnelly of Indiana, Joe Manchin III of West Virginia and Heidi Heitkamp of North Dakota — warning them against voting against Pompeo's confirmation.
"If they do so and they are up for reelection, they may suffer the consequences," Cotton said. He also cited Democratic Sen. Doug Jones of Alabama, who won office in a special election in December, as a potential vote for Pompeo.
Several senators from both parties, including those cited by Cotton, have said they are undecided.
Follow the latest news of the Trump administration on Essential Washington »
Twitter: @noahbierman
Life is stressful. Our weekly mental wellness newsletter can help.
You may occasionally receive promotional content from the Los Angeles Times.