In California's Capitol, the real battles are often between the Assembly and the Senate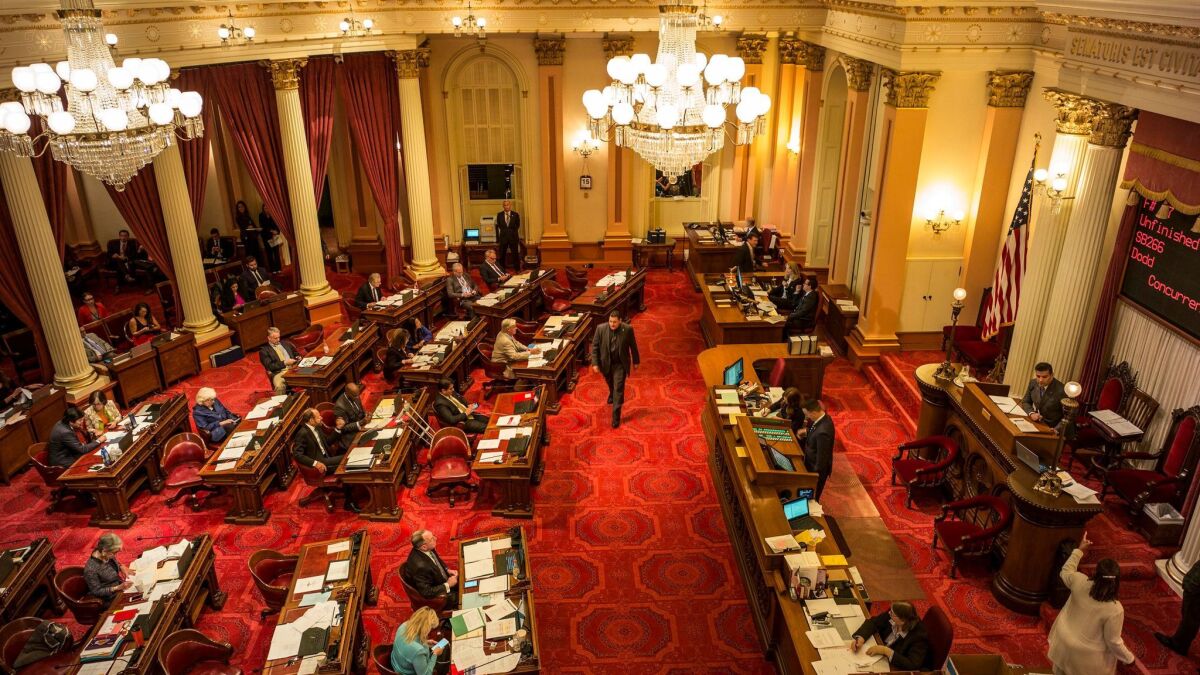 Reporting from Sacramento —
When it comes to politics, most people think in terms of red versus blue, with Republicans fighting Democrats.
But in California's Statehouse, the battle line often is between red and green, the colors of the carpets in the Senate and Assembly chambers.
Over the years, the mood has ranged from friendly rivalry to open warfare between the two houses, which bookmark either side of the Capitol's ornate rotunda.
By the time the legislative session ended in the early morning hours on Saturday, some Capitol veterans said they felt the tension has worsened.
"It seems significantly heightened," said Jennifer Fearing, a lobbyist whose clients include animal rights and nonprofit groups. The situation was exacerbated, she said, by a flood of controversial and consequential proposals that originated in the more-liberal Senate, an imbalance that left the more-moderate Assembly feeling like a dumping ground for political hot potatoes.
Lawmakers did approve major legislation this year, including funding for affordable housing, new protections for immigrants who are in the country illegally and an extension for the state's cap-and-trade program. Senate President Pro Tem Kevin de León (D-Los Angeles) likes to say it was one of the most productive sessions in California's history.
But reminders of the tension bubbled beneath the surface and sometimes broke into public view.
After lawmakers finished their work, Assembly Speaker Anthony Rendon (D-Paramount) began his closing speech with a dig at the occasionally loquacious De León.
"The pro tem began his goodnight speech about an hour and a half ago," he said, drawing chuckles from the chamber. "I won't last that long."
Anthony Reyes, a spokesman for De León, didn't appreciate the jab.
"I don't understand why he engenders this bitterness toward the pro tem in his house," Reyes posted on Twitter on Saturday morning. "Results in serious petulance over there."
Catch up with our coverage from the Capitol on Essential Politics »
During Thursday night's debate on housing legislation, Assemblyman Adrin Nazarian (D-Sherman Oaks) initially refused to vote yes on a key measure that originated in the Senate.
"I was frustrated with the way some things we being handled from the Senate leadership," he said. "I had decided that I would, from time to time, abstain on several bills at a time indiscriminately just so there would be a certain level of discomfort."
After holding out for an hour, Nazarian eventually voted yes.
Relationships between the chambers frayed earlier this year when senators approved legislation for a single-payer, government-run healthcare system in California. The idea has been a goal of progressive advocates for years, but the proposal didn't include any details on how the state would pay for it.
Assembly members felt the Senate was tossing a controversial issue in their laps. Rendon halted the proposal and dismissed it as purely "symbolic" with "no substance."
Sam Blakeslee, a former assemblyman and senator from the Central Coast, said there has always been "a vast cultural divide" between the Assembly and Senate.
"The latter, the so-called upper body, often holds the former in quiet contempt," he said. "Assembly members resent this elitism and often relish sabotaging Senate bills."
V. John White, a veteran energy advocate, shared a version of an adage that circulates around the Democrat-dominated Capitol: "The Republicans are the opposition, but the other house is the enemy."
Times staff writers Liam Dillon and Patrick McGreevy contributed to this report.
Twitter: @chrismegerian
ALSO
The debate over single-payer healthcare in California isn't going away. Here's why
California clean energy proposals face demise as opposition fails to yield
It's a wrap for the California Legislature for 2017. Here's what lawmakers accomplished
---
Life is stressful. Our weekly mental wellness newsletter can help.
You may occasionally receive promotional content from the Los Angeles Times.