The housing package passed by California lawmakers is the biggest thing they've done in years. But it won't lower your rent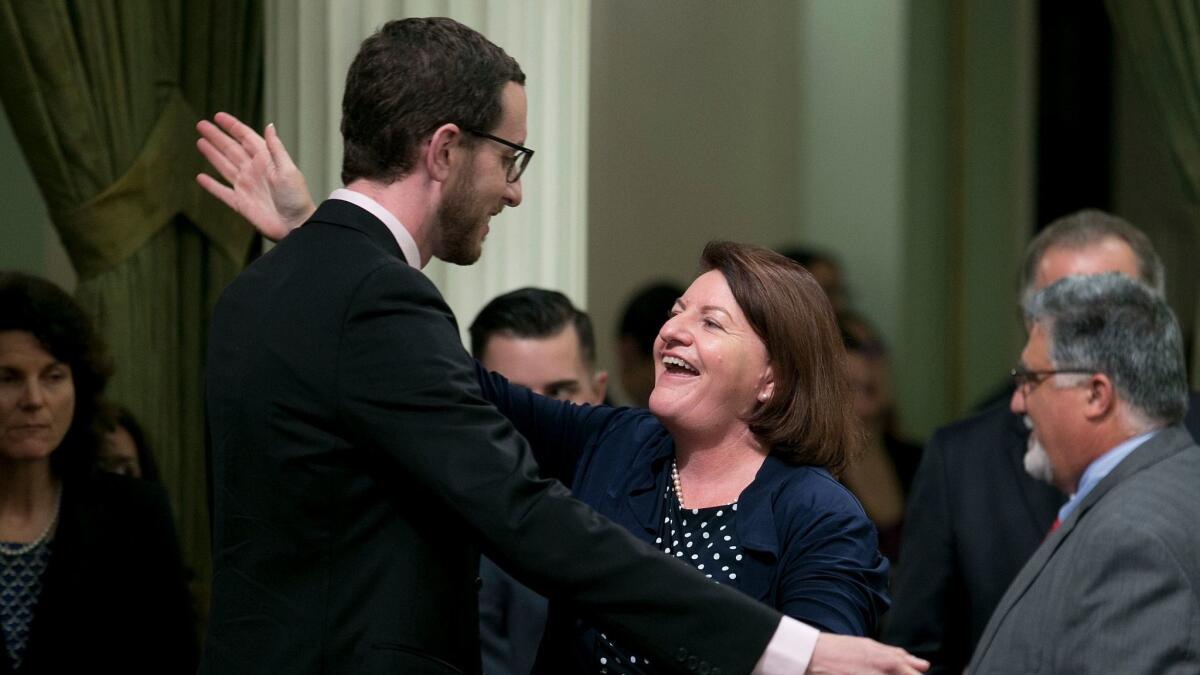 Reporting from Sacramento —
California lawmakers sped to the close of the legislative session on Friday, addressing one of their signature issues with a sweeping package of bills aiming to address the state's crippling housing costs.
The bills expect to raise billions in funding to help finance the construction thousands of new homes for the state's low-income residents. They also attempt to ease local regulations on home building — a necessary move, lawmakers said, to help middle-class Californians who are now overwhelmed by costs.
"I've read study after study after study outlining this crisis," said Assemblyman Richard Bloom (D-Santa Monica), one of the leading legislators on housing issues. "We're here to do something about it."
Three measures, Senate Bills 2, 3 and 35, comprise the key parts of the housing deal. Under SB 2, those refinancing their homes or filing other real estate documents — aside from home and commercial property sales — will pay a starting fee of $75 with a maximum of $225 paid per transaction. The measure is expected to raise about $250 million a year to finance the construction of affordable housing.
SB 3 places a bond measure on the November 2018 statewide ballot with $3 billion set aside to also finance low-income development, and an additional $1 billion for veterans home loans. SB 35 would require cities and counties to limit environmental, planning and other reviews on land already zoned for a developer's proposed amount of housing.
Gov. Jerry Brown is expected to sign the three bills.
"This comprehensive approach does what's long been needed in California — build new homes and improve access to housing," Brown said in a joint statement over the summer with Assembly Speaker Anthony Rendon and Senate President Pro Tem Kevin de León.
Housing was one of many major issues lawmakers addressed before adjourning for the year, including legislation that would make California a so-called sanctuary state for immigrants here illegally and a bill to move up the 2018 presidential primary to the spring.
Growing housing costs have touched every part of California. The state's median home value of $505,800 is more than 2½ times the national average, and nearly 2 million residents pay more than half their income on rent.
Just this week, the U.S. Census bureau revealed that one in five Californians is living in poverty — the nation's highest rate — once accounting for housing and other costs of living.
"The poverty rate in California, everyone talks about it," said state Sen. Toni Atkins (D-San Diego), author of SB 2. "Look at everything we do. For child care, for education, for minimum wage, for health care. All those things are significant. And because of housing costs, it negates all those good things."
This year's decision represents lawmakers' largest attempt to address the problem in recent memory. In 2011, at the height of the state's budget crisis, legislators ended an urban renewal program that contributed billions of dollars to finance low-income housing. Ever since, lawmakers introduced a version of SB 2 every year to no avail. Last year, other major housing legislation crumbled after Brown and lawmakers couldn't agree to a final deal.
Even though lawmakers hailed Friday's votes as historic, the bills won't put much of a dent in California's affordability problems. The state will remain billions of dollars short annually of the money needed to finance new homes for the neediest Californians, according to state and third-party estimates of the legislation. Similarly, tens of thousands of additional new homes will be needed each year simply to keep pace with population growth.
Opponents of the legislation noted that the state's problems are so large that it would be prohibitively expensive to address them with new taxpayer spending.
"The numbers prove that this is simply not the case," Assemblyman Jay Obernolte (R-Big Bear Lake) said during debate on SB 2 Thursday evening.
Despite the bills' limited effects, the votes were far from assured. Rendon held the roll call vote on SB 2 open for nearly an hour Thursday evening as the measure was two votes short of a two-thirds supermajority threshold needed for passage. SB 2 passed after Rendon held beer-fueled lobbying efforts off the floor of the Assembly with two Democrats who were holding out, and thanks to a Republican assemblyman who unexpectedly voted in favor.
The lawmaker, Brian Maienschein of San Diego, said his decision was motivated by an outbreak of hepatitis A in his city, which has killed 16 homeless residents in recent months. Maienschein, who worked on homelessness issues at the United Way in San Diego prior to his election, said he didn't like forcing homeowners to pay more, but the problem had reached emergency levels.
"This is a public health crisis," Maienschein said. "Our economy is at risk. And everyone in San Diego's quality of life is affected by this."
Republican lawmakers also raised sharp objections to SB 3, the housing bond. GOP legislators who are military veterans argued that legislative leaders included $1 billion for veterans' home loans only to engender sympathy from voters at the ballot box.
"We have taken the image of a veteran and wrapped this other item in the flag," Assemblyman Rocky Chavez (R-Oceanside) said during debate Thursday night. "Ladies and gentlemen, as a veteran I find that offensive."
Atkins attributed part of the difficulty in securing the votes for a housing package to fatigue among Democrats, who voted earlier this year to increase the gas tax and extend cap and trade, the state's primary program to combat climate change. Like SB 2, both those measures required two-thirds supermajorities, and Democrats vulnerable to reelection battles next year were wary of a third such decision.
The lone Democrat who voted against SB 2, Sabrina Cervantes of Riverside, called the bill "a regressive tax that disproportionately affects the middle class."
"It took a lot of effort," Atkins said. "But it was time."
Twitter: @dillonliam
ALSO
California lawmakers have tried for 50 years to fix the state's housing crisis. Here's why they've failed
State Senate bills aim to make homes more affordable, but they won't spur nearly enough construction
State lawmakers advance major housing bills, including a $75 fee on refinancing
Get our Essential Politics newsletter
The latest news, analysis and insights from our politics team.
You may occasionally receive promotional content from the Los Angeles Times.