California Assembly leader Anthony Rendon's decision to shelve single-payer healthcare angers progressive activists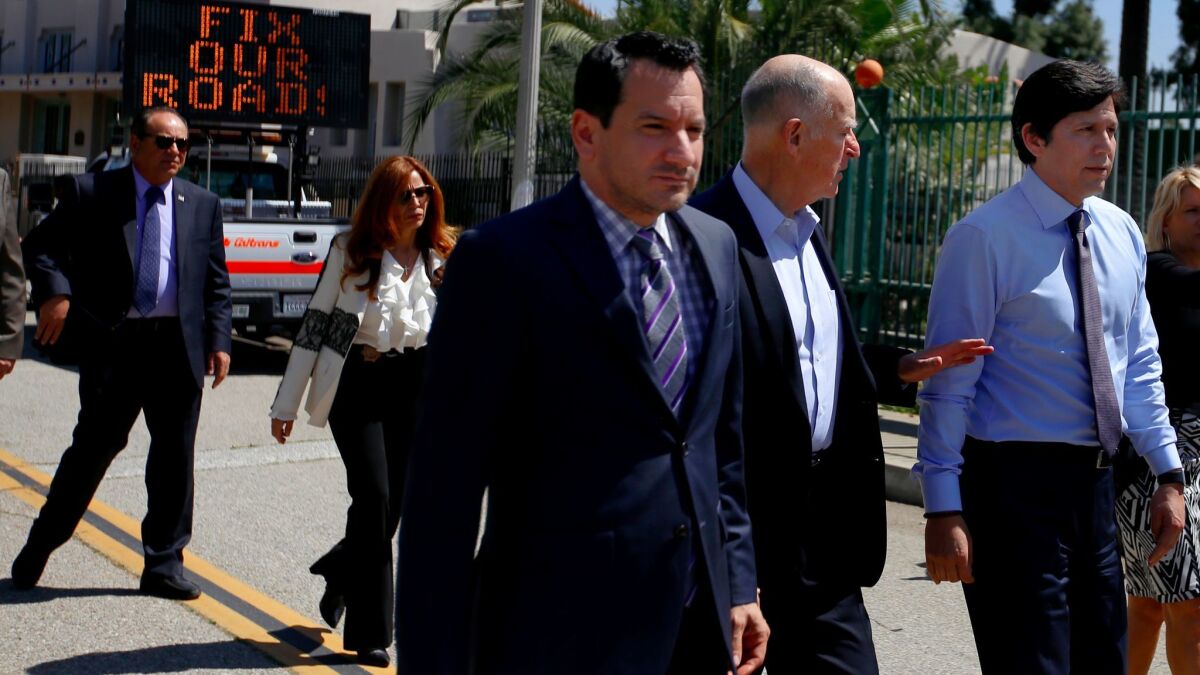 Assembly Speaker Anthony Rendon's abrupt decision Friday to sideline a bill that would have established single-payer healthcare in California roused a swift and fiery backlash from the measure's supporters, who accused the Democrat from Paramount of unilaterally blunting the effort for sweeping overhaul of the state's healthcare system.
Their anger was captured in a tweet by California Nurses Assn. leader RoseAnn DeMoro with an illustration of California's iconic bear flag bearing the slogan "Healthy California" — and a knife with the name "Rendon" on the blade in the grizzly's back. The tweet, and a similar Facebook post, was shared hundreds of times.
Backers of the single-payer measure also made their displeasure known by stuffing Rendon's office voicemail boxes, fuming in social media posts and canvassing Rendon's southeastern Los Angeles district to tell his constituents about his action.
But the move to shelve the bill — and the ensuing fury — led other powerful Democrats, including Gov. Jerry Brown and leaders of Planned Parenthood of California and major labor unions, to applaud Rendon for slowing down a measure that was long on enthusiastic supporters but short on key policy specifics — most significantly, how to pay for it.
"Often we fine-tune a bill when it goes from one house to another through the committee process. This was so grotesquely beyond that," Rendon said in an interview Monday. "This was essentially a $400-billion proposal without a funding source. That's absolutely unprecedented...This was not a bill, this was a statement of principles."
The measure, Senate Bill 562 by state Sens. Ricardo Lara (D-Bell Gardens) and Toni Atkins (D-San Diego), envisioned a dramatic reshaping of how Californians would receive health coverage.
You asked, we answered. Here are some of our readers' questions on California's proposed single-payer plan »
The state would cover most health costs for all California residents, regardless of immigration status. The system would do away with premiums, copayments and deductibles. Ostensibly, the program would have been financed by tax increases, although a specific source of tax revenue was not identified in the bill.
Progressive activists, led by the measure's sponsor, the nurses' union, have rallied around single payer as a way to ensure universal, comprehensive healthcare coverage. The issue has particularly resonated with supporters of Sen. Bernie Sanders' (I-Vt.) presidential campaign, which was centered on a promise of "Medicare for all." Sanders weighed in Saturday, saying he was "extremely disappointed" with Rendon's action.
California won't be passing a single-payer healthcare system any time soon — the plan is dead for this year »
But even as the bill advanced through the state Senate, it was apparent that it would have to overcome several obstacles to succeed. Legislators, who voted this year to raise taxes on gasoline, were wary of backing additional taxes. The proposal hinged on approval by voters and the federal government.
Just hours before the Senate approved the bill in early June, it was unclear whether the measure would come up for a vote at all. Several Senate Democrats, who asked to remain anonymous to speak about internal caucus discussions with The Times, said legislators balked at being asked to take up a bill with uncertain financing. But they ultimately decided to advance the measure to keep the discussion alive — and to avoid alienating the party's base.
The bill's progress alarmed some interest groups that saw crucial questions go unanswered. Laphonza Butler, president of the statewide council of the Service Employees International Union, said her union was eager to discuss the single-payer proposal but worried that specifics about implementation, namely how it would be integrated with care programs offered by county governments, were going unaddressed.
"We expected the Senate would take amendments, have thoughts about the financing and the structure," said Butler, who released a statement Friday afternoon backing Rendon's decision to hold the bill.
Rendon said he had multiple conversations with Assembly Democrats about how to handle the proposal.
"A lot of the members of our caucus saw this bill as something that the Senate dumped at our doorstep without much thought or consideration about what was in it," he said.
The move to shelve the bill is the type of legislative maneuver leaders have historically used in Sacramento to shield their members from politically thorny votes.
"By him holding it, he is basically putting himself in the position to take the hit on behalf of everybody instead of putting his members in a precarious position," said former Assembly Speaker John A. Pérez, a Rendon ally. "I think that's actually the job of a leader."
But proponents were livid at the sudden announcement, delivered late on a Friday afternoon via news release.
What would California's proposed single-payer healthcare system mean for me? »
"This is such bad form," said Bonnie Castillo, associate executive director of the California Nurses Assn. "He did not even notify us, the sponsor of the bill, of what he was intending to do."
Castillo scoffed at the notion that Rendon's actions guarded his members from a fraught decision.
"I don't think he has protected anyone, and mostly he hasn't protected anyone in the state of California by denying them the opportunity to have comprehensive healthcare," Castillo said. "Yes, it's hard. It takes leadership. Every other industrialized nation has been able to do this. It's not impossible."
The nurses' union noted that there was nothing stopping Assembly members from making their own modifications to the bill.
"We were fully expecting to complete this legislative process in the Assembly," Castillo said.
But Rendon countered it was the bill authors' job to make such drastic changes to the legislation.
"I didn't kill the bill," Rendon said. "I'm telling the Senate to do their job, which is to come up with money."
Single-payer backers jammed phone lines to Rendon's Capitol and district offices over the weekend. Volunteers with the nurses' union knocked on doors in his district, and rallies are planned at his Los Angeles and Sacramento offices later this week. Although one popular hashtag among supporters urged #RecallRendon, single-payer proponents are not actively seeking to oust him at the moment. Instead, they're focused on pressing the speaker to change his mind.
Rendon's backers say the outrage is misplaced.
"If they think Anthony Rendon is their problem in California, they need to open their eyes," Pérez said. "They're more concerned with creating orthodoxy around a concept than actually improving the lives of people."
Follow @melmason on Twitter for the latest on California politics.
You asked, we answered. Here are some of our readers' questions on California's proposed single-payer plan
What would California's proposed single-payer healthcare system mean for me?
Get our Essential Politics newsletter
The latest news, analysis and insights from our politics team.
You may occasionally receive promotional content from the Los Angeles Times.