Newsletter: Essential Politics: Mr. Trump goes to Mexico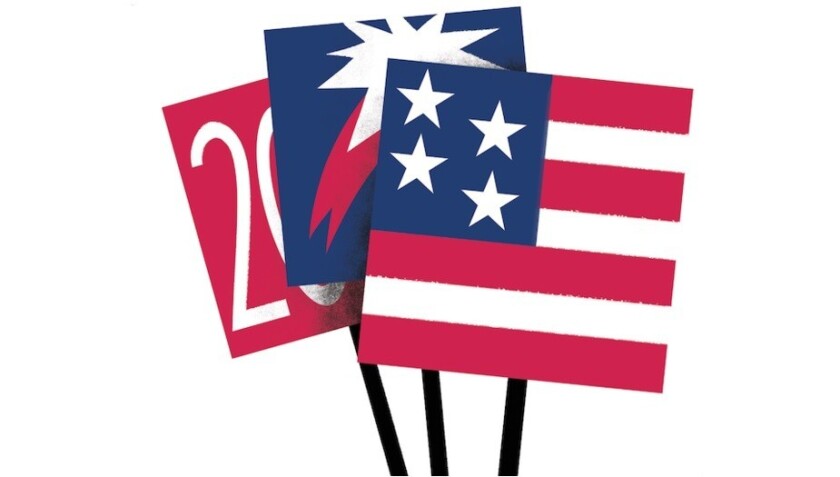 It's a big day in politics, both here in the Golden State and across the country. Donald Trump plans a long-awaited speech on the topic of immigration Wednesday night in Phoenix, an address that comes after weeks of questions on whether he'll moderate his stance — and as he announced he'll begin the day with a last-minute trip to Mexico.
I'm Christina Bellantoni, and this is Essential Politics.
We'll be covering the Trump immigration speech live. His biting statements and blunt promises on immigration have been the core of his campaign since he announced his candidacy more than a year ago. But as he prepares to deliver the speech, his once-forceful views have grown muddy, Noah Bierman writes.
WHO WILL SHOW UP IN NOVEMBER? THE ANSWER MIGHT TELL YOU THE WINNER
How will Trump's talk be received and will he alienate his base? David Lauter explores a possible answer to that question found within the USC Dornsife/Los Angeles Times daily tracking poll of the presidential race.
With Trump taking a slim lead within the margin of error again this month, Lauter writes that those driving that result are people who sat out the 2012 election but say they plan to vote this year. It's not that simple, given turning nonvoters into voters is a task for which Trump's campaign may be especially ill-suited.
The nonvoters in our survey are disproportionately whites who did not graduate from college — Trump's strongest supporters.
MORE EMAILS SURFACE
Republicans welcomed news Tuesday from the State Department that about 30 emails that may be related to the 2012 attack on U.S. compounds in Benghazi, Libya, are among the thousands of Hillary Clinton emails recovered during the FBI's recently closed investigation into her use of a private server. The discovery is thanks to one of several lawsuits filed by the conservative group Judicial Watch.
Don't expect a release until the end of September, as the State Department will be reviewing them for potentially classified information.
TODAY'S THE DAY
The other major news front we're tracking is the final day of California's legislative session in Sacramento. The lawmakers also are saying their goodbyes. A number of major issues remain on the table — for example, what will become of money from the cap-and-trade system, and will Internet poker be legalized? — even as we saw a flurry of activity Tuesday.
Among the highlights:
— Lawmakers sent Gov. Jerry Brown a bill to end the statute of limitations for prosecuting rape and other felony sex crimes, a measure inspired by the Bill Cosby case. If the governor signs it, crimes including rape and child sexual abuse could be prosecuted at any time.
— Perhaps the biggest social change could come from two measures awaiting Brown's decision — outlawing smoking on California college campuses and on state parks and beaches.
— California families on welfare would receive a $50 monthly diaper voucher for young children, and students at Cal State schools could get extra help graduating on time under measures sent to Brown.
— Lawmakers also passed a change to sentencing laws in California to add language about rehabilitation.
— Will California ban the use of drones in state parks without a permit?
— This measure would increase penalties for sex buyers in an aim to curb sex trafficking.
— Companies that seek big state government contracts could not be part of an international boycott of Israel under a bill that landed on Brown's desk. The proposal would make those contracts subject to state civil rights laws.
— Voters who cast their ballot at home but need it delivered to an elections office could ask anyone to help out under a bill approved by the Assembly. Critics, however, pointed out language in the bill that would allow political campaigns to gather as many ballots as they want for delivery on election day.
— A fix appears on the way to California's outdated campaign finance database, with legislation approved Tuesday that sets in motion a 2019 timeline for a new system.
— Coming up today for a vote is a compromise on a controversial measure that would make it a crime to distribute illegal recordings involving a healthcare provider. The bill, sponsored by Planned Parenthood in the wake of high-profile secret videos circulated by anti-abortion activists, raised concerns from media associations that it could infringe on the media's work. The amended bill would make clear the media would not be held liable if they were not involved in the initial recording.
— Also hitting the floor is a bill that would allow California homeowners to build new housing in their backyards known as "granny flats."
— On the final day, check out where the biggest issues stand, monitor breaking news and get the end-of-session wrap-up on our Essential Politics news feed.
WHITMAN IS WITH HER
Lifelong Republican and 2010 California gubernatorial candidate Meg Whitman campaigned for Clinton on Tuesday. The Hewlett-Packard chief demurred when asked if she would serve in Clinton's Cabinet if the Democratic nominee wins the White House in the fall.
Don't miss our Trump endorsement spectrum interactive to see where Whitman ranks among her fellow Republicans.
Get the latest from the campaign trail on Trail Guide and follow @latimespolitics. Check our daily USC Dornsife/Los Angeles Times tracking poll at the top of the politics page.
SUMMER VOTING
Sen. John McCain prevailed in his Senate primary Tuesday, setting him up for what could be a tough re-election battle in Arizona this fall. Sheriff Joe Arpaio easily won but also faces his most difficult general election battle in decades.
Meanwhile, it's official that Sen. Marco Rubio will face Democratic Rep. Patrick Murphy on Nov. 8. The Florida Republican was a late entry to run for his own seat after his presidential bid ended. Murphy defeated liberal Rep. Alan Grayson.
Also happening in Florida Tuesday, Rep. Debbie Wasserman Schultz survived her primary challenge from the left and Democratic Rep. Corrine Brown was ousted.
TODAY'S ESSENTIALS
— The union representing more than 50,000 stage actors and managers made history, endorsing a candidate for the first time: Clinton.
— U.S. Labor Secretary Tom Perez tweeted his support for a California bill that would expand overtime pay to thousands of farmworkers across the state.
— Trump will fundraise outside Chicago next month.
— L.A. County supervisor candidate Janice Hahn may have to refund more than $280,000 in contributions from political action committees after county elections officials alleged that her committee probably violated campaign finance rules.
— What do you think of Clinton? We want to hear from you.
— Who will win the November election? Give our Electoral College map a spin.
LOGISTICS
Miss yesterday's newsletter? Here you go. Did someone forward you this? Sign up here to get Essential Politics in your inbox daily. And keep an eye on our politics page throughout the day for the latest and greatest. And are you following us on Twitter at @latimespolitics?
Please send thoughts, concerns and news tips to politics@latimes.com.
---
Get our Essential Politics newsletter
The latest news, analysis and insights from our politics teams from Sacramento to D.C.
You may occasionally receive promotional content from the Los Angeles Times.