Rep. Janice Hahn may have to return $280,000 in donations for alleged campaign finance violations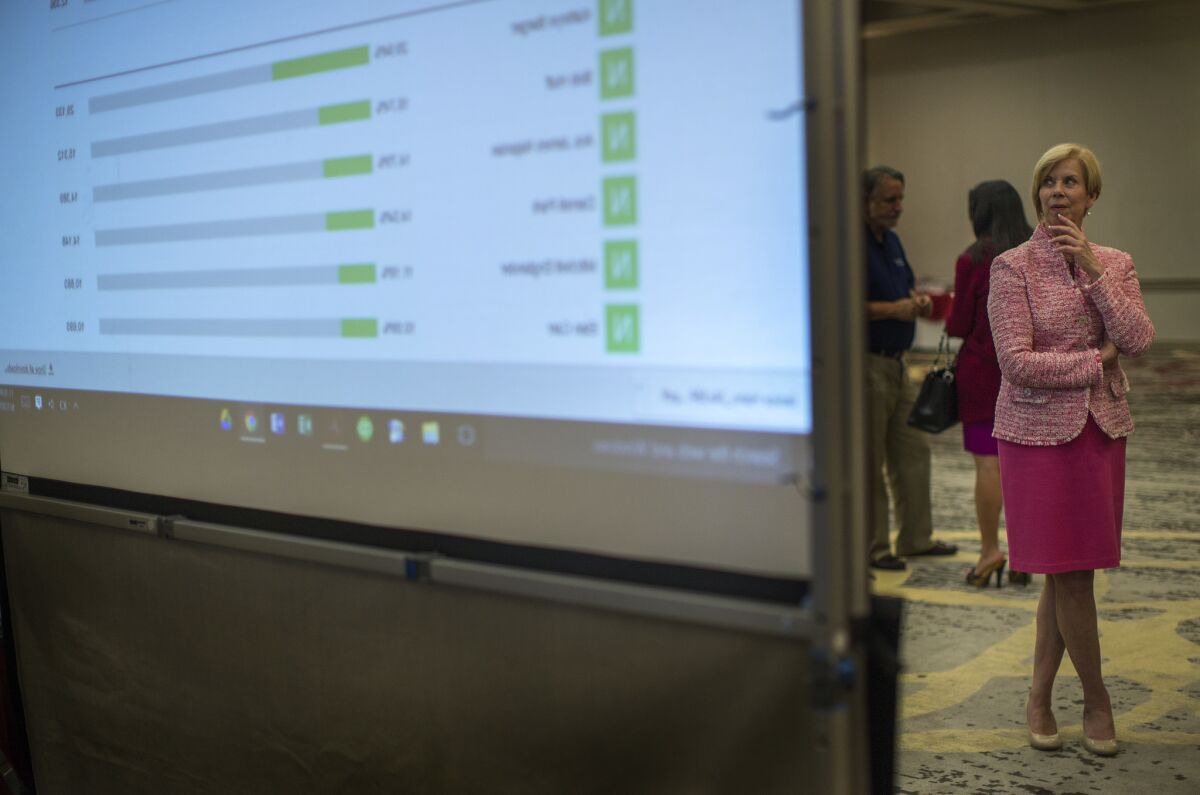 County supervisor candidate Janice Hahn may have to refund more than $280,000 in contributions from political action committees after county election officials alleged that her committee probably violated campaign finance rules.
Hahn, a congresswoman and former Los Angeles city councilwoman, is running for the seat being vacated by county Supervisor Don Knabe. She is competing in a run-off with Knabe aide and former Manhattan Beach Councilman Steve Napolitano.
Napolitano's campaign obtained a copy of a letter sent by the county registrar's office to Hahn notifying her of the possible campaign finance violation and shared it with The Times.
A spokesman for the registrar confirmed that the office had sent the letter and said Hahn's campaign was given 30 days to respond, but declined to comment further.
See the most-read stories in Local News this hour »
In the Aug. 10 letter, County Registrar Dean Logan wrote that Hahn had exceeded the county's cap on the total amount a campaign committee may accept from political action committees, which is $150,000 per election. From Jan. 1, 2015, through June 30, 2016, Hahn's campaign received $439,619 from political action committees, the registrar said.
Napolitano asserted that Hahn had committed a "serious violation of the county's ethics laws."
"Janice Hahn is the poster girl of L.A. city's entitled political elite, so her campaign knew or should have known about these rules," he said in an interview. "Had she won in June, she would have done it with hundreds of thousands of dollars in illegal campaign contributions from special interests."
Hahn's campaign said it had been told that campaign finance limits were lifted because Napolitano had elected to largely self-fund his own campaign.
While the county normally sets a limit of $1,500 per contributor, in some circumstances, that limit can be increased or lifted.
John Shallman, a spokesman for the Hahn campaign, pointed to an earlier letter sent by the registrar, which informed Hahn that the contribution limit for her campaign had been removed because Napolitano had announced his intention to spend an unlimited amount of his own personal funds on his campaign.
The Hahn campaign contended that the limit on total contributions she could accept from political action committees was also lifted.
"When your multimillionaire opponent is trying to buy a seat on the board of supervisors and you get a letter from the county registrar telling you, in bold and underscored print, that your contribution limits have thus been removed, you take them for their word," Shallman said in a statement. "We believe that the rule expressed in that first letter was correct and represents the intent of the supervisors when they passed the law and we will work with county counsel to ensure that the voice of teachers, firefighters, police officers and working families are not silenced."
Napolitano has contributed almost $1.4 million to his own campaign to date. His campaign and Hahn's have each raised about $1.7 million in total to date.
Hahn's nearly $440,000 from political action committees included $53,000 from Assn. for Los Angeles Deputy Sheriffs State PAC, $29,070 from California Assn. of Professional Employees PAC and $26,500 each from the political action committees for International Longshore and Warehouse Union Local 13, International Brotherhood of Electrical Workers Local 11 and the Teamsters.
The Aug. 10 letter from the registrar said the lifting of the contribution limits applied to those made by each individual or committee, not to the limit on total contributions from political action committees.
Bob Stern, an attorney who helped write campaign finance rules for the state of California and the city of Los Angeles, said after reading the county campaign finance code, "It seems really clear to me that they couldn't receive more than $150,000 in PAC money."
The registrar's letter told Hahn that the "possible violation may be cured without penalty" if the campaign returns the money within 30 days of being notified of the issue.
The county's campaign finance code outlines a potential civil penalty of up to three times the amount by which an expenditure or contribution limit has been exceeded. Intentional violation of the campaign finance rules can be charged as a misdemeanor.
Shallman said if it is ultimately determined "that the initial instructions from the registrar were incorrect and, as a result, the committee accepted excess PAC contributions, the committee will return the excess contributions."
Twitter: @sewella
ALSO
Surreal standoff ends with Chris Brown under arrest, but the R&B singer says he's the victim
Grim mystery after five die in fire at adult-care facility in Temecula
Inspired by accusations against Bill Cosby, California lawmakers move to lift time limits on rape cases
---
The stories shaping California
Get up to speed with our Essential California newsletter, sent six days a week.
You may occasionally receive promotional content from the Los Angeles Times.