Newsletter: Essential Politics: There's (gasp) bipartisanship on healthcare in Washington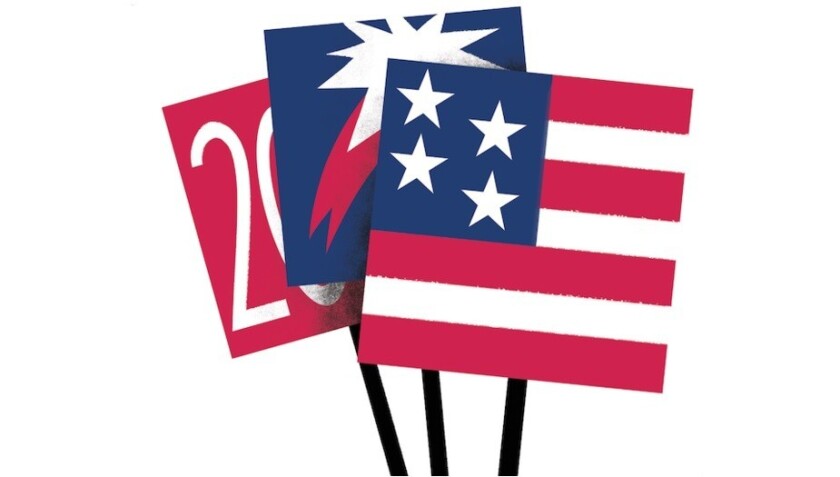 After all the bitter partisan battles of 2017 over the fate of the Affordable Care Act, it's the last thing you'd expect to hear from Capitol Hill.
Compromise. And on a bipartisan level.
For now, though, a proposal seems to have emerged that preserves the basics of the Obamacare framework for the time being — one that even won the endorsement of President Trump.
THE TEMPORARY FIX
The proposal by Sens. Lamar Alexander (R-Tenn.) and Patty Murray (D-Wash.) is designed to stabilize healthcare markets through 2019 — by restoring the federal payments to insurers that Trump cut off while allowing new flexibility for states to offer cheaper, less generous plans.
"There is an emerging, encouraging consensus, and we'll see how far it goes," said Alexander.
HELP WANTED: DRUG CZAR
President Trump's pick to be the nation's drug czar withdrew from consideration Tuesday after news reports focused attention on his role in weakening the government's power to combat the nation's opioid epidemic.
Now, federal officials are saying they'll take another look at the legislation promoted by the former nominee, Florida Rep. Tom Marino.
NATIONAL POLITICS LIGHTNING ROUND
-- Trump suggested Tuesday that his chief of staff, John Kelly, didn't receive a call on the death of his son from former President Barack Obama. Then, he called the families of four recently killed soldiers. And controversy ensued.
-- Despite objections inside their caucus, Senate Republicans on Tuesday gave preliminary approval to a federal budget plan.
-- That budget plan is crucial to the president's tax plan. On Monday, Ivanka Trump pitched the plan over dinner at the White House to a bipartisan group of senators.
-- Arizona Sen. John McCain lashed out Monday night at those who promote "half-baked, spurious nationalism." (Now who might he have had in mind?)
-- Maybe Steve Bannon, the former top White House strategist, shouldn't target some GOP senators in 2018. That was Trump's observation on Monday.
-- "I believe Cuba's responsible," the president said on Monday in response to reports of mysterious health problems at the U.S. Embassy in the island nation.
-- Meet the new U.S. ambassador to the Vatican: Callista Gingrich.
SACRAMENTO WOMEN SAY 'US, TOO'
The soul-searching about sexual harassment and mistreatment amid the Harvey Weinstein scandal isn't limited to Hollywood.
As Melanie Mason reports, more than 140 women in California politics released a letter on Tuesday calling out the "pervasive" culture of sexism and impropriety at the state Capitol.
"Each of us has endured, or witnessed or worked with women who have experienced some form of dehumanizing behavior by men with power in our workplaces," says the letter. You can read it in full here.
CAMPAIGN CASH REPORTS: WHAT WE'VE LEARNED
This week's federal campaign finance reporting deadline offers some interesting insights into several of 2018's House races in California.
Half of California's GOP incumbents were outspent by Democrats who are challenging them. Six of them are considered vulnerable in next year's midterm elections.
Many of those Republicans benefited from more than $1 million from a committee that held fundraisers with Vice President Mike Pence last week. That includes Rep. Steve Knight, who was out-raised by one of his Democratic opponents in the past three months, with a second Democrat close on his heels.
One of Rep. Darrell Issa's opponents has raised nearly $1 million this year. But in the Central Valley, GOP congressmen vastly out-raised the Democrats challenging them. Rep. Jeff Denham raised more than all nine of his announced opponents and Rep. David Valadao raised 10 times as much as Democrat Emilio Huerta.
Rep. Duncan Hunter has spent nearly half a million dollars on legal fees amid the FBI probe of his campaign spending. And Rep. Dana Rohrabacher got paid back more than $75,000 in funds that were stolen from an ex-campaign treasurer.
Sen. Dianne Feinstein had $4-million in the bank just before she announced another run, and this week supporters created a super PAC to help boost her chances in 2018. Meanwhile, Sen. Kamala Harris is already building up her war chest with years to go before she's on the ballot again.
QUESTIONS FOR PELOSI, THE VIEW FROM CALIFORNIA
Tonight, Christina Bellantoni will sit down with House Minority Leader Nancy Pelosi at The Times Summit with the Berggruen Institute. We'll ask some questions from readers. You can submit them to Bellantoni here.
After the Pelosi discussion, I'll lead a conversation on the view from California in the era of Trump with state Sen. Bob Hertzberg (D-Van Nuys), GOP strategist Luis Alvarado, UCLA Professor Lynn Vavreck and Alma Hernandez, political director of SEIU California.
We'll livestream the event on our Essential Politics page. If you're in Los Angeles, join us in person, as a few tickets are still available.
TODAY'S ESSENTIALS
-- The day after state Senate leader Kevin de León launched his Senate campaign against Feinstein, he touted a new state law that provides free community college for a year to first-time, full-time students.
-- Like Feinstein, De León will have help in 2018 from a super PAC organized by supporters.
-- Conservative activists in Fresno filed paperwork on Tuesday for a 2018 ballot referendum to overturn California's new "sanctuary state" law.
-- A former local news anchor says he's running against Democratic Rep. Raul Ruiz, becoming the second Republican to challenge the Palm Desert congressman.
-- The new Republican challenger to GOP Rep. Paul Cook is a familiar face: former Assembly member and 2014 gubernatorial hopeful Tim Donnelly.
-- California students don't need a new law to allow them to wear cultural clothing at graduation, says Gov. Jerry Brown in his veto message.
-- Brown also vetoed a bill on Sunday giving teachers and school employees paid pregnancy leave.
-- State taxpayers will be on the hook for $270 million if the 2028 Olympics in Los Angeles goes over budget.
-- The Los Angeles City Council could impose new restrictions on what people can bring to public demonstrations and meetings — banning pepper spray, Tasers, tiki torches and other items.
LOGISTICS
Essential Politics is published Monday, Wednesday and Friday.
You can keep up with breaking news on our politics page throughout the day. And are you following us on Twitter at @latimespolitics?
Miss Monday's newsletter? Here you go.
Please send thoughts, concerns and news tips to politics@latimes.com.
Did someone forward you this? Sign up here to get Essential Politics in your inbox.
Follow me on Twitter at @johnmyers and listen to the weekly California Politics Podcast
---
Get our Essential Politics newsletter
The latest news, analysis and insights from our politics teams from Sacramento to D.C.
You may occasionally receive promotional content from the Los Angeles Times.