Opioid law draws scrutiny after Trump's pick for drug czar steps aside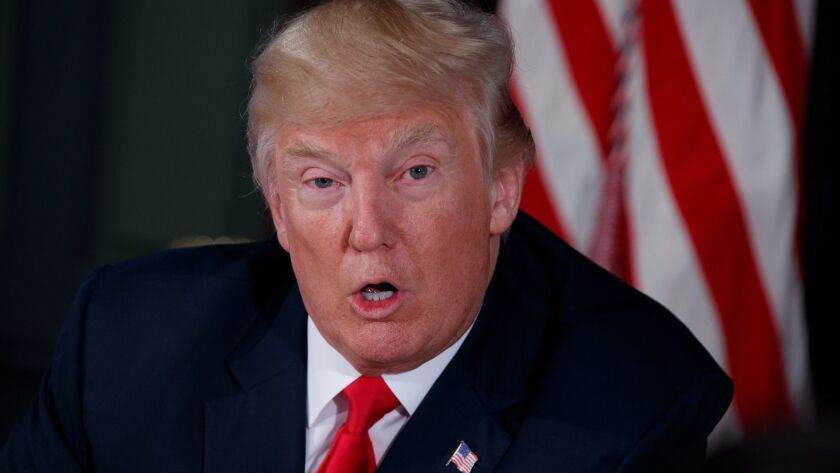 Reporting from Washington —
President Trump's pick to be the nation's drug czar, Rep. Tom Marino (R-Pa.), withdrew from consideration Tuesday after news reports focused attention on his role in pushing legislation that weakened the Drug Enforcement Administration's power to investigate bulk shipments of prescription opiods.
Adding to the backlash, some members of Congress now say they will try to reverse Marino's bill, and the Department of Justice plans to assess whether the 2016 law restricts investigations.
"We're going to review it," Deputy Atty. Gen. Rod Rosenstein said Tuesday when asked whether current laws give law enforcement the powers they need to combat the opioid epidemic. "If we conclude they don't have the appropriate tools, we will seek more tools."
A spokeswoman for Massachusetts Gov. Charlie Baker (R), who serves on the commission Trump appointed to recommend policy on the opioid problem, said he too would support an increase in DEA authority "to go after unscrupulous drugmakers and distributors."
For years, drug companies have sold far more opioid medications in the U.S. than are being legally consumed. The U.S. consumes more opioids than any other country, Trump's Commission on Combating Drug Addiction and the Opioid Crisis concluded in a report in July. In 2015, enough opioids were prescribed to medicate every American citizen for three weeks, the report found.
The 2016 law made it significantly harder for the DEA to restrict shipments of opioids by pharmaceutical wholesalers that law enforcement officials consider suspect, such as shipments to pharmacies that vastly exceed what their local markets could consume.
The law came about after Marino had spent several years pushing the DEA to be more accommodating toward the companies.
At a congressional hearing in 2014, for example, Marino encouraged the head of the DEA to negotiate more with large pharmaceutical companies, saying, "Big fines make headlines, but that is all they do: Press releases do not save lives."
Marino and other backers of the law, which passed Congress almost unanimously with little debate, said it was needed to ensure that patients could receive their medications without interruption.
The top Democrat on the Senate Homeland Security and Governmental Affairs Committee, Sen. Claire McCaskill of Missouri, introduced legislation Monday to repeal the 2016 law.
"This law has significantly affected the government's ability to crack down on opioid distributors that are failing to meet their obligations and endangering our communities," McCaskill said.
It is unclear how much White House officials knew about Marino's support for the 2016 legislation before he was nominated to head the White House Office of National Drug Control Policy.
A senior White House official, speaking on the condition of anonymity to discuss a personnel issue, pointed to the relative ease with which Marino's bill passed to explain why the issue may not have raised red flags.
"This is an issue that was passed without any objection by the House and Senate and signed by the White House. Even today's critics weren't aware of the specific implications," the official said.
Nonetheless, The Times and other media had made those implications known long before Trump selected Marino. The legislation and Marino's role in pushing it were the subject of a Times article last year.
The topic got renewed attention this week after a report in the Washington Post and CBS' "60 Minutes," which detailed how major drug distribution companies had hired former DEA officials to help craft the legislation and then pushed it through Congress. Marino was a major recipient of campaign contributions from the pharmaceutical industry, more than $100,000 since 2011, the Times reported last year.
During an interview on Fox News Radio shortly after Marino withdrew his nomination Tuesday morning, Trump spoke effusively about Marino's support in last year's presidential election and its importance in winning Pennsylvania, a key state in his victory.
"And Tom Marino said, 'Look, I'll take a pass. I have no choice. I really will take a pass. I want to do it,'" Trump recounted. "He didn't want to have even the perception of a conflict of interest with drug companies or, frankly, insurance companies."
Nearly nine months into his presidency, Trump has been criticized for not taking more substantial actions on his campaign pledge to tackle America's opioid epidemic, which disproportionately affects many of the areas that were key to his victory. Trump has not acted on a list of recommendations that his commission put forward in July, including declaring the opioid crisis a public health emergency.
"The first and most urgent recommendation of this commission is direct and completely within your control," the commissioners, led by New Jersey Gov. Chris Christie, wrote. "Declare a national emergency under either the Public Health Service Act or the Stafford Act."
Doing that could unlock more federal resources to respond to opioid addiction and illegal sales, the commissioners argued. The commission also advised expanding Medicaid coverage to include the use of federal institutions for mental diseases in order to open up more treatment for drug addiction.
Trump surprised his advisors Monday when he said during a news conference that he plans to declare the national emergency next week.
"By the way, you know that's a big step. By the way, people have no understanding of what you just said. That is a very, very big statement. It's a very important step," Trump told a reporter who asked when a declaration would be made. "And to get to that step, a lot of work has to be done and it's time-consuming work. We're going to be doing in next week, OK?"
A White House official with knowledge of the process wasn't sure the declaration will be completed next week.
Staff Writer Joseph Tanfani in Washington contributed to this report.
Twitter: @ByBrianBennett
---
Life is stressful. Our weekly mental wellness newsletter can help.
You may occasionally receive promotional content from the Los Angeles Times.