Column: Political Road Map: There's not a single California congressional district with Republicans in the majority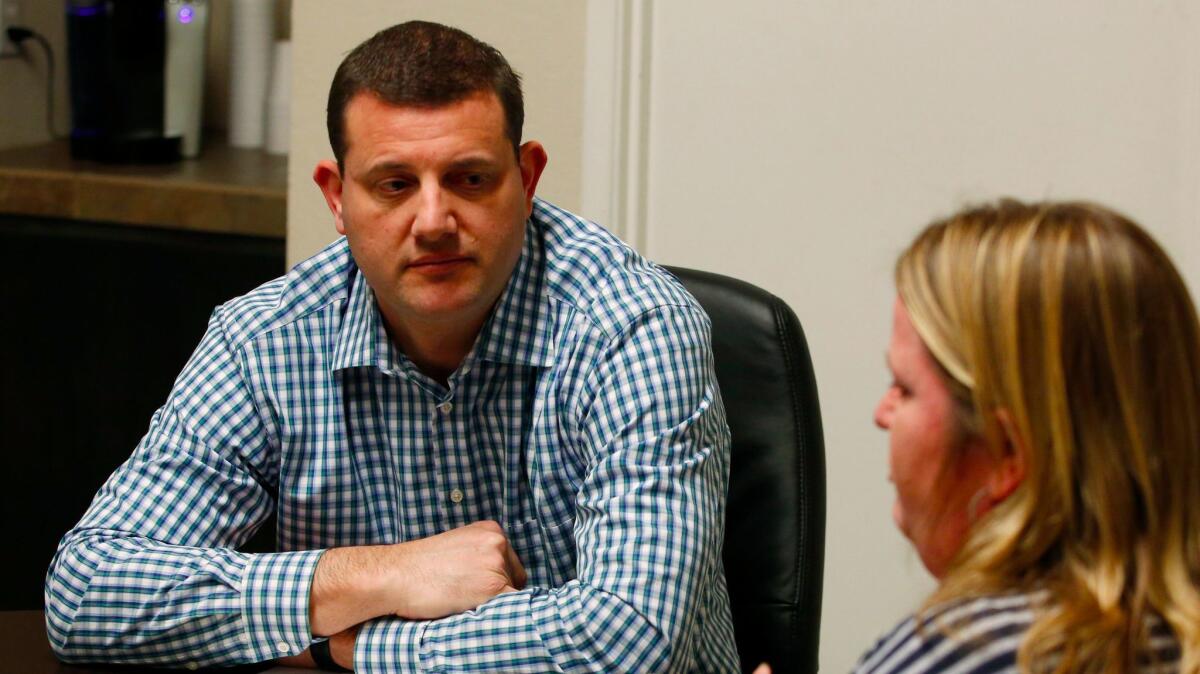 When it comes to California's 53 congressional districts, first impressions are deceiving. Republicans have held tightly to their seats in the House of Representatives, but the latest data beg the question of whether the party's grip could be loosening.
Fourteen congressional districts are represented by Republicans. But in none do they comprise a majority of voters. Their highest concentration, nestled in the Sierra foothills district of Rep. Tom McClintock (R-Elk Grove), is slightly less than 44%.
That Republicans aren't dominant in congressional districts isn't exactly breaking news. Arnold Schwarzenegger was in his first term as governor the last time any California district broke the 50% mark in Republican registration. But last month's state registration report reveals an accelerated erosion of GOP strength.
"There are a number of Republican incumbents who are sitting on ticking time bombs," said Eric McGhee, a researcher at the nonpartisan Public Policy Institute of California.
Democrats, too, hold a number of congressional seats with only a plurality of party voters. But elsewhere, they have commanding majorities — in some districts, four or five times the number of Republicans.
The GOP's statewide brand was once lustrous enough to carry six straight presidential elections, from 1968 to 1988. Compare that with last November, when President Trump lost half of the Republican congressional districts. In eight of the nominally Republican districts, Democratic voter registration has risen since 2013. How many of those saw an uptick in Republicans? Zero.
There are a number of Republican incumbents who are sitting on ticking time bombs
— Eric McGhee, researcher at the Public Policy Institute of California, on the eroding GOP registration in congressional districts
Two Republican pluralities have shrunk more than others in the last four years: those in districts represented by Reps. Steve Knight (R-Palmdale) and Mimi Walters (R-Irvine).
"There's a long-term trend for Republican registration to be sagging," McGhee said. The reason, as he and other researchers have found, is that young Californians coming into the political mainstream are registering either as Democrats or as unaffiliated "no party preference" voters. While some still occasionally choose GOP candidates, voters from days gone by — the ones being replaced — were reliable and registered as Republicans.
Political Road Map: The California Republican brand has become radioactive »
"That replacement process is just inexorably driving Republican numbers down," McGhee said. "And it's not clear where the bottom is."
The data explain why the Democratic Congressional Campaign Committee has set up shop in Southern California in hopes of knocking off a few GOP incumbents in 2018. But it's no sure thing. In 2016, 97% of House members seeking reelection won, according to the University of Virginia Center for Politics. The fact that incumbents rarely lose has probably helped mask the thinning of the Republican base.
Others think Democratic candidates in congressional battleground races haven't resonated with voters. Eric Bauman, chairman of the L.A. County Democratic Party, said during a Bay Area event last week that national party leaders pick candidates and have been "carpetbagging them in to districts where we have perfectly good candidates of our own."
Still, the Republican wall could crumble in the next round of political map drawing. In 2001, a bipartisan closed-door agreement gave 19 House seats to the GOP, a gerrymandering that sparked the creation of an independent redistricting commission. When the commission ignored political party registration in 2011, Republicans lost five House seats. The commission will again draw districts after the 2020 census. If demographics truly are destiny, the Grand Old Party has work to do. And fast.
Follow @johnmyers on Twitter, sign up for our daily Essential Politics newsletter and listen to the weekly California Politics Podcast
ALSO:
Democrats bring a national team into California to flip House seats held by Republicans
Political Road Map: California's election maps, drawn without party favor, hit the halfway mark
Get our Essential Politics newsletter
The latest news, analysis and insights from our politics team.
You may occasionally receive promotional content from the Los Angeles Times.