Column: How one Trump tweet could change the course of California's 2018 elections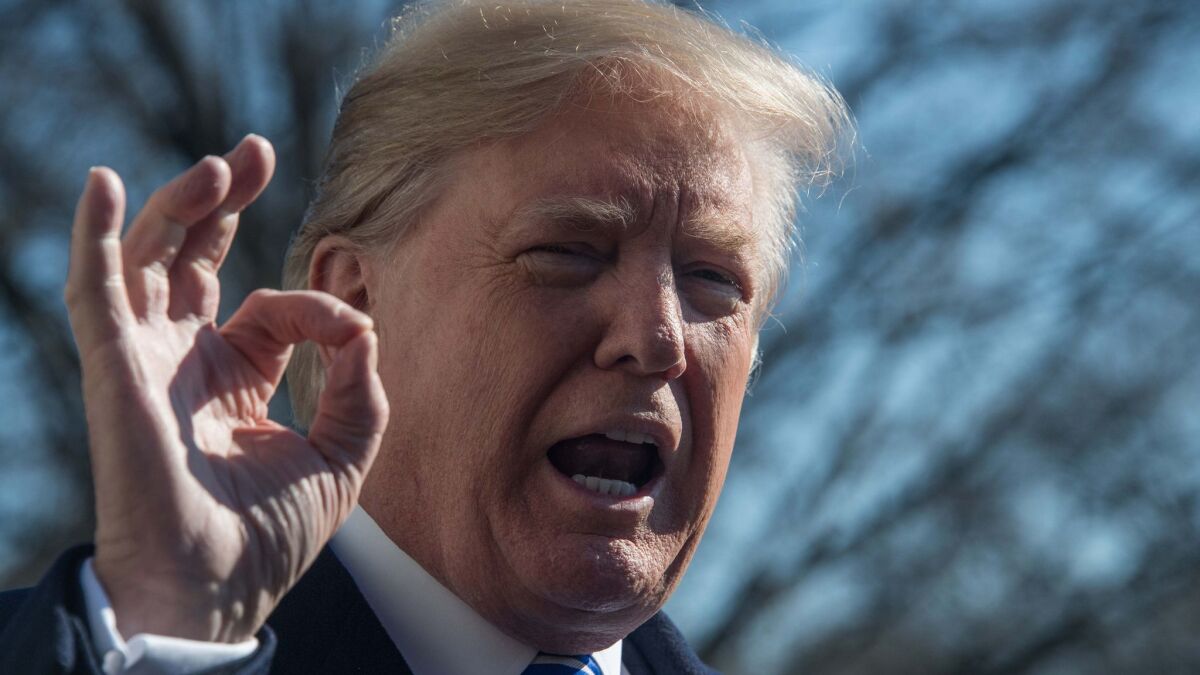 Reporting from Sacramento —
If it happens, the 280 characters might just make up one of the most important social media messages in California politics this year: a tweet from President Trump about the Golden State's race for governor.
First, let's set the scene with a reminder of the political peril facing California Republicans in this electoral season. Not only have Democrats won every statewide race since the fall of 2006 — that's 18 separate contests — but the GOP share of the registered electorate has kept shrinking.
Then there's the turbulence created by Trump. The president's statewide reputation is dismal — 67% of all likely voters in a recent Public Policy Institute of California poll disapprove of how he's doing the job — and several of the state's U.S. House Republicans appear to be in real jeopardy.
GOP leaders undoubtedly would love to win some of the posts currently held by Democrats. But keeping what they have now is their most basic mission. Losing ground would be bad for the state party, potentially worse for national Republicans if it helps flip the U.S. House to Democrats and spark an existential threat to the Trump presidency.
So how do you keep what you've got? You make sure your voters don't get so disinterested that they sit out this election cycle. That's one reason the money has flowed into qualifying a repeal of the state's new gas tax for the fall ballot — a tax that Republican voters would likely show up in strong numbers to try to kill.
California Republicans are looking for a champion in the race for U.S. Senate »
It is the candidates themselves who energize most voters, and there's no clear standard-bearer for state Republicans. In the race for governor, more than two-thirds of GOP voters in the recent PPIC poll either didn't know — or had no opinion about — any of the three most active candidates. Among all likely voters, all were in single digits in support.
Absent some political adrenaline, it's possible two Democratic gubernatorial hopefuls would advance to November under the state's top-two primary rules that are hated by both parties. (It's also possible in the U.S. Senate race, where California Republicans lack a candidate with statewide experience or name ID).
Track the California races that could flip the House of Representatives »
So who might the GOP voters listen to, someone with enough influence to rally the faithful around a single Californian that could keep Republicans from staying home in 2018?
Well, there's a guy who was supported by 76% of the party's voters in the PPIC survey. That would be Trump. And he's got an effective way to ensure a chosen candidate gets a ton of free attention.
Yes, a presidential tweet.
The idea has enough juice that it's coming up in casual conversations with political strategists. And while it's true that Trump has given the cold shoulder to California writ large, remember that someone close to him has a vested interest in protecting the state's GOP incumbents in Congress. That confidante is House Majority Leader Kevin McCarthy (R-Bakersfield), who presumably has enough clout to convince the president to weigh in.
Whom Trump would pick in the governor's race is anyone's guess. Two candidates, Huntington Beach Assemblyman Travis Allen and San Diego businessman John Cox, already have sparred mightily over support for the president. Cox has said he didn't vote for Trump. Former Sacramento Rep. Doug Ose, on the other hand, helped quell an anti-Trump uprising at the 2016 Republican National Convention and has been one of the president's most vocal supporters in the state.
The flip side, of course, is that an embrace from Trump could turn off millions of otherwise persuadable California voters. But for a party with limited options, firing up the voters you already have may be better than doing nothing at all.
Follow @johnmyers on Twitter, sign up for our daily Essential Politics newsletter and listen to the weekly California Politics Podcast
ALSO:
---
Life is stressful. Our weekly mental wellness newsletter can help.
You may occasionally receive promotional content from the Los Angeles Times.