Angels' Albert Pujols appears to be loafing, but there's a reason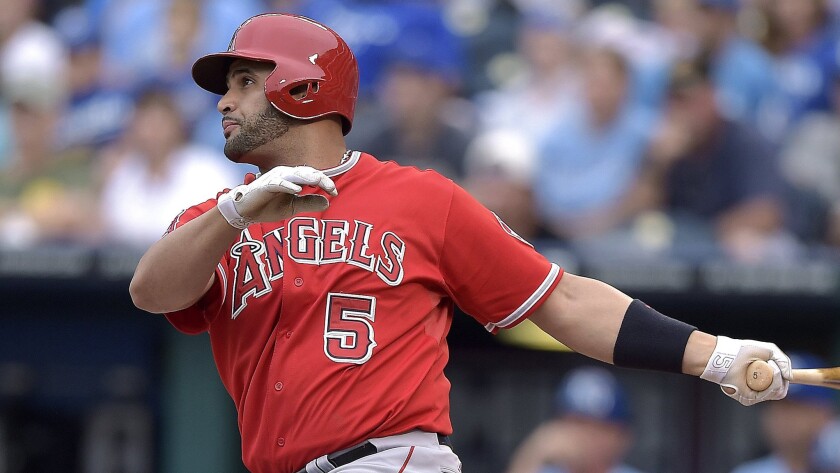 Reporting from Kansas City, Mo. —
The play looked embarrassing, the replay even worse. Albert Pujols hit what appeared to be a sure double, then jogged toward second base and did not slide. He was tagged out, standing up.
However, the Angels had an explanation after their 5-4 loss to the Kansas City Royals on Sunday. Pujols was injured, but the Angels had decided to play him because he could hit. He did not play the field and, if he really needed to run hard, they could have removed him.
Pujols has been the Angels' designated hitter in the last two games, in three of the last four, and in five of the last nine. He disclosed after Sunday's game that he has played with a swollen lymph node in his left groin since Wednesday.
The Angels did not send Pujols to a doctor. Pujols said the team athletic trainers considered the condition more of an infection than an injury, even with what he said was a gland swollen to the size of a golf ball.
"I'm pretty sure I'll be all right," Pujols said. "They say it's one of those things that should go away."
In the sixth inning, when Pujols hit the would-be double, he rounded first base and sensed the throw was off line, so he decided to favor the affected groin and slow down.
"When he was in between sliding and standing up, he felt it a little bit," Manager Mike Scioscia said.
"It kind of grabbed on me," Pujols said.
He said he had no one to blame but himself for the perception that he failed to hustle.
"I kind of shut it down and that's when I felt it," he said. "I'm not looking for an excuse. I should've run all the way through the bag."
Pujols has played in all but two of the Angels' 80 games. He is batting .261 and is on pace to hit 32 home runs.
He also is batting .328 over his last 14 games. That, Scioscia said, is why the Angels have kept Pujols in the lineup, even after he felt the discomfort in his groin Sunday.
So, in the seventh inning, after hitting in the batting cage and getting clearance from the trainers, Pujols batted again. The bases were loaded.
"He was the guy you wanted up there," Scioscia said.
If he had reached base, Scioscia said, the Angels would have run for him. But Pujols flied out, and he is hitless in 12 at-bats with the bases loaded this season.
Pujols is 34. The Angels have $189 million invested in him beyond this season, through 2021.
He was limited to a career-low 99 games because of injury last season. He is a fine hitter, but nowhere near the legendary slugger of his St. Louis heyday.
He never had an OPS lower than .906 with the Cardinals, but his OPS was .767 last season with the Angels, .783 this season.
That said, why not protect the investment by letting him rest until his condition heals? After all, 80% of a player with a 1.000 OPS is far better than Pujols at his current OPS.
"Albert is a guy that sets our lineup," Scioscia said. "You have Trout around him, with Josh. You want that middle there.
"Absolutely nothing was bothering him to swing the bat today. He was not 80% swinging the bat."
---
Get the latest on L.A.'s teams in the daily Sports Report newsletter.
You may occasionally receive promotional content from the Los Angeles Times.