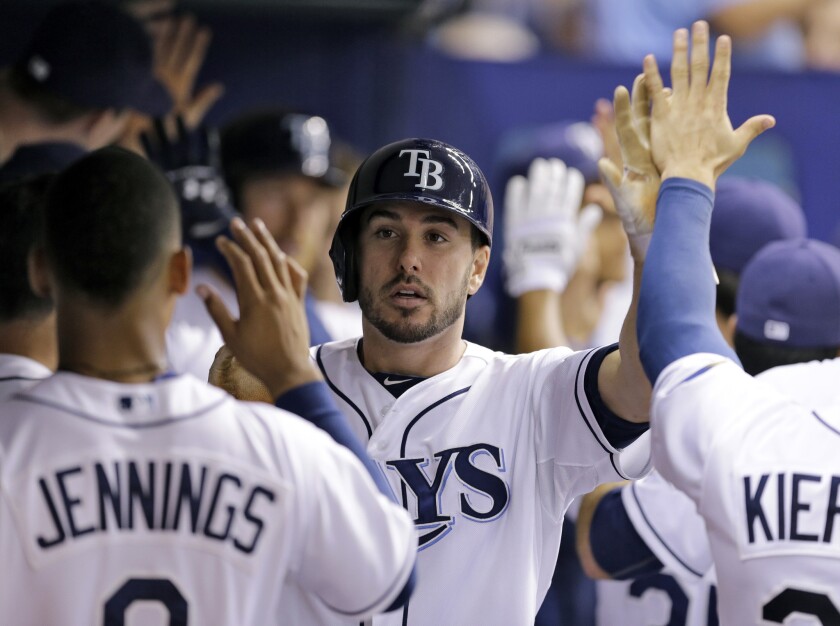 The Angels traded for Matt Joyce in the off-season, identifying the seven-year veteran as a reliable designated hitter and left-handed bat who could provide outfield depth.
Depth became a pressing issue two months after the December trade when outfielder Josh Hamilton underwent shoulder surgery. Now Hamilton, who has battled an addiction to cocaine and alcohol, also could face penalties from Major League Baseball after suffering some type of relapse.
So Joyce appears to figure prominently in the outfield.
"I'm looking forward to the opportunity that's right there on the table and that's presenting itself," Joyce said. "I feel that I'm ready to have those at-bats."
Joyce, 30, batted .254 with a .349 on-base percentage, nine home runs and 52 runs batted in last season for the Tampa Bay Rays, who received reliever Kevin Jepsen from the Angels in the trade. This month, Joyce and the Angels avoided arbitration by agreeing to terms on a one-year, $4.75-million contract.
Joyce said he was comfortable playing either corner outfield spot and also as a designated hitter. He said he also has worked at first base this spring.
"I'm ready for whatever they throw at me," he said.
Angels General Manager Jerry Dipoto said Thursday that Joyce "fits us. We acquired him for a reason."
On Friday, Manager Mike Scioscia said Joyce has impressed.
"As far as the outfield, he looks really good and that helps us a lot," Scioscia said. "Because the more he can play the outfield, the more our offense gets deeper."
Joyce broke into the major leagues in 2008 with the Detroit Tigers. After the season, he was traded to Tampa Bay for pitcher Edwin Jackson, and he spent six seasons with the Rays.
Joyce said he was still acclimating to spring training in Arizona, but cited no setbacks or problems.
"It's been a smooth ride," he said. "Smooth sailing."
Etc.
Scioscia said third baseman David Freese is moving better than last year. "We'll see how it shows up in games," Scioscia said. "I imagine it's going to be very positive, but we'll see." . . . Scioscia has been impressed by 6-foot-5, 240-pound left-hander Sean Newcomb, who was selected 15th overall in last year's draft out of the University of Hartford. "Up close, you really get a sense for the talent," Scioscia said. "I mean, his ball just exploded out of his hand." Scioscia also lauded pitchers Nick Tropeano, Andrew Heaney and Matt Lindstrom, who all played in other organizations last season. "We've got a lot of arms that are throwing their bullpens as billed, as we would expect," Scioscia said, adding he would avoid "rash evaluations."
Twitter: @latimesklein
---