Angels pitcher Trevor Cahill 'out of whack' in 7-2 loss to Cleveland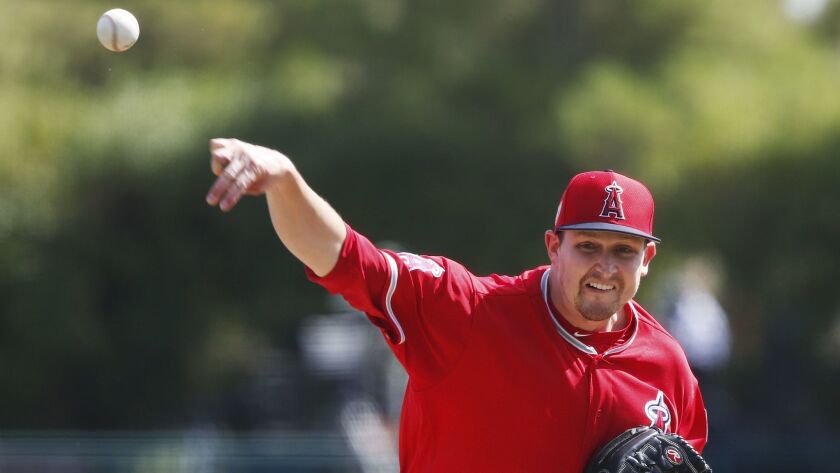 Reporting from Tempe, Ariz. —
The Indians defeated the Angels 7-2 at Tempe Diablo Stadium on Saturday. The Angels are 11-10 in Cactus League play.
AT THE PLATE: When Taylor Ward whacked an RBI hit to center field, scoring driving in Kole Calhoun, and Indians outfielder Oscar Mercado committed an error, Mike Trout bolted from second base. As he rounded third, he saw his coaches cautioning him that his home plate bid would be close. "It was in-between," Trout said. "Sometimes you just got to turn the gas on. Do you always stop at a yellow light?" Trout certainly did. He slid across home, scoring a run for the Angels. … Ward was the only Angels batter with multiple hits, two for three. … The Angels ended the day with five hits.
ON THE MOUND: Starting pitcher Trevor Cahill walked the first batter he faced, then gave up a two-run first inning. He ended his outing allowing four runs, two earned, and four hits in four innings. He also struck out two batters. "He was a little bit out of whack mechanically early in the game. … Certainly not concerned about it," manager Brad Ausmus said. … Daniel Hudson gave up one hit, a run and a walk in his inning on the mound. … Matt Ramsey gave up two hits, two runs and two walks in two-thirds of an inning. … Luis Garcia gave up two hits, but he, Dan Jennings and Brett Hanewich held the Indians scoreless through 3 1/3 combined innings.
EXTRA BASES: Before the game, the Angels announced the inaugural winner of the Aaron Cox Award, named for Trout's brother-in-law, who died last year. It was given to the Angels' best minor league teammate. This year, pitcher Jeremy Beasley. "It means a lot," Trout said. "Obviously, I was real close with him. … It was good for our family, and obviously Aaron." … Albert Pujols committed two errors on one play in the fourth inning. He bobbled a throw from Cahill, the ball rolling away from the base as the Indians' Ryan Flaherty reached first. Pujols then committed a throwing error, as Mercado scored the Indians' fourth run of the game.
UP NEXT: The Angels travel to Peoria Sports Complex to take on the Padres at 1 p.m. on Sunday. TV: FS West.
Sign up for our daily sports newsletter »
---
Get the latest on L.A.'s teams in the daily Sports Report newsletter.
You may occasionally receive promotional content from the Los Angeles Times.