Angels pitcher Andrew Heaney determined to return this season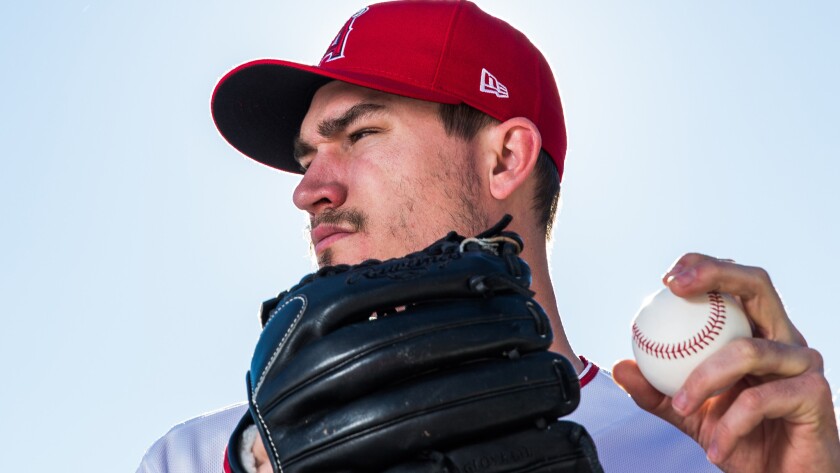 Andrew Heaney celebrated the one-year anniversary of his elbow ligament replacement surgery on Saturday by throwing a 90-pitch simulated game and packing an equipment bag for a trip to Arizona to pitch in minor league games, a development that manager Mike Scioscia called "remarkable."
The Angels did not expect Heaney to pitch this season after undergoing Tommy John surgery on July 1, 2016. Most pitchers need at least 14 months to recover from the procedure, a timeline that would have pushed Heaney's potential return to Sept. 1. The Angels didn't want the left-hander to rehab too aggressively and risk a setback.
But Heaney has maintained since spring training that he wanted to return this season, and Saturday's news moved him one huge step closer to that goal.
"That's always been my intention, but there are so many steps along the way where you can go sideways," said Heaney, who suffered a torn ulnar collateral ligament in the second game of last season. "So far, I've been able to avoid most of those, so this is just another step.
"It's one thing to be healthy and be able to throw a ball off the mound. It's another to be able to do it at 100%, to be able to get people out, and to be able to do it 100 times without having a setback. These are all steps you have to go through."
Heaney, 25, will throw to hitters and mix in some fielding practice before pitching in Arizona Summer League games. Barring setbacks, he could begin a minor league rehabilitation assignment later this month.
"I would say that his rehab has gone as well as you could hope for," Scioscia said. "For him to throw the ball the way he did this afternoon, on the one-year anniversary of his surgery, is incredible. It's very promising where he is.
"But you want to be disciplined to go through the paces outlined by the medical department and finish off your rehab before we talk about him pitching again this year. You don't want him getting ready to a schedule. Let his arm heal when it's gonna heal, and when he's ready, he's ready."
Heaney, who went 6-4 with a 3.49 ERA in 18 starts for the Angels in 2015, first tried to rehab his injury with rest and a stem-cell injection. When neither worked, he had Tommy John surgery. A year later, both he and the Angels are optimistic about a 2017 return.
"He still has a ways to go," Scioscia said, "but he's on the right track."
Closing time
Bud Norris, who converted 11 of 13 save opportunities before going on the disabled list because of right-knee inflammation on June 20, was activated for Saturday night's game. He did not necessarily return as a closer.
Hard-throwing right-hander Cam Bedrosian and veteran Huston Street, who has 324 career saves, both returned from injuries around the time Norris got hurt. Blake Parker, Keynan Middleton, Yusmeiro Petit and David Hernandez are throwing well and remain late-game options.
"We have strength in numbers right now, a lot of guys throwing the ball well," Scioscia said. "There are gonna be games when Bud closes and games when someone else closes. We'll use every bullpen piece in whatever roles and matchups come up."
Short hops
Mike Trout, recovering from surgery to repair a torn left-thumb ligament, took batting practice on the field for the second straight day on Saturday and said he felt "good, normal." … Matt Shoemaker (forearm strain) completed a 33-pitch bullpen workout without incident Saturday. … Utility man Jefry Marte was optioned to triple-A Salt Lake to clear a roster spot for recently acquired Nick Franklin, who started at second base Saturday night.
Follow Mike DiGiovanna on Twitter @MikeDiGiovanna
---
Get the latest on L.A.'s teams in the daily Sports Report newsletter.
You may occasionally receive promotional content from the Los Angeles Times.