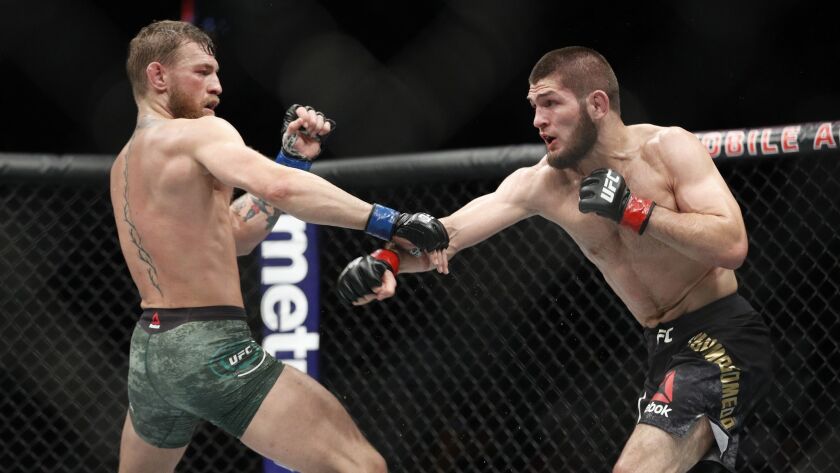 UFC lightweight champion Khabib Nurmagomedov and his rival Conor McGregor won't attend a hearing Monday to confront their October postfight incidents before the Nevada Athletic Commission.
McGregor's attorneys won a continuance this week, and Nurmagomedov informed the commission he would not be able to attend the hearing.
"The option for a settlement agreement with Khabib before Monday is always there. In the event we don't reach one, Khabib's attorney has requested a continuance," until the commission's next scheduled hearing on Jan. 29, Nevada Athletic Commission Executive Director Bob Bennett told the Los Angeles Times on Wednesday.
Bennett declined to comment on the length of suspensions Nurmagomedov and McGregor are facing.
Following his fourth-round submission of former champion McGregor at UFC 229 at T-Mobile Arena, Nurmagomedov was called out by a McGregor training partner, Bellator fighter Dillon Danis, and leaped out of the cage to pursue Danis before being restrained following some confrontations outside the octagon.
McGregor, reeling from the loss, was struck twice by a man who entered the octagon, and McGregor sought to exit the octagon too before being pulled back.
The commission is expected to punish Nurmagomedov more severely.
But McGregor's volatile past — throwing Monster energy drink cans at opponent Nate Diaz and his contingent at a 2016 news conference and throwing a hand truck at a bus occupied by Nurmagomedov and other UFC fighters in Brooklyn in April — could factor into a stiffer punishment.
The expectation is that the matter won't be settled until next month.
---